Is there any better place to start trading a strategy? Is there any correlation between draw down period length and the possibility of new profits? Is there an inherent potential for draw down after an "above-average" profitable trade? All of these are questions which we have asked at one time or another in our trading careers, questions which are both terribly hard to answer and very fundamental for the improvement of money management and trading strategies. If there is in fact some hidden relationship that can be applied effectively within trading strategies then there is probably a simple way to greatly increase the performance characteristics of trading systems as you could effectively have statistically solid reasons to say "don't trade today" or "trade more today". On today's post – part one of two where we will be discussing this issue – I am going to be talking about the concept behind NN- guided money management and how this can be applied to trading strategies.
The question of correlation in trading is simple. Since market conditions are somewhat cyclical in nature and price action doesn't follow an entirely independent bias (support, resistance and trends show that past behavior affects future one) then we should think that there is a possibility that system results and the way in which they show up are not entirely random. For example we generally assume that a trading system with a given statistical distribution has a fixed probability of achieving certain outcomes on every trade but it might be possible that the probabilities are in fact dynamic and after a certain historical trade result setting there is an inherently higher probability to have a profit or a loss. The main question- whether the outcome of trade X depends on trade outcomes before it -is a simple one but finding its answer is actually very hard.
–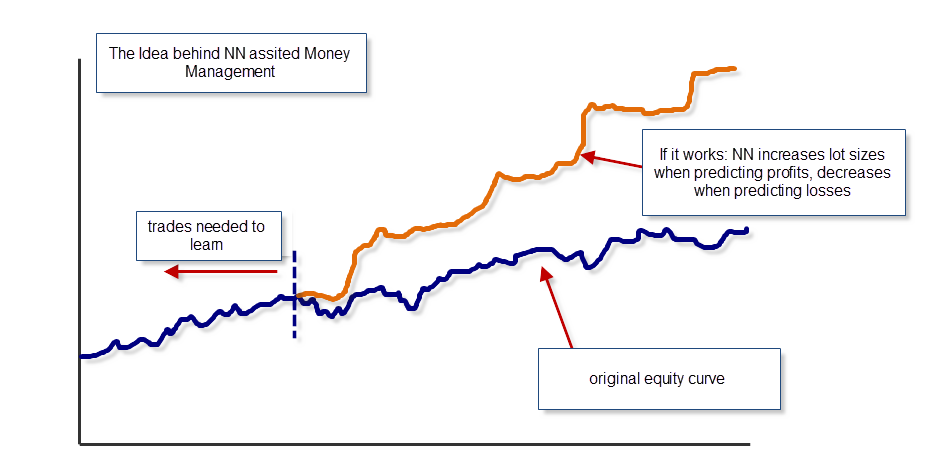 –
The problem when finding correlation arises from the fact that the relationships between trades – if they exist – are bound to be dynamic and therefore making absolute historic assumptions about them may be entirely wrong. Another problem is that they may be very complex and distinguishing the true relationships from simply the "random distribution" that may duel within them is actually very difficult. For example if you constantly see on a trading system that 4 losses are followed by a profit then you would think that the probability of a profit is statistically enhanced in this scenario, however how does this compare to the overall probability of having a profit under every other outcome? The issue of trade correlation is therefore a very complex one which is very difficult to evaluate through traditional statistical tools.
Probably a good solution to the problem – albeit a dangerous one if  used incorrectly – is the introduction of a Neural Network engine for the study of trade outcomes. If trades are correlated then a neural network which looks at X trades in the past and attempt to predict the next trade's outcome might be able to give us some guidance into what the probability to reach a winning or losing trade might be. For example a neural network might analyze only the last 100 trades of a strategy and through this information give us constantly updated forecasts of the next trade. If there is correlation in trading then the NN will be able to consistently be correct and therefore corrective money management applied through the NN might be worth while. For example if the NN determines that the probability of having a winning trade is above a certain threshold we might decide to increase our lot size by a factor of 1.5 while if it predicts a losing trade with a high probability we may choose to reduce the lot size dramatically.
Note here that we never refrain from trading since there is the possibility that the NN may be wrong a significant percentage of the time and therefore we could lose a highly profitable trade just because the NN made a wrong forecast. Because of this reason the best thing to do is NOT to avoid the taking of trades but simply to alter money management according to NN output with the hope that the NN will be right more than it is wrong so that overall the risk characteristics of the system are improved thanks to the intervention of the neural network. The neural network would therefore work as a "watch man" for the trading strategy, telling it when to lower or increase its bets relative to the predicted  probability of success or failure.
This approach with the NN will answer the question of whether or not intervention within money management based on past trade behavior can in fact be beneficial for a trading strategy. The good news is that this can be tested in back testing mode as we can simply run a back-test where this intervention methodology is used across the test. Note that since the NN uses a moving window of historic trades to effect changes it is therefore unable to curve fit itself as it is constantly getting renewed against the new trades taken. Since the NN also affects the trade outcomes the network will also – hopefully – learn from its mistakes and reach better and better results as the simulation progresses. Since the NN self-reinforces its positive achievements through its positive interventions within the logic.
So have I tested this? The answer is YES. Does it work ? Well it wouldn't be a two part post if I wasn't going to give it a little mystery :o) If you would like to learn more about my work in automated trading and how you too can learn more about system evaluation and design please consider joining Asirikuy.com, a website filled with educational videos, trading systems, development and a sound, honest and transparent approach towards automated trading in general . I hope you enjoyed this article ! :o)