Today I am going to write about one of the trading systems I have liked the most and I think is the most suited for new forex traders. Even though I am not very keen on forex indicators, this trading system does give some indicator help with an important price action derived part which will most likely be beneficial for newbie traders. Another plus is the fact that the system is volatility adjusted and is used on the daily charts (most manual profitable trading system I know are used on the daily charts).
So what is this system about ? The system (developed by Michael Dunbar and found
here
) uses the ATR indicator cross with an 8 period expotential moving average as a trigger for buying (if the ATR crosses over the moving average) and selling (if the ATR crosses under the moving average). Trades are entered at the opening price of the candle after trades are signalled. (below an image of the trading system in action)
–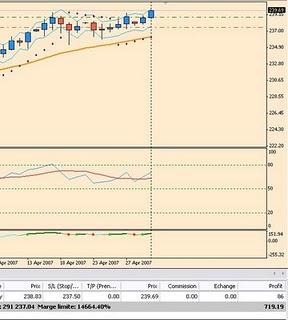 –
The system uses a 70% of the ATR as a stop loss (for example, if ATR is 0.0100 then SL would be 70 pips) and the take profit targets are flexible, as the most effective time to exit is decided by the user. This is both the systems most useful quality and it's worst deffect. Avid traders will easily find suitable exit points while new traders will struggle to find a good place to exit. What I do to come around this is to place a take profit order at the next support or resistance level in the direction of the trade. I have seen that most of the time price goes up or down to it's historic support and resistance levels. This gives a more rigid scheme which can benefit less experienced traders.
The 8and8 trading system proves to be a solid daily trading strategy that provides the trader with easy to use tools. The fact that it is a daily system also makes trading easier as the trader does not need to be in front of the computer all the time. If you prefer automated trading systems and would like to learn more about free and commercial expert advisors please consider buying my ebook on automated trading or subscribing to my weekly newsletter to receive updates and check the live and demo accounts I am running with several expert advisors. I hope you enjoyed the article !