In the first part of this post I gave a little introduction into the turtle's trading system and some insights into it's money management technique. From now on, I will start to talk about it's entry and exit strategies as well as it's pyramiding characteristics.
If you read the pdf (there is a link to it in the last post) that details the whole turtle trading system, you will notice that the system follows breakout strategies with a pyramiding approach in order to exploit the trend. This strategy ensures that the system gets a very high profit when a large trend is caught and also tries to minimize the risk associated with ranging markets. This is specially profitable in long time frames.
You should have also noticed that the Turtle technique has two different systems, No.1 and No.2. We are going to trade the system using the No.2 trading system with an 2N stoploss and an exit strategy based on the 20 day breakout signal. This of course, with the corresponding pyramidying tecnique with a maximum value of 3 units trading at any given time.
–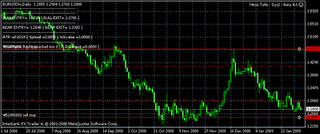 –
The expert advisor we will be using can be found here (an image of the trading expert is shown above). It accurately represents the way in which the system works, following the exact entry and exit rules described in the manual for the No.2 trading system, make sure you set the LockingProfit option to false as this is an implementation not true to the original turtle system (remember to demo test to see if you feel confortable with this system before using real money). However, the lot size needs to be adjusted weekly following the instructions given during the first part of this article. I have also started testing this system in a demo account using the EUR/USD daily chart. People who have joined the mailing list will also receive statements and weekly comments on this system.
If you would like to learn more about other free and commercial expert advisors I have reviewed please consider buying my ebook on automated trading or subscribing to my weekly newsletter to receive updates and check the live and demo accounts I am running with several expert advisors. I hope you enjoyed the article !