The subject of Virtual Private server hosting is a very sensitive one that affects all traders who want to use automated trading systems. Although it is possible to build a "home VPS" by setting up a raid backup server, a secondary internet connection and a large UPS this is not practical for most people and renting the service from a provider located within a data center seems like the best idea. Amongst the realms of shared VPS servers – where a single computer is shared as a host between different servers – Thrust VPS comes out as a new, fresh and reliable service that can be used by forex traders to host their metatrader 4 platforms.
There are several problems that usually happen with Virtual Private Servers that make people very reluctant to use one or another service provider. The most common complaint of traders about their VPS servers are unscheduled reboots (usually done for updates) problems accessing their platform through remote desktop and the lack of responsiveness of some support teams. I would have to say that many of these problems occur from time to time will all VPS providers and unless you are using a dedicated VPS (which is bound to be much more expensive) then you will have to deal with this if you want to have a VPS. (note however that using auto-login solutions and adequate security settings removes about 99% of these problems).
A few weeks ago I decided to try a new VPS solution in the market -called ThrustVPS – after hearing some good comments from fellow traders about their reliability, the speed of their servers and the great price. This company offers simple Windows 2008 VPS setups from 14.95 USD a month with 1GB of RAM, 30GB of disk space and 1TB of bandwidth each month. Compared to other VPS providers the amount of RAM is good but the amount of disk space and bandwidth seems rather limited, although much more than adequate for the needs of a regular metatrader 4 user.
–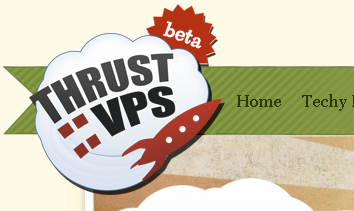 –
The payment process, setup and initial configuration of the server was quite easy and fast with everything ready within almost less than 1 business day. The server response is fast and the lag towards IBFX, FXDD and Alpari UK servers is low (5-10 ms) (of course, since the server is located in the US the lag towards Alpari UK is higher). The amount of RAM promised is available for use and the load on the VPS's processor seems to be very low at almost all times. Up until now I have not experienced any reboots or any other unusual behavior that may intervene with the Metatrader 4 platforms I have loaded within it.
However you should bear in mind that ThrustVPS is a young company and VPS providers are generally very good in the beginning before they start to get a lot of customers and start to behave in a greedy way. As a company grows and more clients appear they may resort to piling up more VPS on a single computer instead of buying more hardware something that reflects in an overall reduction in performance for some users. Definitely in the beginning almost all VPS providers are this good but time will tell if they are going to keep this level of performance or if they will just start to fill their current computers with more and more VPS servers without any hardware upgrades.
However right now ThrustVPS seems like a very reliable, cheap and fresh option for people looking for a new hosting provider for their Metatrader 4 platforms. This VPS company provides us with a cheap basic VPS plan with enough RAM and disk space to load several Metatrader 4 platforms with a very fast internet connection and a reduced lag to US forex brokers. As always I advice you setup adequate security measures and an auto-login solution which are absolutely necessary for reliable trading within a VPS. Hopefully ThrustVPS will remain this reliable for years but – as I said before – we won't know this for sure until the company starts receiving more customers.
If you would like to learn more about how you can build your own trading systems to run on a VPS based on sound trading tactics with realistic risk and profit targets please consider joining Asirikuy.com, a website filled with educational videos, trading systems, development and a sound, honest and transparent approach automated trading in general . I hope you enjoyed this article ! :o)