It is very common when you search for the advantages of forex trading to read tons of websites telling you why forex is so much better than stocks and why it represents a much juicier opportunity for profits with unprecedented leverage and limitless potential. People who write about this matter often tell you that forex trading is better because it is a "24 hour market" in which you can make profits despite being in a "bull or bear market" and although both of these things are true, they always fail to mention the most important differences between stock and forex trading and why stock trading is much more suited to "making people rick quick" than the forex market. On today's post I will talk about why it is much harder to achieve large quick profits from forex – due to inherent limitations of the market – and why this is evidently not the case for stocks. After reading this article you'll better understand the real differences – when investing and trading – that relate to your profitability when trading either forex or stocks.
There are some obvious differences between the forex and stock markets which we all know. The forex market is open 24/5, the stock market is not, the forex market allows you to use very high leverage (1:50-1:400) the stock market does not, the forex market allows you to  day trade from 1 USD, the stock market does not, the forex market allows you to easily enter short positions, the stock market does not, etc. Evidently it seems that the forex market has  much more potential for "large quick profits" but the real answer is that this is simply not the case.
–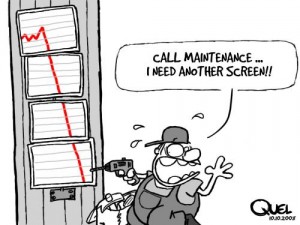 –
If you compare the number of rare "quick rich" cases which have generated fortunes due to what many would consider "simple luck" the cases in the stock market are quite common while the cases in forex trading are non-existent (at least I couldn't find any). For example on the 1999 bull market fueled by the dot com bubble there are at least 3 or 4 well known examples of people who took a 30-100K capital and turned it into 5-10 millions dollars within a single year. During the past 20 years you can in fact find many examples of people who got rich this way trading stocks while in forex this is not the case.
What is the fundamental difference that makes the "get rich quick" phenomena so "common" in stocks and practically null in forex ? The answer is related to the way in which the markets develop and the assets they trade. In forex trading you are speculating about the appreciation of a country's currency  against another. Fluctuations of these values are usually very small and fixed and the profit you can extract from them is limited. For example if you had a 10K account and you had a 1:100 leverage and you used all your leverage to get into a position and the market went one thousand pips in your favor without giving you a margin call (10, 100K lots, 100 dollars per pip, 1000 pips) you would in the end have 110K. Now if the market went only 100 pips against you, you would get a margin call and lose all your capital. Take into account that predicting a 1000 pip swing within 100 pips is extremely difficult to do and you'll understand that getting "huge returns" out of the forex market to get rich quick is quite difficult. If you wanted to take that 10K account to 1 million you would need to risk much more and the problem would become even bigger. Some people will argue that you can achieve these huge gains through daily compounding (for example a daily 5% gain) the problem is that such an approach doesn't require "luck" but a true very big long term statistical edge (that lasts for at least a year) something that the market sadly does not allow.
Now with stocks this is very different since when you trade a stock (when you buy it) you only risk losing all your money if the stock goes to zero and you have unlimited upside potential. Since there are companies that can go from very low values to extremely high trading values in several years it becomes obvious that anyone who catches them when they are small with a large amount of money can truly become a millionaire much quicker than someone trading forex. If you buy a stock at 50 pennies and then the stock goes to 100 dollars in 2 years you have made in fact 200 times your initial investment, easily taking a 10K investment to 2 million dollars. Of course, this is tremendously hard to do and you are bound to lose all your money with a high probability but it has in fact been done, showing that this "profitable luck" is possible in stocks but quite impossible in forex due to the actual make up of the market.
–
–
I have developed a view of the forex market within the past few years as a better investment vehicle than stocks. I can trade the forex market successfully using mechanical trading strategies and get an average compounded yearly profit higher than that of the stock market meaning that – in the long term – for me it is better to invest in forex and make returns from inefficiencies within currency pairs than to do the same with stocks. The forex market gives an opportunity to build robust investments with fewer capital and to remain calm under market crashes something which stock investors simply cannot do because it affects them directly. It is my belief that forex is a better long term investment than stocks from a yield and stability perspective.
However I have to admit that – from a get rich quick perspective – it doesn't make any sense to trade forex as the potential rewards are limited and the potential risk is extremely high. Anyone trading this market without a true long term edge, attempting to use "get rich quick" systems like high leveraged Martingales or scalpers is sure to wipe their account clean in the medium term and in the short term their reward won't be very significant since they will attempt to risk everything each time to achieve the 1K to one million USD dream. If a person wants to get rich quick and out of chance, then stocks would be the way to go, in stocks you can even do research of the companies and identify those that yield some potential meaning that you could effectively take the same risks as in forex with a much higher and potentially unlimited reward for an "all or nothing" bet.
To sum it up, the idea that forex is a better market to get a lot of riches quicker is a hollow and unfounded one. If this is your goal I would look into stocks where there are many documented cases of people who have done exactly this (gone from a few thousand to a few million) while if your goal was to grow your capital for long term profitability then forex might be a good opportunity with much better and stable long term rewards when compared to stock trading. I know this sounds like the total inverse of what people usually believe but if you follow my train of thought you will see that it actually makes a lot of sense ! :o)
If you would like to learn more about forex mechanical trading systems and how you to can design and build your own likely long term profitable systems please consider joining Asirikuy.com, a website filled with educational videos, trading systems, development and a sound, honest and transparent approach to automated trading in general . I hope you enjoyed this article ! :o)