In the world of forex trading it is very difficult to find people with honest views about products and an honest interest in the profitability of retail traders. Most people who are selling forex products out there just think about one thing – selling their products – while they have no interest whatsoever in their customer's final results. A few months ago I met a guy who discovered my website with a very similar vision to mine, Dave Evans – who is a forex trader himself – had a very similar view about forex products and their evaluation. He later told me that he run a magazine called "What really profits" which allowed people to know the truth behind many of the forex products being sold out there and use those trading techniques and ideas that can really make a profit in the market.
From the start I liked his style and views and I was pleasantly surprised when Dave contacted me about writing a review about Asirikuy within this newsletter. It was definitely very good to see that an independent source was writing about the good and bad aspects of Asirikuy and that my view of an "educational website" that attempts to guide traders into profitable trading through knowledge was getting across the board. After this review got published we continued our contact and Dave asked me a few times to write content for this newsletter. At first I refused due to my schedule and article commitments with Currency Trader Magazine but then I saw a very good opportunity to share within his magazine an approach with I am unable to share in CT due to the more "professional character" of the audience.
Since the "what really profits" magazine is much more aimed at the small retail trader than Currency Trader (which is much more about professional traders and already profitable retail traders) I saw the opportunity here to publish content that would allow people to improve their manual trading and effectively execute mechanical trading strategies with tight schedules and the inability to watch the screen all the time. For this reason I decided to make the commitment with Dave to write a few articles. He did offer to pay me for this freelance writing effort but I decided that the exposure this would give my blog and Asirikuy was enough "payment" and that the most important thing was – as always – to help the retail trader achieve better profitability with the help of some well-designed tools.
Today the latest version of his magazine was released and with this version my first contribution has been "printed". In this first article I share with people the ATR-Manager indicator which is the basic tool we will be using from now on to trade mechanical trading strategies in a manual fashion (in future articles). The ATR-Manager indicator is simply a tool which displays ATR related information – such as ATR adjusted TP and SL values – on the screen as both numbers and lines coupled with trade entry information which can be easily used by people to take trades on manual mechanical trading systems designed around ATR adjusted criteria.
–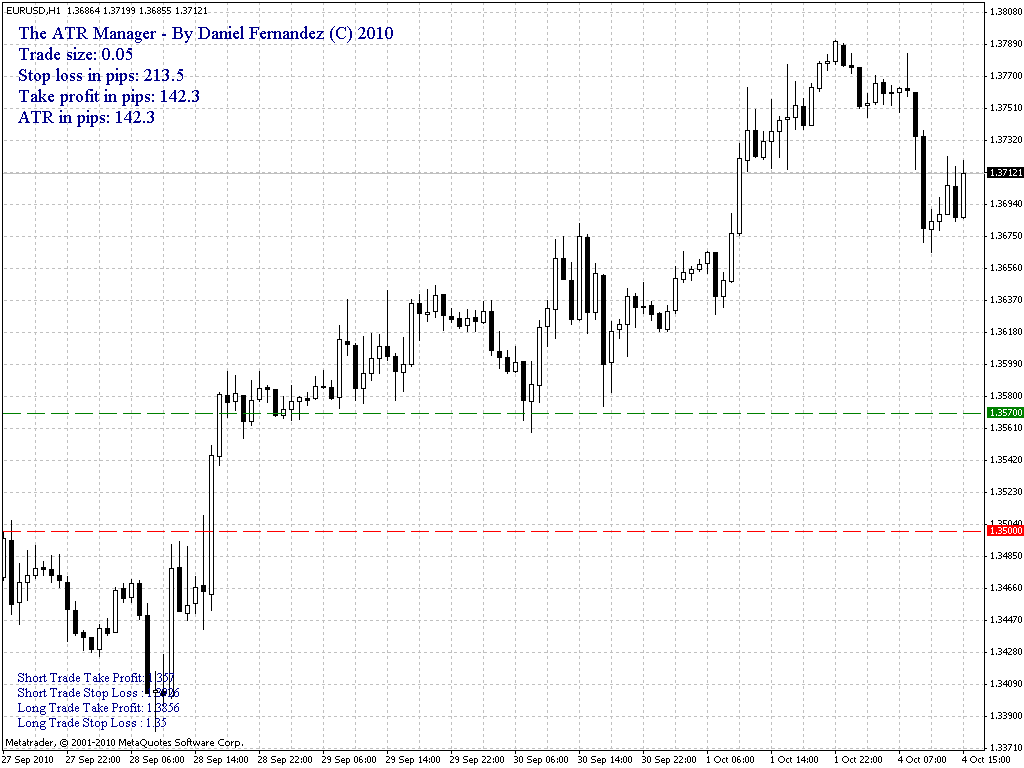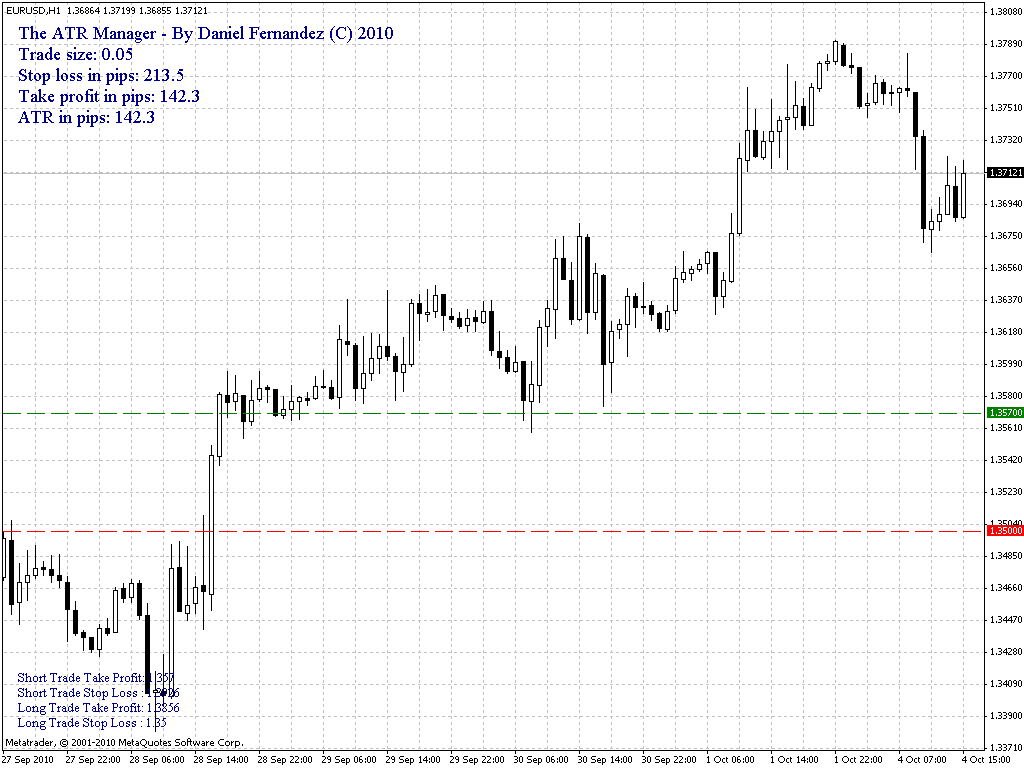 –
The idea of my contributions on his magazine will be to share easy-to-trade manual mechanical trading strategies as well as indicators to apply some of the trading techniques I explore within my Currency Trading Magazine articles. Definitely Dave's magazine does not have as much exposure or reputation as Currency Trader Magazine – which has more than 10K subscribers and a reputation of being one of the most trust-worthy sources for online information for currency trading – but his magazine speaks to a crowd which I am specially interest in. The little guy :o). His magazine is also extremely cheap (less than 50 USD a year) and it offers a lot of information which should be useful for anyone seeking to know "What really profits" in currency trading. I also especially enjoy the much less formal and "relaxed tone" of this newsletter, allowing me to go deeper into the practical aspects of executing mechanical trading strategies and the implementation of tools to do this correctly.
I do not know right now if I will be writing articles with him in the longer term but right now I have made a commitment to write articles at least for the rest of the year and hopefully our relationship will grow stronger as we develop more articles and in the long term I may become a more "permanent" contributor to his publication. For now I can say that for at least the next few months you will be able to enjoy some exclusive content from me on his magazine and certainly other content you will enjoy and find useful in your journey towards profitable trading in the currency markets.
If you would like to learn more about automated trading and how you too can design and trade your own mechanical trading strategies based on sound  strategies please consider joining Asirikuy.com, a website filled with educational videos, trading systems, development and a sound, honest and transparent approach to automated trading in general . I hope you enjoyed this article ! :o)