If you have read my previous posts on Monte Carlo simulations and the analysis of monthly returns you may have already realized that a very interesting part of automated trading is to know when a system "stops working". Definitely one of the reasons why inexperienced traders in this field tend to "change systems" and dump rules when they enter draw down periods is because they fail to have an understanding about the natural deviations from long term statistical outcomes they should expect and this in turn leads them to be uneasy about any moves into unprofitable territory because they lack any criteria to tell them when such moves communicate that a system has stopped working.
There are obviously many ways in which we can determine that a system has stopped behaving as we expect it to behave. During last week I wrote a post about Monte Carlo simulations and how these allow us to know when a system's short term statistical outcomes are deviating from the normal deviations we would expect from the long term statistics we obtained from our back tests.  However Monte Carlo simulations carry several limitations, amongst them the fact that we need to reach certain draw down depths (usually twice the ten year historical draw down for systems with risk to reward ratios near 1:1) or long periods of testing (several hundred trades) before we can know if a system has stopped working.
–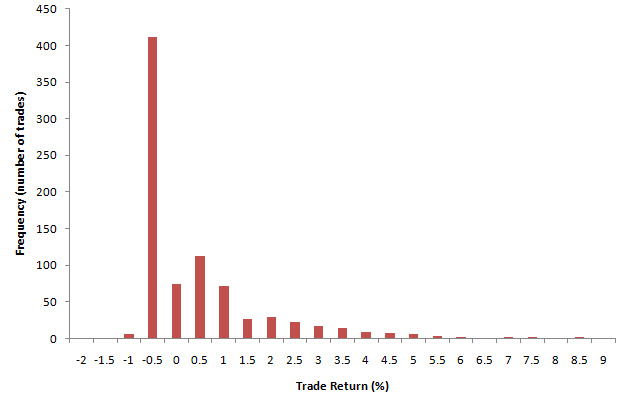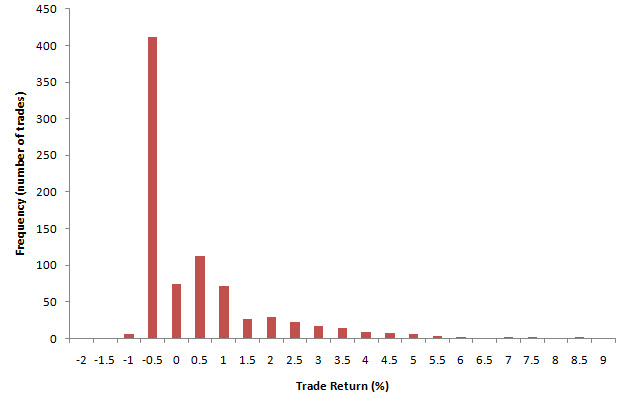 –
To compliment Monte Carlo based simulations, it becomes important to develop further criteria based on the distribution of trading returns in order to know when our "return pattern" is becoming very different to the pattern observed during the past 10 year period. An Asirikuy member recently suggested we incorporate this as part of our worst case analysis, and I believe that this has great value in providing us with key insights into the way in which our systems behave and when they stop behaving as they should.
The idea here is quite simple. If a system behaves like it has behaved during the past ten years, then the distribution of returns going forward will look like a random "pick" from the previous ten year distribution. That is, if the system had for example 100 trades within 0.5-1% profit and 200 trades within 1-2% we would expect the next 50 trades to be a "random pick" from within this previous ten year distribution, holding true to the above mentioned values within the possible randomness of the pick. The above image shows the distribution of returns of the God's Gift ATR within its 2000-2011 backtests. From this it seems clear that any random pick would be constituted by a large majority of -0.5% losses with some small amount of small profits and some smaller amount of  >5% profitable trades. This analysis of return also shows us that this EA with this settings is bound to be very hard to trade psychologically since trades have a high probability of being individual losers (although the system is overall profitable because many profitable trades are 5x to 10x the average losing trade).
Statistically speaking, what we want to do is determine if the probability that a given trade set is a random pick from the previous ten year distribution is enough to consider this trades a part of the previous set or not. If the trade set we evaluate seems to be likely to belong to the previous 10 year distribution then the system is behaving as it should while if it is not we have a dramatic change in behavior which tells us that the system is not working as we expect it to anymore. Long story short, if the trades taken within a live account are distributed in a way in line with what would be expected from the past 10 year behavior the system can continue running while if it is not, the system must be stopped.
Now, in order to know if the above is true or false we need to use some statistical tools that will help us compare and see if our system's live trades do follow a return distribution as we would expect. To do this we use a Pearson's Chi-square test which allows us to compare the results of our "new set" with the "reference distribution" and determine whether or not our outcome can be thought of as a "random pick" from the previous ten year distribution.
This can certainly sound complicated to those of you who are not very familiarized with statistics but the fact is that all these calculations will be incorporated into an Asirikuy new "worst case EA" which will allow you to evaluate any system and its current stand against its "worst case" comparison. The EA will compare the current EA statistics and "distribution of returns" with a "moving window" in such a way that it will alert you whenever a system falls below its predicted thresholds determined by Monte Carlo simulations or if its distribution of returns appears to have deviated significantly from what was expected from the ten year analysis.
The frequency distribution of returns and its comparison with live trade sets using a Chi-square test is certainly another very interesting and useful way to evaluate a system's worst-case scenario in such a way that greatly compliments and enhances the information given by the Monte Carlo simulation thresholds. If you would like to learn more about system evaluation and how you too can design and evaluate your own likely long term profitable systems please consider joining Asirikuy.com, a website filled with educational videos, trading systems, development and a sound, honest and transparent approach to automated trading in general . I hope you enjoyed this article ! :o)