The wonderful thing about trading system portfolios is that as the number of systems grow there seems to be an overall convergence in the average compounded yearly profit to maximum draw down ratio with extremely large values being achieved through simulations. When building portfolios with 15-20 instances it is not uncommon to find values for this ratio of even 8 or 10, something which is rather amazing considering that real life performers seem to have a natural "cap" at around a value of 4. It therefore becomes very interesting to duel further into this type of portfolios to discuss how they achieve the above mentioned simulation results and what specific dangers they pose to traders.
When you build portfolios with many different trading systems simulations show that each new system you add helps hedge a draw down period of another strategy. Since all the systems you use in portfolio building ended up as profitable strategies – a natural survival bias of most system building efforts – you end up with a smoother equity curve with each system you "add to the pile" as every new system covers a little "crack" left by previous ones. When you increase the number of systems to a large value and you equalize average risk per trades it is not abnormal to find yourself in a situation where a very large simulated average compounded yearly profit to maximum draw down ratio is achieved.
–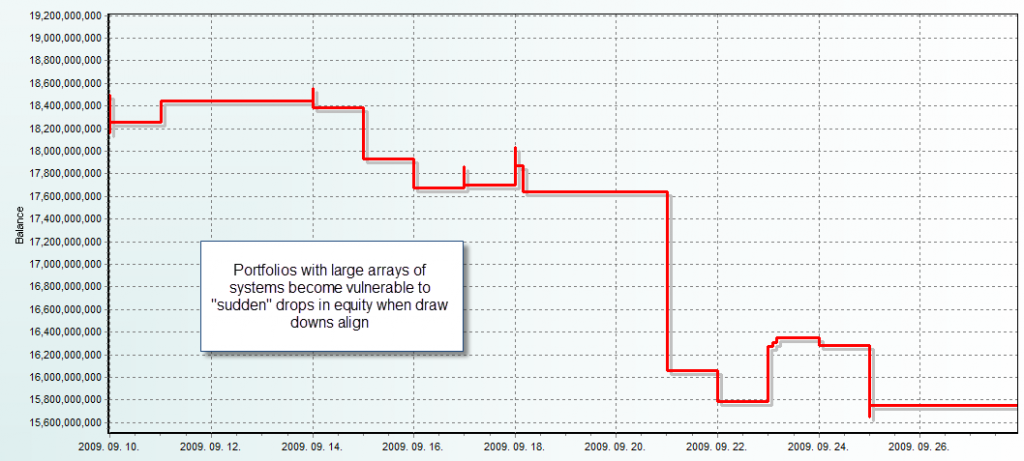 –
The question we need to ask ourselves pertains to the validity of such wonderful simulation results regarding the possibility of achieving these values in the future and what risks we face through the use of such a large array of trading strategies. The first obvious impasse of such a trading approach lies in the increase in margin requirements generated by the possibility of larger open positions, when you have 15-20 different instances the possibility of having a very large margin use becomes realistic and margin calculations become an absolute must before trading. Great care must be used when using large portfolios and maximum margin requirements always need to be calculated in order to avoid a potential margin call due to excessive margin usage.
The second and perhaps most important characteristic of "big trading portfolios" is their inherent ability to duel into deep draw downs within very short periods of time. Even though the AMR to maximum draw down ratio is absolutely gorgeous within backtests, Monte Carlo simulations reveal the ugly truth of an extremely large amount of consecutive losing trades being a real possibility. Since the trading frequency of the portfolio is high then these arrays of large losses can happen within very short periods of time. This means that a portfolio with these characteristics tends to go into sharp draw down which will make it harder to trade. The price you pay for the very fast compounding on profitable periods is an extremely harsh psychological reality due to the possibility of extremely "bad runs" when system draw down periods align.
In reality a "big portfolio" traded at a high risk (worst case scenario above 50%) may be nothing but suicidal since an account could suffer tremendous losses within just a few weeks or days of trading. These sharp draw down periods also make these portfolios much more vulnerable to broker dependency issues as small differences in brokers which cause small differences in performance could easily "pile up" to yield draw downs which are far worse than those predicted by trading simulations. When you pile up more systems you're relying more on historical results adequately depicting long term statistical characteristics something which can only be assumed within a certain  error level. Since broker feed dependency exists – added with things such as slippage – big portfolios carry the possibility of big divergences from historically determined portfolio characteristics as broker differences and dependency will get a compounding effect due to the large array of trading strategies.
This certainly doesn't mean that big portfolios don't have a place in trading, however I would probably prefer to trade them under a very reduced risk which puts the Monte Carlo worst case scenario near 20% and not higher. This would be done in order to protect ourselves from some of the above mentioned problems while retaining the added benefits of a much higher level of diversification. Certainly the level to which compounded broker dependency issues and sharp draw downs affect trading hasn't been measured yet but such effects are bound to be much more bearable when trading at a much smaller risk.
–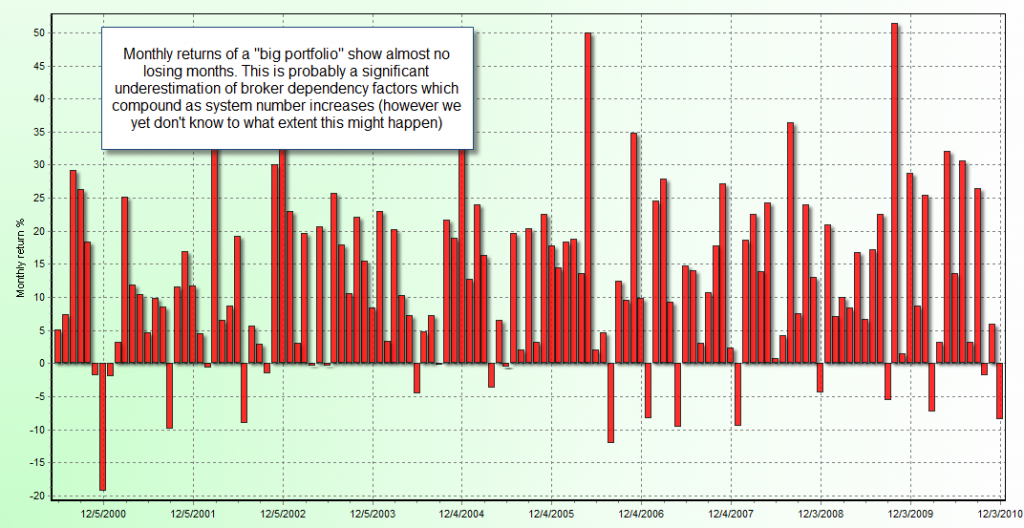 –
Some traders tend to give a lot of weight to historical AMR to Max draw down ratio evaluations but they should always realize that several "hidden issues" exist when coupling large arrays of systems within trading portfolios. Large setups should therefore be evaluated with reduced risk with proper Monte Carlo simulations and the user should realize that compounded broker dependency issues may probably cause draw down to be faster or even sharper than expected. Although such effects are difficult to determine it is true that they are a reality which may affect large portfolio trading significantly. In the end large trading portfolios carry a great psychological challenge (sharp draw downs) coupled with a higher degree of uncertainty in simulations (compounded broker dependency effects) and larger capital requirements (larger margin usage) which are rewarded by higher diversification and much better expected average compounded yearly profit to maximum draw down ratios. The good thing is that the ratio of the amount of money you are in to make Vs the amount of money you are risking if you're wrong is very good, something which allows you to quit trading the portfolio quickly if things such as broker dependency compounding effects have larger consequences than expected.
If you would like to learn more about my journey in automated trading and how you too can learn how to build and simulate algorithmic trading portfolio historical results please consider joining Asirikuy.com, a website filled with educational videos, trading systems, development and a sound, honest and transparent approach towards automated trading in general . I hope you enjoyed this article ! :o)