If there is something that can ruin a trading system and make your strategies fail in the long term, it is asymmetry. During the past year I have been thinking extensively about this issue and the more I think about it the more it makes sense that symmetry is vital to have systems with high possibilities of success in Foreign Exchange trading. Through the following article I will share with you some of my experience and tests around this issue and why there is strong evidence that asymmetry in Forex trading does NOT yield any positive results. I will explain to you the concept of trading symmetry, why the notion of asymmetry is very tempting and why building asymmetric systems only yields – in the end – monumental profit failures.
When you build a trading system you usually have criteria to take both long and short trading positions. For example your system may enter a long trade with a daily close above the 200 period moving average and a short trade with a close below the 200 period moving average. When a system is built in a way in which the criteria for long and short position taking is equal and opposite in nature the system is said to be symmetric as it does not favor long positions over short positions. However if the above criteria was different for both entries – for example a 100 MA for longs and a 200 MA for shorts – the system would be said to be asymmetric as it favors one type of position over the other.
–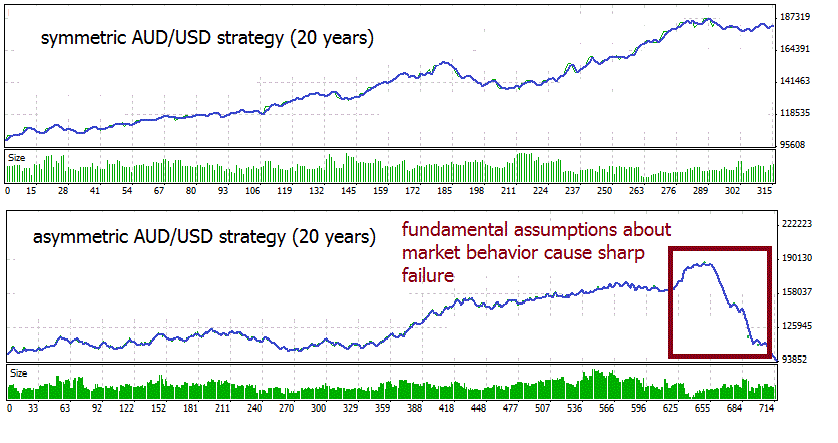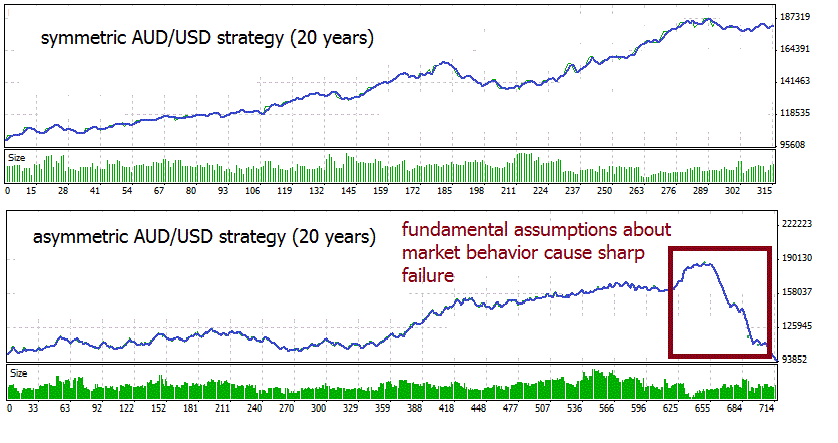 –
The notion of asymmetry is not rare in trading as some markets have a particular bias against one type of movement. For example in stocks it wouldn't make sense to buy in the same way as you sell because the market has a positive long term bias and movements towards the down side behave very differently when you compare them with movements towards the upside. When stocks go up they usually do so slowly through long periods of time while when they collapse they do so rapidly and often without a lot of warning. There is an evident asymmetry in the market which makes asymmetric systems make sense.
The dangers here start to become evident when you analyze the Forex market and the way in which bull and bear periods develop within different instruments. For anyone analyzing the past 5-10 years of trading on the EUR/USD it will be evident that EUR bull runs are smooth and take long periods of time to develop while USD runs are very dramatic and happen within week or even only days. However it is important here to recognize that this relationship has risen due to the particular fundamental conditions of the EUR against the USD within this time and there is absolutely no guarantee that things will remain in the future since the currency markets HAVE NO FUNDAMENTAL BIAS.
What I am saying here is that if the EUR has rallied in long periods during the past 10 years and fallen sharply against the USD when USD rallies develop there is no reason to believe that such behavior will continue over future market conditions as the bias which was created was a consequence of fundamental factors – like interest rates – which are bound to change in the future. Therefore – unlike the stock market – there is simply no fundamental factor which makes the building of asymmetric strategies a "sound" thing to do.
Certainly I was very intrigued by this idea and I wanted to know whether or not the building of asymmetric systems in currency trading makes sense (maybe there is a hidden fundamental bias?). However a simple experiment involving the building of asymmetric systems and out of sample testing shows that asymmetric trading strategies built over long periods of time ultimately fail (and fail hard) as market conditions develop outside their fundamentally biased assumptions. The problem here is that asymmetric systems – whichever their logic is – introduce important biases against a particular direction which is in line with the market's long term trends. When these trends change the underlying foundation of the strategy collapses and the system simply fails under its own weight.
Unlike asymmetric systems, when you develop strategies with symmetry criteria they become – apparently by nature – very robust to changes in market conditions as they do not rely on any particular fundamental behavior to reach their profit but on a real technical inefficiency within the currency pair. Symmetric systems are therefore much more sound than asymmetric systems on markets which have no fundamental reason to be biased towards one side or another, we could say that symmetric systems seem to have a much higher chance of future success when compared with systems that fail to have symmetry.
A very important thing here is to know and understand the issue of symmetry and build your systems in such a way that the exploitation of asymmetry becomes impossible. If you give a system enough parametric freedom such that within an optimization it will fall into an asymmetric logic it will certainly do so as such logic sets are bound to be much more profitable than their symmetric counterparts because they introduce a "big" degree of freedom: that long and short positions are not equal. For example if you have a strategy which works on an RSI cross and you leave the system freedom to optimize the long and short entry threshold separately you will – in the end – achieve only a very curve fitted asymmetric system with a high like hood of future failure. Such systems with threshold levels should be optimized in a symmetric way such that one level will depend on the other's value.
Overall the issue of symmetry is VERY important since ignoring it can lead to the creation of very unsound trading strategies with a very high like hood of future failure. Remember that – unlike in stocks – there is NO FUNDAMENTAL BIAS in Forex trading, there is no reason why a currency absolutely has to appreciate or depreciate against another and this is the main reason why symmetry is so essential in the development of trading systems that will last for a long time. If you would like to learn more about my work in automated trading and how you too can learn to create symmetric strategies please consider joining Asirikuy.com, a website filled with educational videos, trading systems, development and a sound, honest and transparent approach towards automated trading in general . I hope you enjoyed this article ! :o)