Broker dependency has been becoming – little by little – one of the largest problems we face as Forex traders. The fact that our strategies lack the ability to perform equally across different brokers opens up a realm of uncertainty which is not only difficult to evaluate but whose consequences are hard to predict and determine across the large array of brokers currently available. One of the most powerful tools we have to counter this problem is potentially the introduction of some concepts derived from "fuzzy logic" which allow us to make our strategies entries and exits less strict and therefore much less prone to variations across brokers that may cause sharp changes in outcomes. On today's post I will talk about some of these ideas and how they could be implemented within our trading strategies.
Broker dependency arises from the fact that Forex brokers have different feeds as there is no central exchange. Feeds can be different for many reasons, some of them are determinant (for example the broker's opening hour and liquidity providers) while others are random (the broker's latency to liquidity providers, to you, balancing between customer orders, etc). It therefore becomes very hard to determine whether one broker is better than another or to somehow test systems against broker dependency as this phenomena comes in almost random variations which change without any notice through time.
–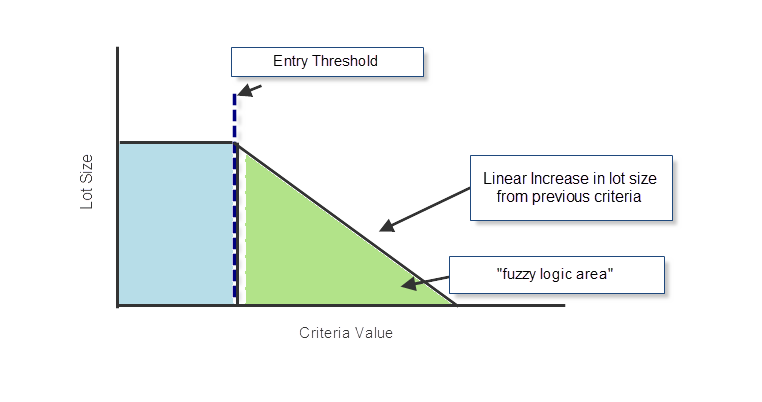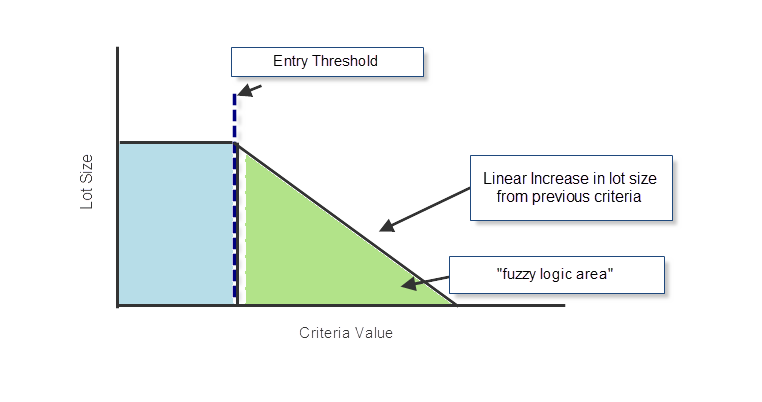 –
Many people believe that only systems which trade on the lower time frames or using tight SL/TP values are prone to broker dependency but the truth is that – although these systems are much more affected – systems traded on larger time frames, with very large SL and TP targets can also be significantly affected. We have witnessed this countless times in Asirikuy as different brokers yield different results due to  variations in their feeds that often cause significant variations across indicators in the medium/long term. These variations tend to cause differences in the time and existence of entries and exits which cause trade outcomes to be from slightly to completely different. However not only indicator based tactics are affected as price action strategies are also affected by this type of behavior.
In the end the main conclusion seems to be that there is no way to fully eliminate broker dependency through simple design considerations and therefore it becomes vital to make logic changes that can reduce the incidence of this problem to its minimum expression. In order to do this we need to consider that the main cause of the problem lies in the use of "strict" logic. If we enter a trade when a given indicator reaches above a value of  – for example – "31" then a trade might be triggered on a broker at 31.1 while another at 30.9 might fail to trigger the trade. In the end what we have is a large difference caused by what was probably a very small difference in feeds. This type of difference is what gives broker dependency its "power" in the first place.
How can we eliminate the problem? This is where fuzzy logic has its place. This technique tells us that we shouldn't think in terms of "black and white" but that we should think about strict entry criteria as "fuzzy regions" around which entries should happen. In trading the easiest way to implement this is as a half-bell-shaped curve around the entry criteria which causes entries to be triggered "all around" the center. This means that if in the above example a trade achieved a value higher than 31 and entered a trade with 1 lot, the other broker which reached 30.9 shouldn't stay out but enter at a lower lot size (0.9 for example). The idea is that an "almost entry" should still be a valid entry but yet "less valid" than a fully realized criteria.
–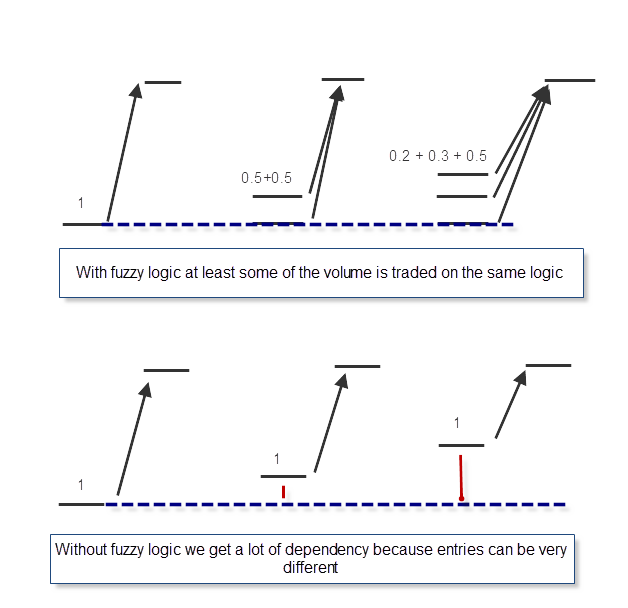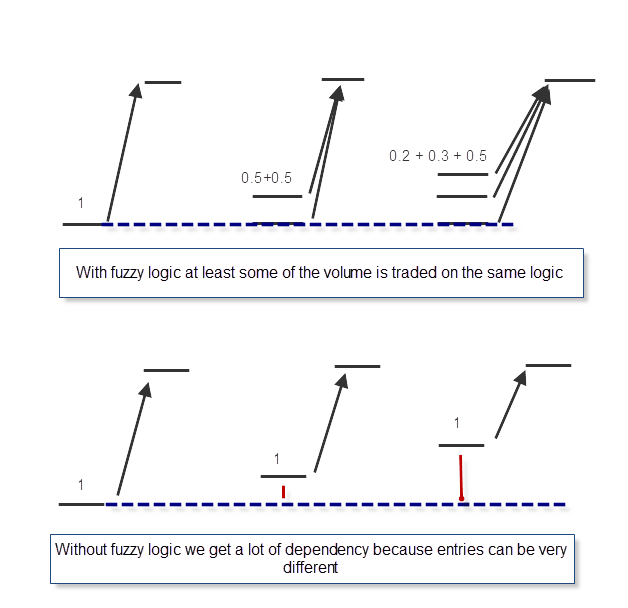 –
In the "fuzzy logic" scheme of things the strength of the entry is reduced as we move away from the entry threshold and we end up with a decaying curve that makes broker dependency a very small factor in the end. In the above example we would enter a trade even at a cross above 30 with 0.1 lots while subsequent moves up would trigger the opening of additional positions until we accumulate the full 1 lot above the 31 threshold. What we get is a "cascading entry" when there is dependency in which most brokers will match at least to some percentage , even if there is very high variation. For example a broker may enter directly into 1 lot while another may enter at 0.1 and then 0.9 on the next bar and another may enter 0.5 and then 0.5 on the next bar. In the end this breeds less broker dependency than the approach without fuzzy logic because in this case brokers share at least a percentage of the original entry at the original location, something which doesn't happen without this implementation.
The true power of this type of mechanism is really attained when you couple it with something I discussed before – trade dithering – where you enter several trades targeting different exit levels in order to eliminate dependency on exits attained by trades. This further diminishes the dependency of the strategies on brokers and makes the cascading effect equally important on trade exits. Certainly "fuzzy logic" is not very easy to implement and requires more advanced order management and entry/exit interpretation but its addition, coupled with trade dithering, may offer some key improvements that may help make broker dependency a total non-issue in the future.
If you would like to learn more about my work in automated trading and how you too can learn and get a true education around this field please consider joining Asirikuy.com, a website filled with educational videos, trading systems, development and a sound, honest and transparent approach towards automated trading in general . I hope you enjoyed this article ! :o)