During the last few weeks I wrote a post about a new monitoring solution created by an Asirikuy member called Cerberus. At the time the program had the capability to monitor the execution of MT4 platforms on your computer, with the ability to restart platforms after they closed or when they froze. However during the last week this program has evolved into a fully fledged MT4 monitoring solution which now has extensive capabilities that make it a perfect solution for the monitoring of MT4 instances. On today's post I will talk about the new achievements of Cerberus and why it will now be able to recover MT4 platforms from ANY type of problem that makes them fail when trading.
Let us first remember what our problem is. There are many inherent problems with MT4 platform stability which can cause platforms to close, crash or simply fail to connect to the trading server, causing a trader to lose valuable trading signals which can greatly affect the long term performance of trading strategies. Since we are interested in constant execution it therefore becomes absolutely vital to code a piece of software which is able to closely monitor the platforms and restart them whenever there are some important problems with them. Ideally we would want to be able to recover from any type of problem that would cause us to miss trading opportunities, including closes, crashes and disconnections.
–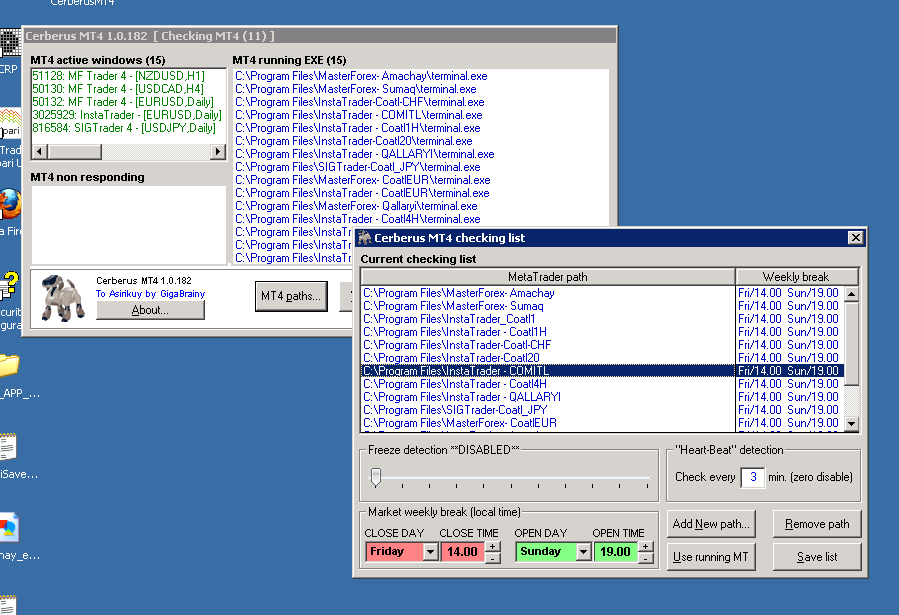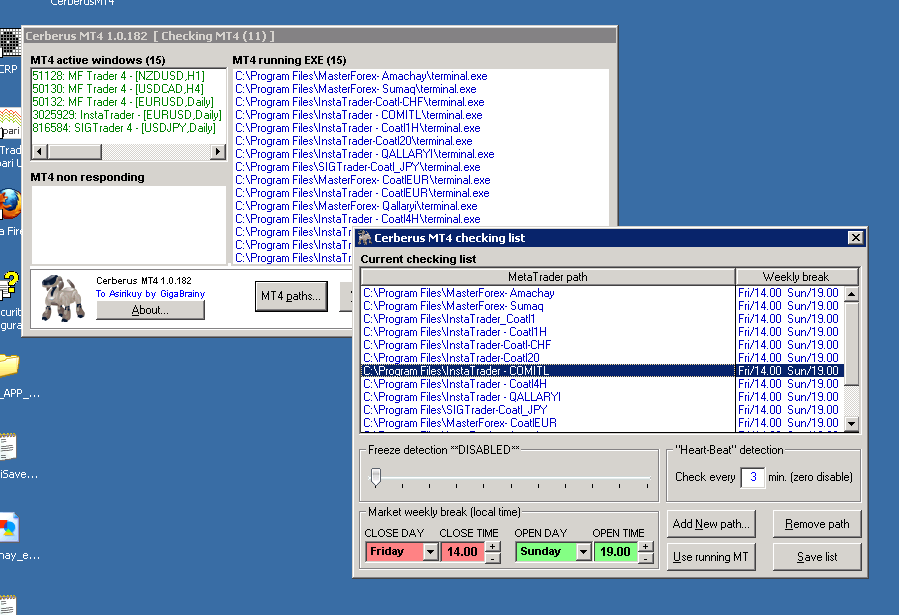 –
Before the beginning of last week I though that any complete solution would need to have some sort of "heart-beat" EA which would check within the MT4 platform for disconnections and warn Cerberus through some file log, database or process message about the failure of an Asirikuy instance to update (a disconnection which can often happen without automatic recovery  if the dreaded "common error" shows up). After receiving this message form the heart-beat EA Cerberus would then take the appropriate action according to the platform's status. However – and thanks to the great insight of the Cerberus' author- there was a much simpler and elegant solution which is now used by the program.
The Asirikuy member who created Cerberus found a file within the MT4 platform which is updated on every tick with the current time according to what has been fed by the server. This data file is always kept "up to date" and therefore when it remains constant for a long period it inevitably means that something is NOT alright. Cerberus uses the information inside this file and whether or not it changes between a user defined time interval in order to restart the platform if there are any connection problems. In the end Cerberus achieves what no other application solution can, it is able to recover from MT4 closes, crashes and ANY type of disconnection of the MT4 platforms. Certainly two weeks ago I would've thought that such a simple solution wasn't possible but thanks to the great insight of this Asirikuy member we now have a monitoring solution which is COMPLETE in the sense that it addresses all possible MT4 related issues.
Of course there were some problems we needed to iron out (mainly dealing with the start/end of the week for each broker) but now the program also has a custom start/end week time definition for each monitored platform allowing you to easily set your broker's start/end time so that Cerberus does not frantically restart your platform after the trading week ends (since there are no incoming ticks Cerberus would perceive the platform as being disconnected). This version of Cerberus is definitely a dream come true in the world of MT4 monitoring programs, a piece of software which is able to monitor your platforms in a very tailor-made fashion.
So a big applause for the author of this tool, a big solution we needed within Asirikuy :o) This program will be released with this week's newsletter and videos within Asirikuy. If you would like to learn more about my work in automated trading and all the useful and incredible software being developed by our trading community please consider joining Asirikuy.com, a website filled with educational videos, trading systems, development and a sound, honest and transparent approach towards automated trading in general . I hope you enjoyed this article ! :o)