In June 2010 I decided to release a project called "Atinalla" within my Asirikuy website. The project is my attempt to build portfolios which can be used as tools to potentially achieve living from trading in the long term through yearly capital additions and judicious account and system statistics monitoring. One year after initiating this project we now have +20  live Atinalla portfolio accounts in Asirikuy which trade 7 different portfolio combinations which have been released ever since the project started last year.  On today's post I want to take some time to write about some of the achievements of the Atinalla project, the experience members have had with it, how it has improved my personal trading and how I believe this project can be improved going forward to further increase its achievements.
The Atinalla project started as my way to answer the "how can I live from trading?" question posed by many Asirikuy members at the time. We already had several systems that had showed profitable results in live trading and we wanted to know whether it was possible to achieve large capital targets (between half and one million dollars) in 10-15 years in order to be able to "retire" through the use of Forex trading (starting from a small investment). In order to help people achieve these targets I created the Atinalla project which simply aims to create portfolios in order to achieve profit to draw down targets which can help users achieve large profit targets in the long term with 1K initial capital and yearly 1K USD capital additions. The word Atinalla is Quechua for "possible" because although the profit to draw down targets achieved by these portfolios in simulation are – for the most part – above those of top audited market performers there is no reason to believe they aren't possible. (however they won't be realistic until they become a long term reality)
–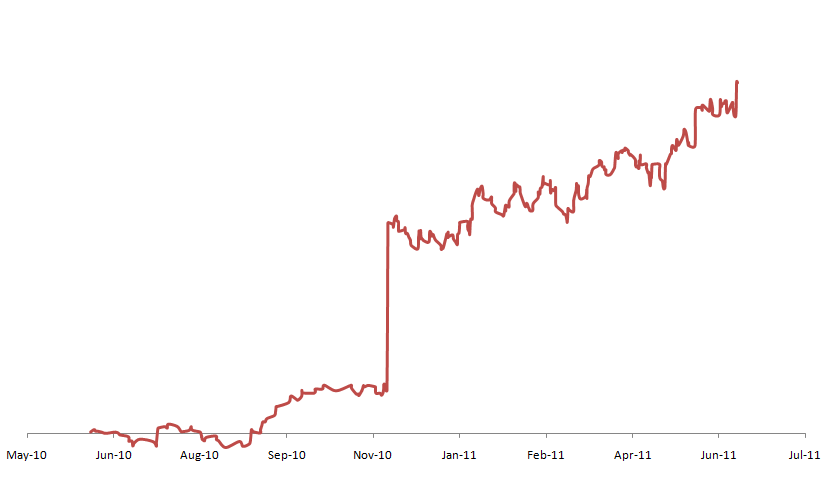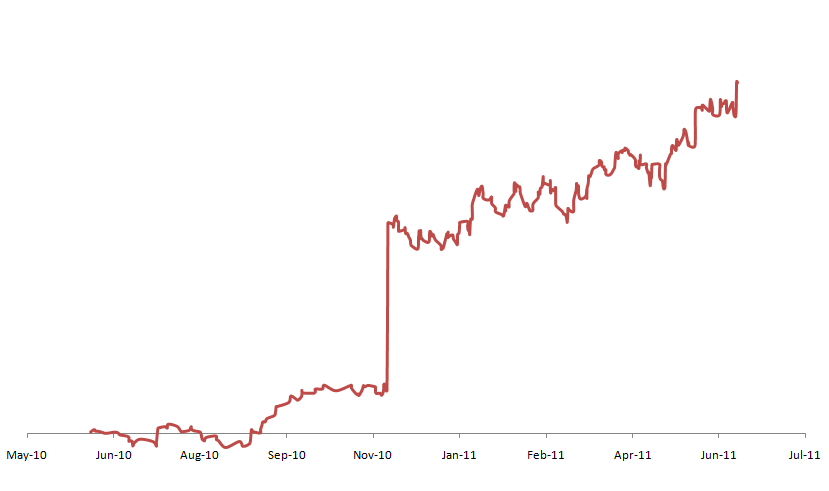 –
The project started with a few live accounts (both mine and contributed by some members as challenge accounts) which this month (or in early July) have their one year anniversary. These accounts started trading Atinalla No.1 (a portfolio built from 3 Asirikuy systems) while all the other accounts started trading Atinalla No.2,3,4 or the Sapaq modified portfolio implementations which were introduced almost 7 months later with the appearance of the Sapaq trading strategy. Up until now I have the immense pleasure to say that the large majority of portfolios have had profitable outcomes and that NO portfolio has gone below its Monte Carlo Worst Case scenario. Sure, a small amount of portfolios are in the red but this is well within the predicted draw down values we have seen in historical testing and in Monte Carlo simulations. Above you can see the results of an Atinalla No.1 live account (note that profit figures are not shown as Asirikuy live results are NOT published publicly (read here to learn why)).
I also have to say that trading Atinalla portfolios has NOT been an easy thing to do. All portfolios have had draw down periods (as we clearly expect them to) and some have even had periods of losses that were 3-6 months long. As the simulations predict the trading of Atinalla portfolios is not psychologically easy and in the long term periods of trial come by where the knowledge and understanding of individual traders about portfolio characteristics are tested. Perhaps the greatest achievement of the Atinalla project is that it enabled many people to have their first year as profitable traders. It is very gratifying to see that members start to create an understanding about their trading systems; not falling prey to despair when draw down periods come but understanding the implications of each drawdown period and where it falls within Monte Carlo simulations and system statistics.
It is also worth noting that Atinalla portfolios had for the most part an "easy year"  – as it was probably a very positive one within the realm of possibility as described by Monte Carlo simulations  – but some portfolios (like Atinalla No.2 ones) already show us that  portfolios are bound to have long and deep draw down periods (as predicted by simulations) that will be even harder to trade than the draw downs we saw this year. The Atinalla project definitely shows that being long term profitable is NOT an easy thing to do but with dedication, effort and understanding capital starts to grow and this effect will create – if everything goes according to plan – a large compounding effect which will end up with a very large nest egg that will allow for "early retirement".
After one year I am extremely happy with the results of this project and how it has positively affected the lives of the traders who have got involved. I am very happy to see that people have been able to view systems through the lens of understanding and that they are no longer trading like "grail hunters" (ditching systems after every draw down and not having any idea of when the system fails to fulfill its statistical expectations) but like professional business-focused traders who have clear expected profit targets and a very good understanding of the inherent risk of the strategies they are trading. Atinalla portfolios have definitely taught money management, understanding, risk assessment and will hopefully teach about the huge power of compounding going forward. This project has definitely proved that understanding is KEY to long term success in Forex trading.
Going forward my goals will probably not be to further expand the Atinalla project set of portfolios but to expand Asirikuy tools so that they become more powerful, enabling users to deeply evaluate and build portfolios that fit their particular trading styles. I have seen that portfolio makeup, size and expected profit targets are deeply related to each trader's risk aversion and my hope going forward will not be to build some combination which I believe is "best" but to help Asirikuy members with tools that enable them to gain a deeper understanding of the systems and how they work together. In the end everything falls back into understanding and building tools will help with this very fundamental aspect: a better understanding of portfolios. Of course I will also work on the improvement of our "default" set of portfolios and probably several additional Modifications will be covered in the future which may use some of our latest system develops (Sumaq, Amachay, etc).
In June 2012 I envision an Asirikuy where users are building their own portfolios based on in-depth levels of understanding and where our tools (such as the Delphi ADA (not released yet)) will be able to greatly help users to see how different systems work together and to let users choose a portfolio which better matches the way in which they like to trade. Of course this is already done to a certain point but hopefully it will reach a whole new level within the next 12 months :o) If you would like to learn more about portfolio building and how you too can learn about Monte Carlo simulations and overall risk management please consider joining Asirikuy.com, a website filled with educational videos, trading systems, development and a sound, honest and transparent approach towards automated trading in general . I hope you enjoyed this article ! :o)