During the past month I have been reflecting a lot about system development and what my focus – and our focus at Asirikuy – should be going forward. After doing a lot of research – although just the tip of the iceberg –  in neural networks and walk forward analysis, it seems to me that there should be a simpler, more effective and more profitable approach to system development in trading that is not only more elegant but also more systematic. From my previous developments I also knew that systematic strategy searches using genetic programming are not very prone to success, primarily because the logic space quickly becomes too big and successful combinations become both exceedingly curve fitted and "black box" type (difficult to interpret). However the answer to the above question became a lot clearer once I read the books written by Michael Harris which – although not particularly useful in practical terms in my opinion – did give me the idea that I am going to explain within the rest of this post (so it was conceptually a gold mine for me). Today you are going to learn about Kantu, a new program I have been working on (which is now fully functional) that will mark an entire new milestone in system development for me and hopefully the whole Asirikuy community. You can read more about Michael Harris' ideas by following this link to his own blog.
So what is the problem with system development ? There are many. The biggest issue for me is that manual system development is exceedingly tedious and demands a lot of time to yield results that are often not satisfactory. Algorithmic system development can – on the other hand – be very fast and efficient but it commonly leads to exceedingly curve fitted solutions and systems with very large parameter spaces (often systems that are also cryptic, very "black box" type). In the best case manual system development can generate sound strategies that are only in a few cases significantly profitable while algorithmic system development easily falls into pitfalls that generate unsound strategies (it depends tremendously on who codes the genetic programming or neural network implementations). Manual strategy development takes a lot of human time and effort to ultimately generate perhaps a few strategies per year while algorithmic trading has the potential to generate thousands of strategies every hour, if things are done properly. Automatic system development can have the potential to be an extremely useful or dangerous tool, depending on how the software is built.
–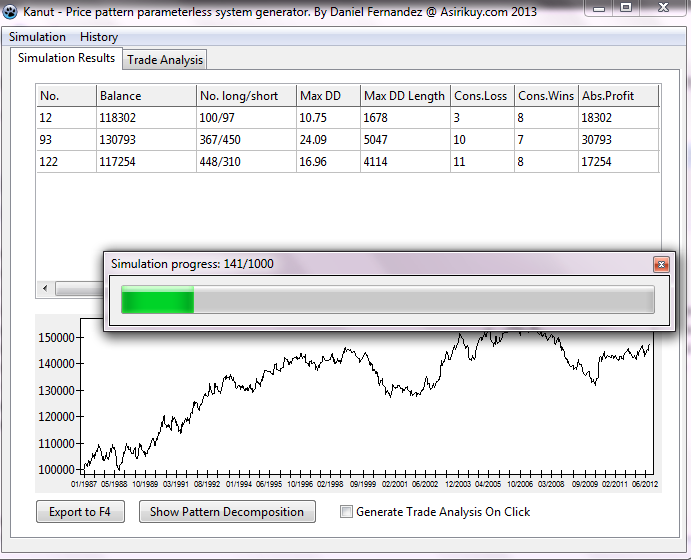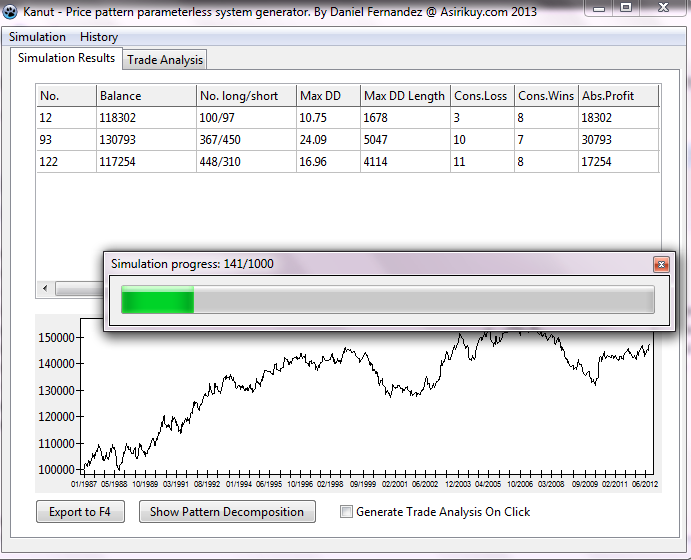 –
The question becomes simple: how can we build systems algorithmically without falling into any pitfalls ? How can we forget about optimizations, walk forward analysis, parameter spaces, etc while allowing a computer to build trading systems? How can we create a logic space that lacks parameters? The answer to this comes in the form of two words: Price Action. This is the path that Michael Harris has followed within the past few years with the creation of his software (Price action lab) that attempts to use different price pattern combinations in order to find profitable systems on any symbol. Harris uses only a stop-loss and a take-profit as parameters, saying that his systems are robust because they lack any potential variations on entry criteria (what he calls type-III strategies). I was intrigued by this concept when I first read about it a few months ago and therefore I decided to implement my own software for price pattern based systems but, with a large twist. This software project – to implement the creation of parameter-less price action based systems – is called Kantu. 
Harris uses a family of about 100 patterns to generate his trading systems but I wanted to have something much more powerful and generic. I implemented a price pattern creation engine that uses only comparative rules between candles (for example the last candle's high is higher than the low of the candle 5 periods in the past) and then can implement several rules for each candle. These rules are parameter-less because they are entirely comparative, this means that price patterns are created by comparisons between different points in a price chart, something that is entirely free from any parameters. There are no comparisons against any size or volatility, but just comparisons of relative points in the chart. In the software the user tells Kantu the maximum amount of bars per pattern and rules per candle that will be used and Kantu generates a random set of price patterns that have randomly assigned rules and compositions (the actual amount of rules per candle, directionality rules and candle numbers for each pattern are decided at random inside the limits defined by the user). The program then performs a back-test of each one of the generated patterns and saves the statistics only if the results are profitable, symmetric and above a given trade number threshold. Kantu also implements random slippage perturbations as well as user-defined spread levels.
Kantu also implements several options for exits, you can include an SL and TP (as Harris does), you can include an additional separate exit price action pattern or you can simply find a single pattern that can work by always being inside the market. You can generate systems with only two parameters (SL and TP) or systems that are entirely parameter-less. Kantu also has a genetic optimization engine that allows you to improve on pattern results by crossing the most successful rules/candles on each breeding cycle (plus the addition of some random mutations). This allows you to find maximums in the logic space relative to several different statistics. This can be quite handy as the logic space can grow very large as the number of parameters and rules becomes larger. Since Kantu is an independent program, I have fit it with pre-filtering criteria (such as symmetry) that allow you to prevent focusing on unreliable results during the genetic search (as MT4 does).
–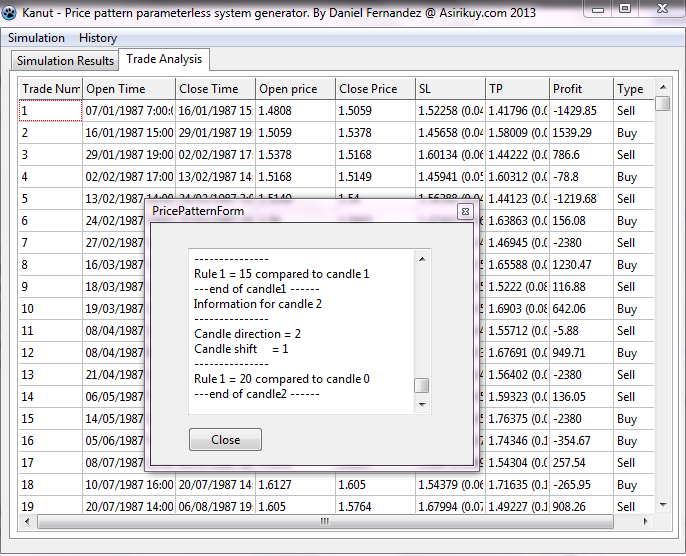 –
Perhaps the greatest thing for our community is that Kantu is able to run back-tests in a very fast manner (hundreds to thousands per minute) and that systems generated with Kantu can be directly exported into F4 framework code so that they can be implemented and back-tested using MT4 (or any other front-end that is supported) . The exporting of the system ensures that results can benefit from the F4 framework's features and that the system can be traded in an already debugged and reliable trading framework. Kantu has also been coded using Lazarus (freepascal) and therefore it is completely cross-platform compatible (as I avoided the use of any windows specific libraries). This means that Kantu binaries will be available for Linux, allowing people who use Linux systems to also carry out system development using this platform. It is also important to note that this is just a new development front, it doesn't mean that we will forget about NN and WFA developments within Asirikuy :o) 
The first version of Kantu, as well as some introductory videos explaining its purpose, design and uses, will be available to Asirikuy members within the next few weeks. If you would like to learn more about system development and how you too can develop your own trading solutions please consider joining Asirikuy.com, a website filled with educational videos, trading systems, development and a sound, honest and transparent approach towards automated trading in general . I hope you enjoyed this article ! :o)