One of the most robust ways of evaluating if a strategy is still behaving according to its historical distribution of returns is to perform Monte Carlo simulations that allow you to find out the trading scenarios where your strategy is behaving in a manner which is outside of its predicted statistical behaviour. In a Monte Carlo simulation you run thousands of trading scenarios that align with the same distribution of returns obtained from long term back-tests and from these trading scenarios you can analyse the worst result; deriving a worst-case scenario that allows you to stop your strategy within a specific confidence interval. For example I may find from a 100K iteration Monte Carlo simulation – using the 15 year back-testing results of my strategy – that the probability of my system going through a 20% drawdown within the next 10 years is 1 in 100K if the system statistics remain intact. This means that if I reach a 20% drawdown within the next 10 years I can discard the strategy with a 99.999% confidence level that it's statistical characteristics are now different.
However this use of the Monte Carlo simulation is very simple and it is limited in the sense that you are only stopping strategies along one of the many possible worst case scenarios. But what do I mean by "many" worst case scenarios? Well, the scenario I described above talks about a convergent Monte Carlo simulation, where we are looking at the absolutely worst case that can arrive as the number of trades becomes large. This means that no matter how many additional trades we have, the probability of facing a deeper drawdown if the statistics of the system remain constant is close to zero. This is because the simulation already goes beyond the point of guaranteed profitability, a trade number beyond which the system with a positive expectancy will always generate a positive return with a confidence beyond 99.999%. Generating a deeper drawdown than that predicted by a 100K iteration worst case beyond this number of trades becomes extremely hard as this is actually the limit of the trading strategy.
–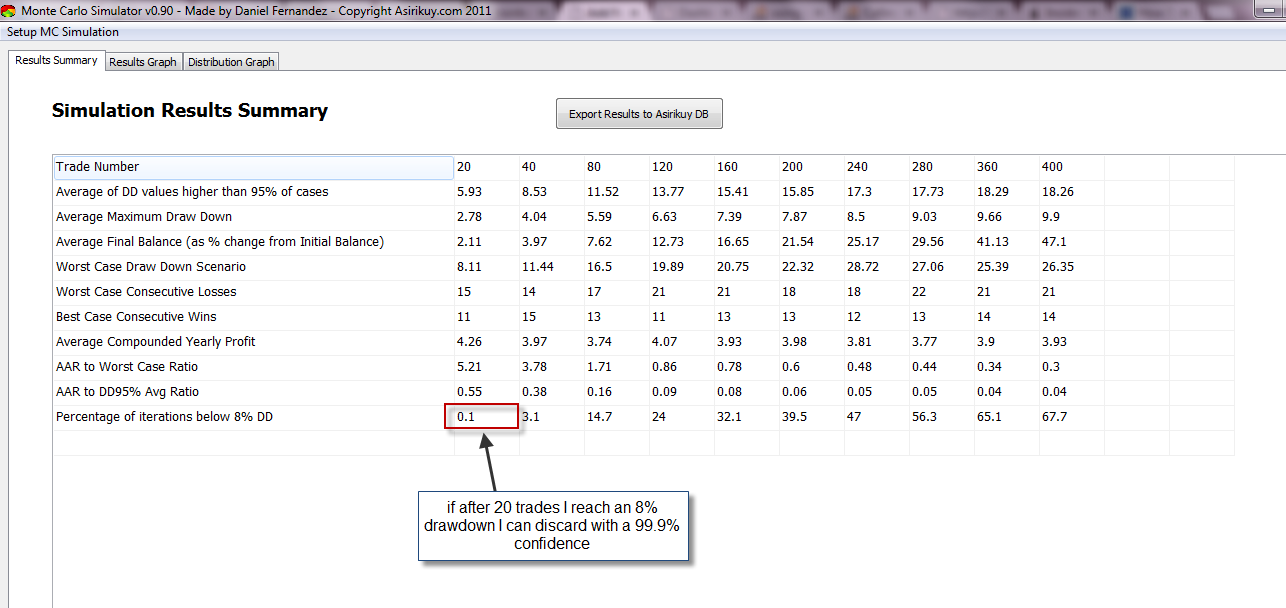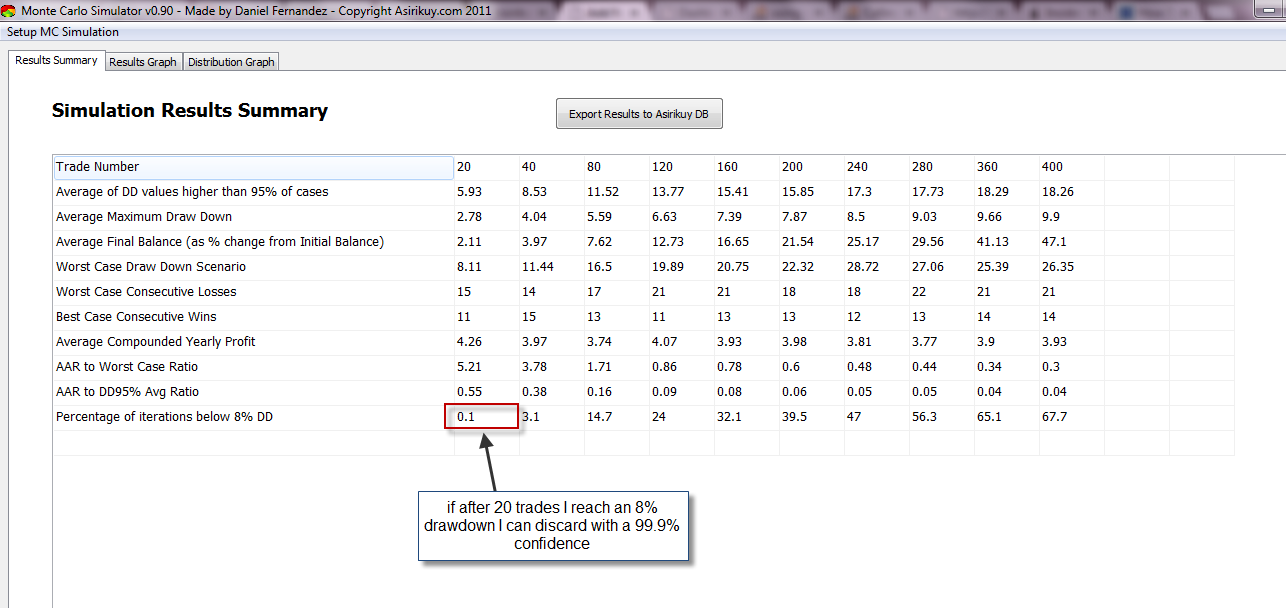 –
What are the other worst cases ? The above scenario allows traders to make a very broad assumption, which is that all drawdowns are created equal. If a trader commits to the convergent Monte Carlo simulation worst case, they are effectively saying that they will wait for this worst case before stopping the strategy, an absolute proof that the strategy's long term edge has failed. But can we find proof that the system has failed before we reach the convergent worst case ? The answer is yes and this is something that will allow you to stop a strategy way before it has to reach the much deeper level predicted within the convergent case. The trick here is that we must understand that not all drawdowns are created equal and a smaller drawdown period can constitute a worst case provided that it happens within certain conditions. This means that if your convergent worst case is a 30% drawdown, you might be able to say with a 99.999% that your system has failed at a 15% drawdown, provided that this drawdown happens within some predefined conditions.
How is this so? They key is in the number of trades that it takes you to reach a certain drawdown level. When you carry out a Monte Carlo simulation across a variety of trade numbers that are smaller than the convergent case, you can find out the level of confidence with which you can discard a system after only a few dozen trades. The above image shows you an example of a system where I have carried out simulations across a wide variety of trade numbers and you can see that the Monte Carlo worst cases are different for each case. It is also important to look at the number of iterations below the target drawdown figure that you want to use for discarding (above it's been calculated 8%) as this will tell you how confident you can be about discarding your strategy. This is extremely important because a 2 trade MC simulation would tell you that the worst case across 100K simulations is 2 consecutive loses but this doesn't mean that the system should be discarded because the probability to achieve this result across the 100K iterations is probably around 50% (meaning that this is just a highly probable behaviour across this trade number).
The analysis for the sample strategy showed above allows me to make predictions for the 20 trade case that show me when the strategy can be discarded. For example if I reach a drawdown of 8% after 20 trades I know that I can discard the strategy with a confidence of 99.9% because the probability that my system would reach a 8% drawdown so quickly are close to zero (0.1%). However note that as the number of trades goes up the probability to reach a 9% drawdown also increases, meaning that if this drawdown is reached after 80 trades I can no longer make this decision because the probability that I am making a wrong call is much higher. In this case I wouldn't want to wait till the convergent worst case (around 26-30%) if I can discard my strategy after an only 8% drawdown that happens under the right circumstances. If for my distribution of returns the probability to reach an 8% drawdown after 20 trades already allows me to discard a strategy with a 99.9% confidence, there is no reason to wait for the wider worst case.
–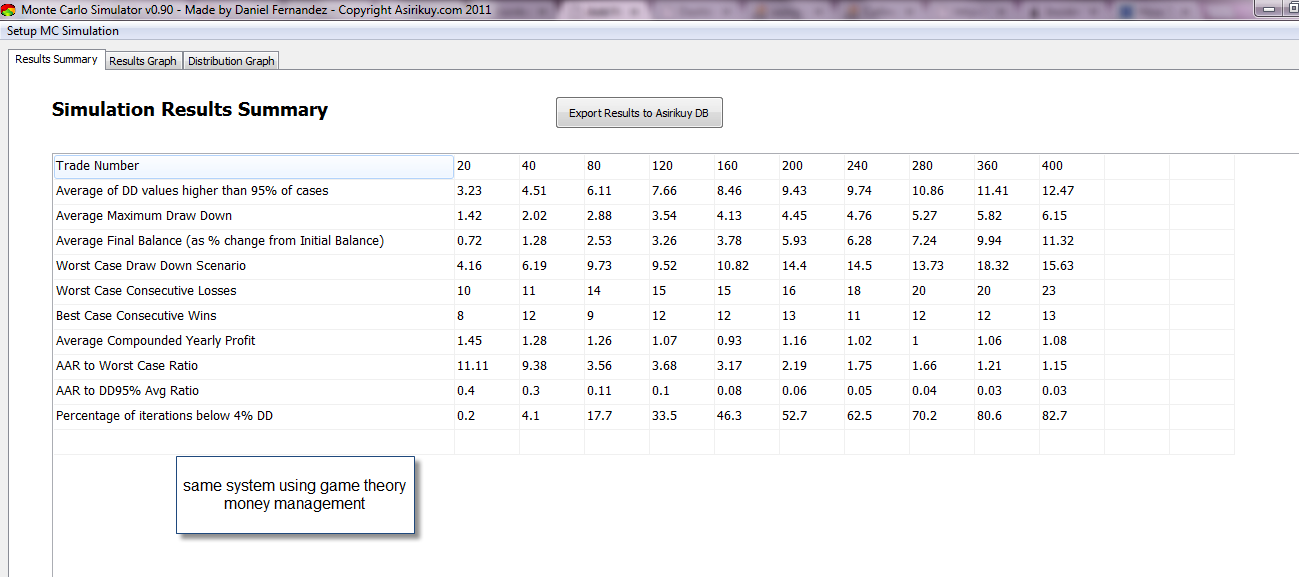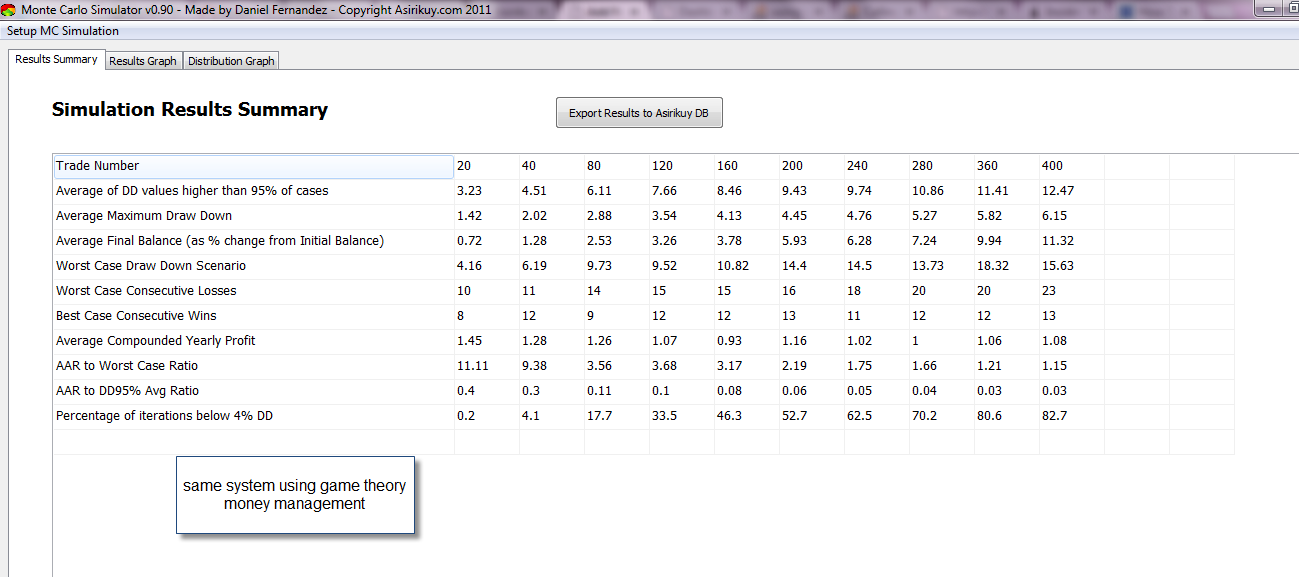 –
In summary I want to show you that you can better manage your trading systems if you not only pay attention to drawdown depths but also to the amount of trades it takes to reach a certain drawdown level. If you run Monte Carlo simulations for different trade numbers you can come up with worst case scenarios that will allow you to discard strategies when they "nose dive" into drawdown levels that would be close to impossible if their long term distribution of returns was to be preserved. I also want to call some attention to the results of the same system with a game theory money management module (second image), which shows how advanced money management affect the strategies overall results. When using game theory we could discard with smaller worst case scenarios, especially in the short term (20-40 trades).
The above analysis features – as well as several other enhancements – are currently being implemented on the Asirikuy Monte Carlo simulation which Asirikuy members will be able to use soon. If you would like to learn more about Monte Carlo simualtions and system analysis please consider joining Asirikuy.com, a website filled with educational videos, trading systems, development and a sound, honest and transparent approach towards automated trading in general . I hope you enjoyed this article ! :o)