An invariable, unstoppable characteristic of trading strategies is that all of them eventually fail — by "fail" I mean that they fall below the expectations derived from historical testing. This makes no distinction between historical development methods – such as regular optimization, walk forward analysis, machine learning, etc – because it's a consequence of the unpredictability of financial time series and the incompleteness of historical results to account for all possible variations of trading instruments. Even if a system has a high degree of adaptability that has proved successful in the past (as machine learning or walk forward analysis might generate) it does not imply that a set of market conditions won't come where this adaptability will be completely useless. Eventual system failure – what we can call system death – is an inevitable consequence of an edge developed on a finite amount of information on a market with potentially infinite variations. 

The next question is: so what can we do about it? Even if system failure is inevitable, it does not mean that we cannot make a profit before it happens. However it is important to note that the detection of system failure comes at a price. This is a consequence of the natural drawdown cycles that systems go through. Since a system might have "normal" losing periods, we must go into some sort of abnormal losing period in order to be able to discard a system. The detection of this abnormal drawdown requires some degree of loss to be attained. It's extremely difficult to be able to foresee system failure with any degree of accuracy, so you are obliged to at least live through enough of this failure as to detect it. Here is where the interesting stuff happens, the degree of loss needed for failure detection depends fundamentally on the characteristics of the system you're trading and the risks  you are taking.
–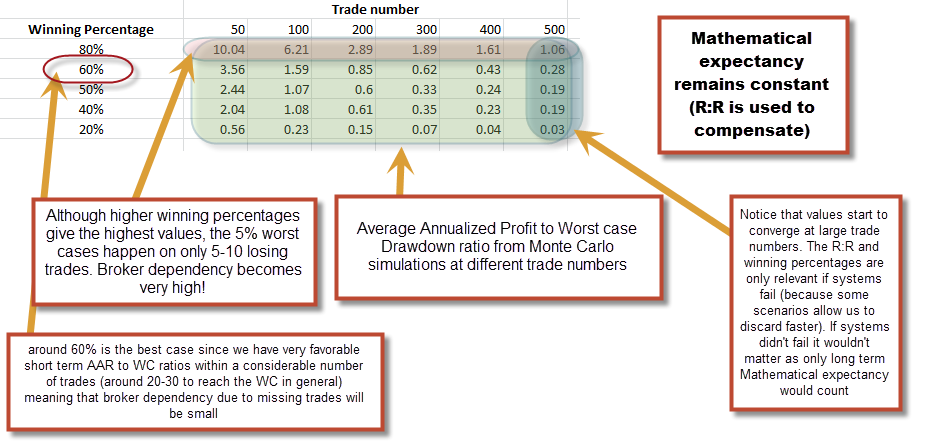 –
Things such as the risk to reward ratio, the winning percentage and the trading frequency can heavily influence the amount of loss needed in order to discard a strategy. For example if you're trading a system with a 3:1 reward to risk ratio and a winning percentage of 30%, you most likely have historically long drawdown periods within your back-tests. If you have a 600 period historical drawdown and 25 consecutive losing trades, then Monte Carlo simulations are bound to suggest worst cases that are in the order of double these amounts. The opportunity cost – time trading a bad strategy before you can tell it went bad – as well as the actual money lost is very significant for strategies under such circumstances. Another big problem of such strategies is that they are heavily reliant on a small number of highly successful trades. The missing of a few trades due to broker dependency will highly influence drawdown depth and length.
However the extreme opposite case is not better than this. A system with a risk to reward ratio of 0.2 and an 80% winning rate has equally bad problems. Although it takes only a few loses to make you decide to stop trading a strategy, these loses are much larger than your average profit. In this case taking additional loses due to things like broker dependency also poses great problems because it might put two accounts under completely different scenarios when they are trading the same strategy. If an accounts takes an additional loss it might be enough to discard the strategy on that account while another accounts might be far away from the same scenario. Although drawdown period lengths are usually short under such systems – meaning that the opportunity cost is small – the drawdown periods are usually very sharp in nature and therefore it becomes very difficult to discard systems on a per-trade-number Monte Carlo simulation.
The ideal statistical setup for discarding a system is actually the middle ground. The best possibility to discard a trading system with the least possible loss with the least broker dependency materializes when you have a trading strategy for which the risk to reward ratio is close to 1 and the winning percentage is just 50-65%. Around the 50% level it's better to be above than below, because systems with winning percentages below 50% put an additional strong psychological pressure for the trader executing the strategy.  Winning more often is much better psychologically and it also leads to a faster probability of failure detection on consecutive loss counts. Loses and profits are of similar magnitude so there is no uneven scenario that could heavily skew strategies due to things such as broker dependency.
Another point worth discussing is trading frequency. In an ideal world – where system failure doesn't exist – it is a no-brainer to choose trading systems with the highest possible trading frequency, as compounding is obviously faster in this case. Given a permanent positive expectancy, the highest turnover clearly gives the best long term returns. However, in the real world – where system failure happens – high frequency is a bad choice because it includes a possibility for very fast/deep failure short-lived changes in market conditions. A system that trades 4 times per week will have 16 consecutive loses on a month where the market is "misbehaving" according to the system's expectations while a system with only 2 trades per week would face half the loses. The chances of the second system of coming out of the bad conditions without being discarded is much higher (assuming they are otherwise statistically the same, only differing on trading frequency). However you also need to have enough historical results as to have confidence in the historical statistics generated, so all-in-all you want to have a trading frequency that exceeds at least 10 trades per year with historical tests that will be in the +10-20 year range.
In conclusion, systems should be built with statistical characteristics that reflect the quickest and best chances of statistically detecting system failure with the least  possible loss. Designing systems that are based on a hypothesis of "endless edges" is irrational, since we know that failure is guaranteed to eventually happen. From this perspective it makes much more sense to design several systems with limited frequency and a middle-ground risk to reward ratio and winning percentage perspective where the losing of an edge can be detected promptly but the losing of the overall edge (all systems failing) is unlikely. While a fast frequency trading strategy with the highest possible mathematical expectancy would be the obvious choice if system failure didn't exist (best expectation of profit) in reality we must design systems that minimize the worst case scenario (statistical system failure detection) and not systems that maximize the best case scenario.
If you would like to learn more about trading system creation and how you too can generate your own trading systems please consider joining Asirikuy.com, a website filled with educational videos, trading systems, development and a sound, honest and transparent approach towards automated trading in general . I hope you enjoyed this article ! :o)