It is no mystery that current market conditions in the Forex market have become more difficult in average for algorithmic traders during the past year. Several systems – particularly several trading the lower time frames – have had problems dealing with market conditions since about June 2013. For many it has been a mystery why such systems failed and the question of whether these conditions are transitory or "here to stay" is of a fundamental importance. Today I want to go through some information from historical charts to see what type of conditions we're currently going through, whether these conditions have appeared in the past and whether or not they are here to stay. We will take a look into two key market components – directionality and volatility – to characterize current market conditions and compare current events with those available within our historical accounts. For this analysis I will be using daily and hourly Forex  data for the DEM/USD|EUR/USD from 1986 to January 2014.
–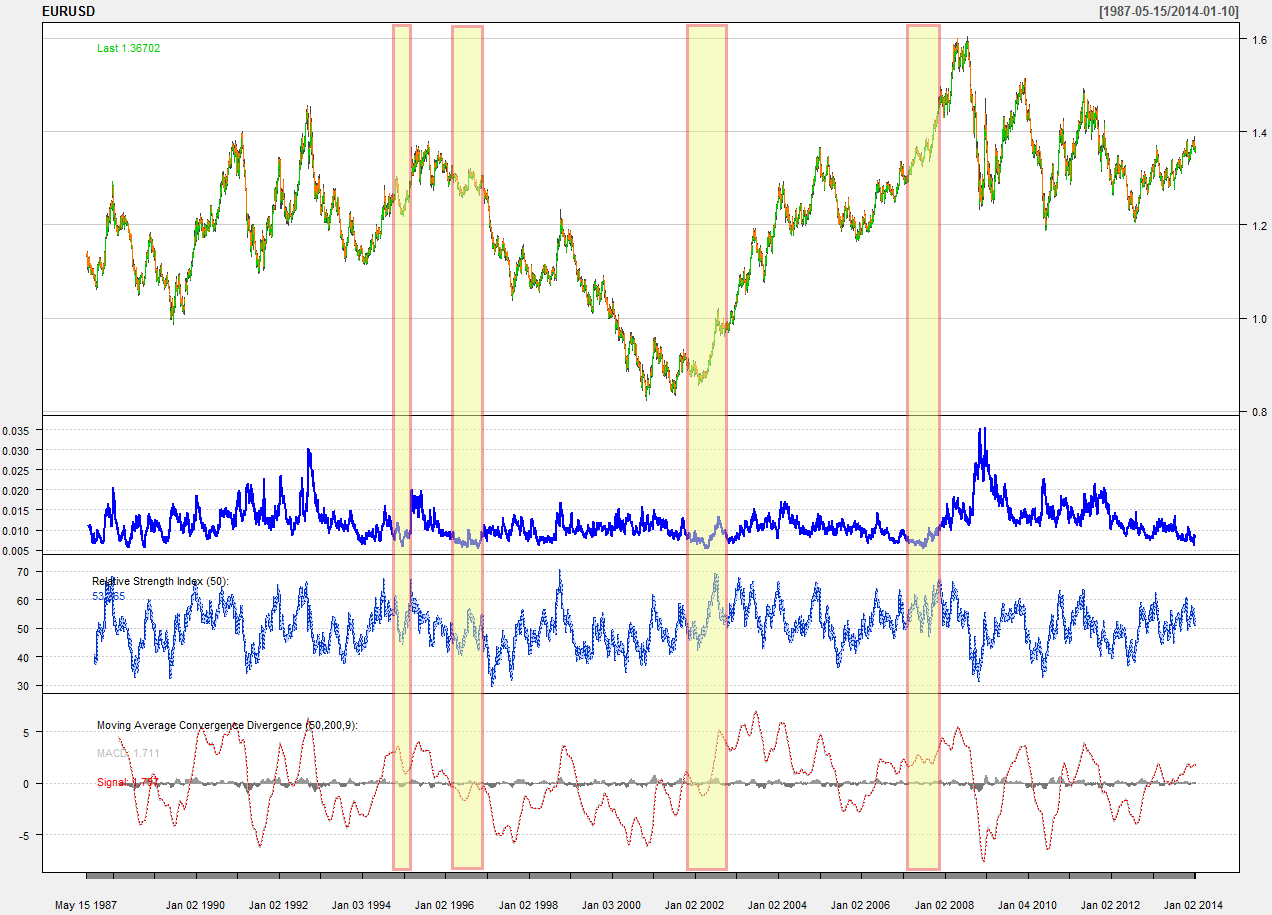 –
How do we characterize current market conditions? There are mainly two aspects of the market that we can use to do this, one of them is how much the market moves (volatility) and the second is where it moves (directionality). Any set of market conditions can be characterized by a given degree of volatility and directionality across its different time frame components. We can have any combination of volatility and directionality. For example we can have a highly volatile directional market, we can have a highly directional, low volatility market, a high volatility, low directionality market or we can have a low volatility, low directionality market. In essence any set of market conditions will fit somewhere between the above definitions. But how do we characterize volatility and directionality? This is in general a difficult question and there is no perfect answer for it. Within this post I will be using the ATR (Average True Range) indicator to characterize volatility and the RSI (Relative Strength Index) to characterize directionality.
The first thing I did to characterize broad market conditions is to look at the daily charts and their historical evolution. As you can see right now we are facing some low volatility market conditions (ATR near record lows) while the RSI is also near its mid-point (low directionality). However it is evident from looking at the charts that in the past the market has also faced such low volatility market conditions. It is also interesting to note that previous periods of low volatility also saw low directionality in several cases (particularly during 1996) and such periods were also difficult for systems that faced deep drawdowns in 2012-2013 market conditions. Current market conditions therefore don't look like anything "new" so it is puzzling therefore why systems that survived what looks like historically similar periods would have failed so bluntly under current market conditions.
–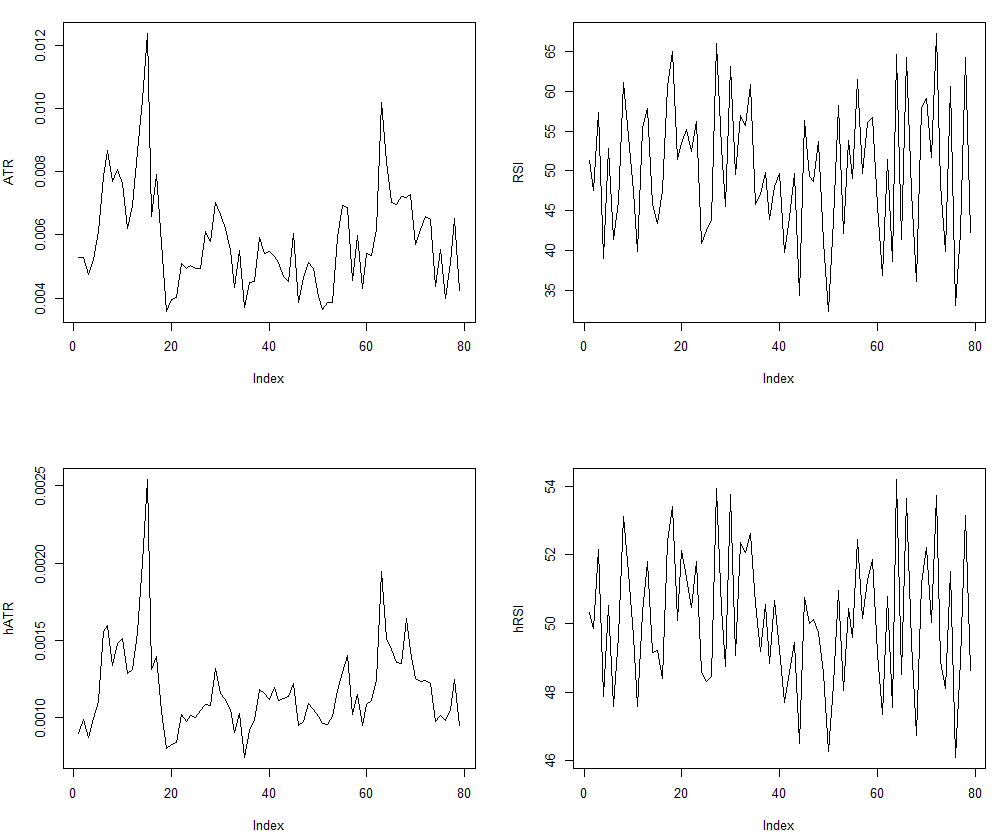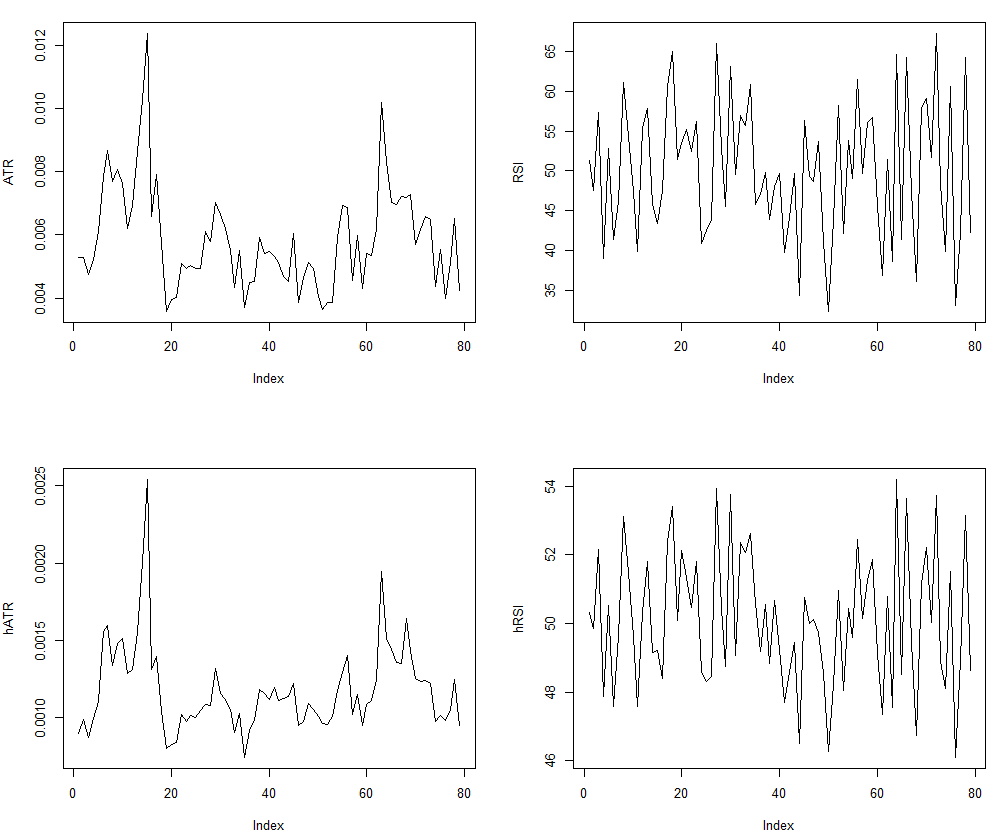 –
In order to find the answer to the above question I decided to look at things into a bit more detail. Judging market conditions by the daily ATR/RSI values is definitely over-simplistic as the success/failure of most lower time frame systems does not depend on the character of the daily structure but more on the character of the lower time frames. For this reason I decided to calculate the average ATR/RSI values for each trimester on the daily and one hour time frames, in order to see how increases/decreases in daily volatility pair up with hourly volatility. Not surprisingly, there is a high correlation between the hourly and daily average trimester values. This points to the fact that most of the time a decrease in overall daily ranges happens due to a proportional decrease in the hourly ranges and not due to a decrease in directionality. This means that it's not that price is getting trapped into smaller ranges with volatile lower time frames that simply don't go anywhere but that the overall extent of price movements is dampened.
In the case of the RSI we see a similar phenomena, damping of the daily trends happens due to a similar dampening of trends on the lower time frames. However the RSI has a very interesting characteristic which is that the highest-to-lowest range has been expanding during the past several years, particularly after the financial crisis. The time between peaks has also become narrower, implying that there is tendency for faster reversals on both the lower and higher time frames. While reversals before 2013 took longer to happen they now happen faster than before and to wider extremes. This may explain in part why lower time frame systems based on momentum have had problems, they are unable to adapt to very fast changes in directionality across low and high time frames.
It is also worth considering how the proportionality between the daily/hourly values change through the years. We can see something very interesting through this analysis, as the daily/hourly ATR ratio has been decreasing somewhat steadily during the past 25 years. Note that the ratio decreased abruptly before the financial crisis (trimesters 40-60) but it then recovered and stayed within a somewhat wide range that seems to be getting lower as time progresses (a slightly down-trending channel). A decrease in this ratio suggests that the average hourly volatility is becoming larger in regards to the daily volatility, suggesting that price tends to walk more thoroughly through the daily candles. This means that instead of having 24 smaller candles filling the daily volatility you have 24 larger candles that simply do a more non-directional walk through the daily range. As the daily/hourly ATR ratio decreases conditions become harder to trade under lower time frames because directionality becomes harder to follow from lower time frame signals. The ratio between the RSI values doesn't show a lot of action as it is significantly steady through time. However do note how the ratio also changes more sharply in recent years and to more extreme values.
–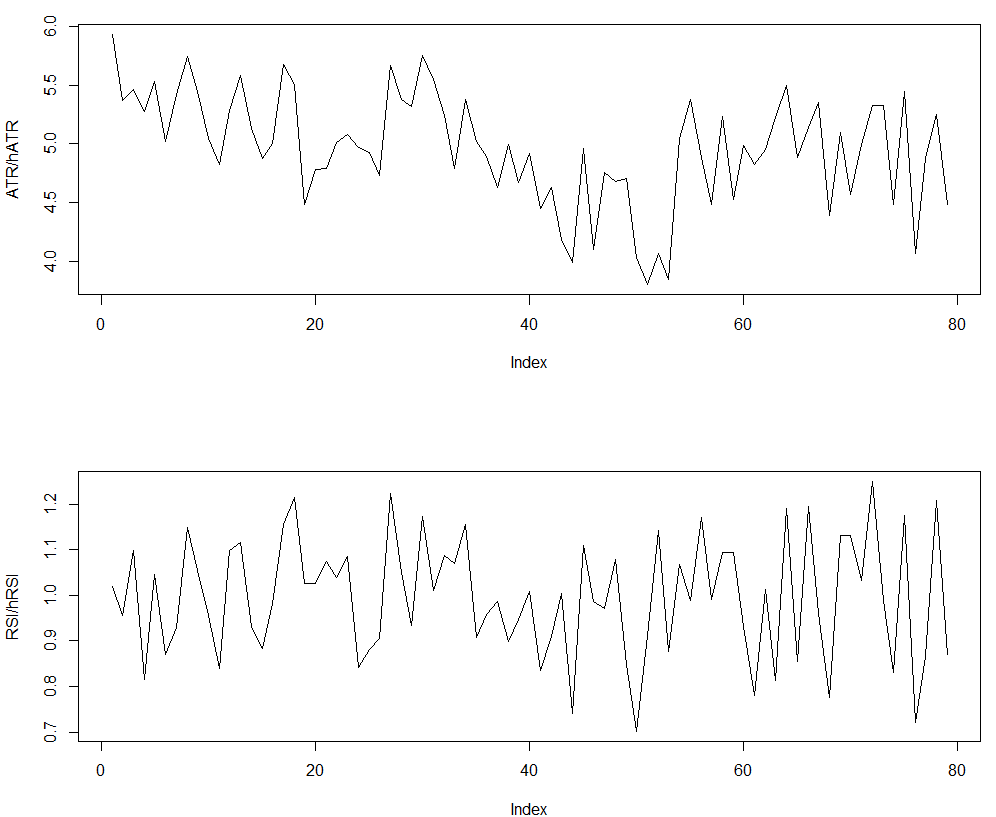 –
Although I am certain that the above analysis is a gross simplification of what can be achieved with a more thorough look, it does give us some interesting information about the EUR/USD and how it has evolved historically regarding trending and volatility on the larger Vs lower time frames. Current market conditions have a low-directionality/low-volatility character but they unique in the sense that such conditions with such low daily to hourly ATR average values had never been seen in the past. The tendency of the daily/hourly ATR ratio to decrease seems to be historically established and therefore it is most likely permanent unless distressing market events happen. Such low ratios can be traded successfully provided overall directionality is high (as in 2007) but under low directionality conditions it seems to be a killer for trading strategies. An increase of long term directionality could give new life to some of these strategies that failed in 2013 and under current conditions.
I would therefore advice system developers to have strategies that can tackle current market conditions as whether we will have directionality or not (and how much is needed for a recovery) is unknown. A system developed to be profitable through the past several years (including current market conditions) might have a better chance of success, as it will succeed under both low and high volatility with high and low directionality. If you would like to learn more about system design and how you too can tackle the algorithmic trading game please consider joining Asirikuy.com, a website filled with educational videos, trading systems, development and a sound, honest and transparent approach towards automated trading in general . I hope you enjoyed this article ! :o)