During the past two years it has become clear to me that a key to successful algorithmic trading is the ability to generate systems in a reliable, consistent and effective manner. In order to achieve this goal I have created a price-action based system generator, the Kantu program, which allows me to generate strategies that fit some predetermined statistical characteristics. However one of the big limitations of Kantu has been the speed of its system generation – which although very fast is still limiting – which hampers our ability to explore multi-instrument systems and lower timeframes as the computational cost becomes too great as the number of bars increases significantly. In order to solve this problem we have implemented a new system generator (which we call PKantu) that uses OpenCL in order to take advantage of modern GPUs in order to massively parrallelize the system generation efforts. Within this article I want to share with you how this idea works, how we have implemented it and how it dramatically improves our generation capabilities. I would also like the opportunity to thank Jorge – and Asirikuy member – who has helped greatly in the coding and testing of this new implementations :o).
–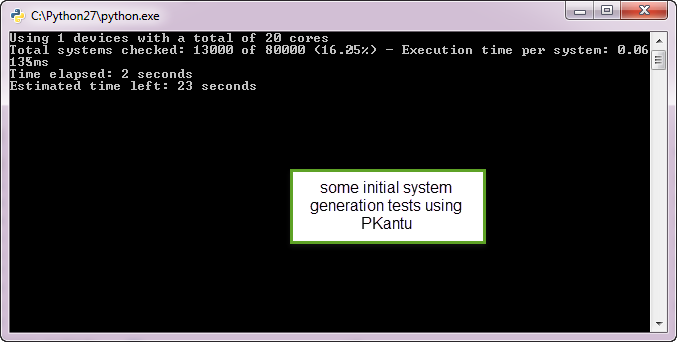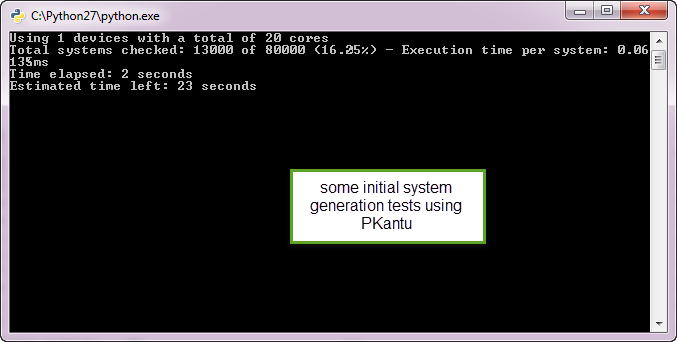 –
The initial Kantu implementation (see here) is a traditional program coded in Lazarus (freePascal) that uses the CPU in order to generate trading strategies. The program has multi-core usage capabilities but its throughput is limited by the small number of cores within a CPU as well as the additional processing power required to perform user interface updates and synchronizations. Overall this implementation is fast (60 ms for a 1H, 25 year test) but the gigantic size of the available number of system combinations makes this speed too low as exploring lower timeframes or multiple symbols successfully would involve at least several billion combinations which can last weeks or months under the current Kantu setup (depending on how low the timeframe is or how many symbols you use). Optimizing the CPU usage is unlikely to bring any improvements above 20-30% so we needed a radical solution to get ahead of this problem.
There are mainly two routes that we could go through in order to solve the above problem. The first is to massively parallelize a CPU implementation across many different computers. This involves either some form of cloud computing (many users contribute to system generation) or the use of a large computer cluster. This route is energy intensive, expensive and difficult to implement since users would need to both agree on what they want to achieve and then secure computational resources to achieve this goal. Overall problems coming from failures in network/cluster nodes, data gathering, etc could prove to be too demanding compared to the obtainable reward so this was definitely a road we did not want to walk.
–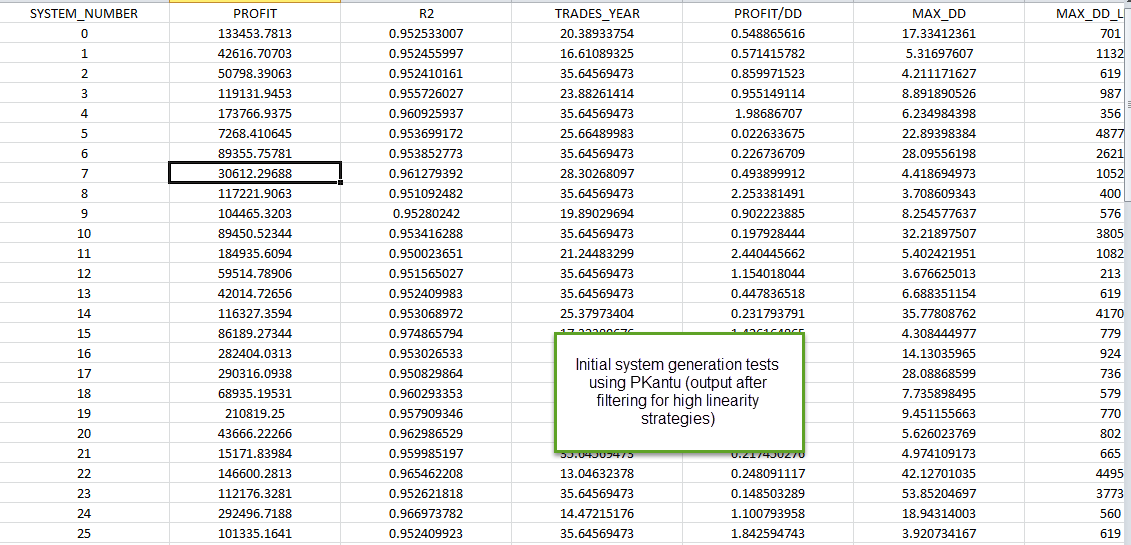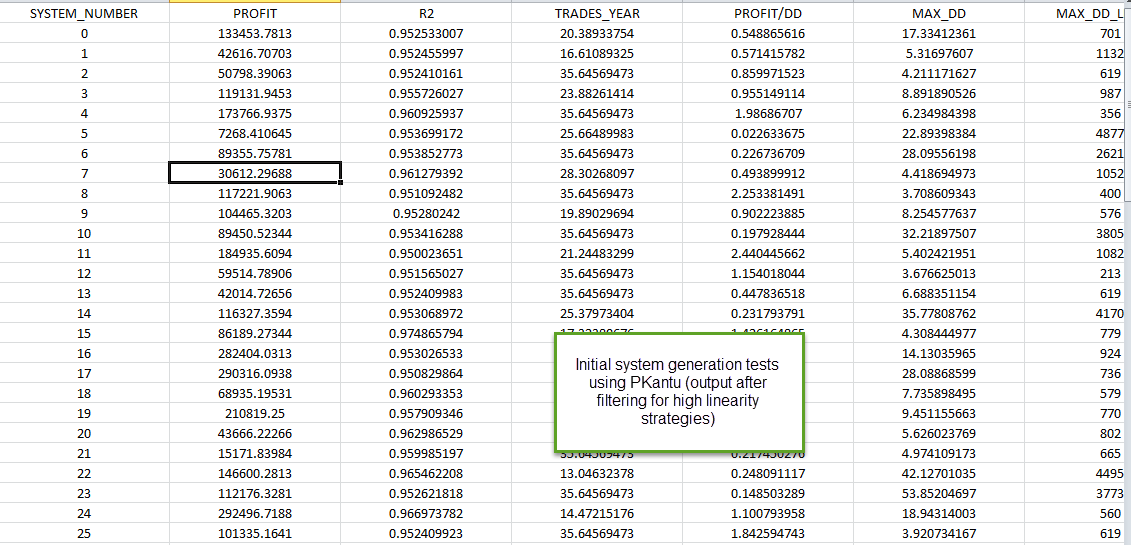 –
The second idea involves the use of General Processing Units or GPUs. These cards – which are popularly used for graphics – have been optimized for high parallelization and contain a highly optimized yet limited set of instructions that can be used in order to carry out general process calculations. Using the OpenCL language standard you can "easily" write code that uses the power of the GPU for a non-graphic computation using the C language. Since the original Kantu implementation is not suited for the use of OpenCL (the way it's implemented in FreePascal makes this unattainable) we had to re-code the core Kantu framework on another language in order to take advatange of OpenCL.
Since the idea of this new implementation was to make things as fast as possible, we decided to go with a simple python/pyopencl implementation that works entirely from the console. The pyOpenCL library contains very simple-to-use bindings for OpenCL so we could easily build our PKantu core-code using this implementation. Writing C code for OpenCL is unlike writing general C code, as the OpenCL compiler has some heavy limitations that require some use of your imagination in order to do things that you could more easily do in standard C. For example in OpenCL you cannot use the realloc, malloc, dealloc functions commonly used to shape dynamic arrays so you must pass arrays with predefined sizes and ensure that you have enough memory within your GPU to handle all this load.
–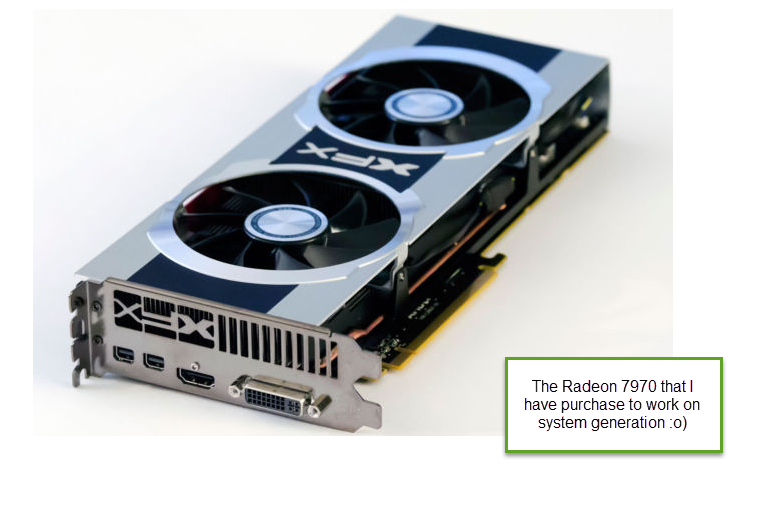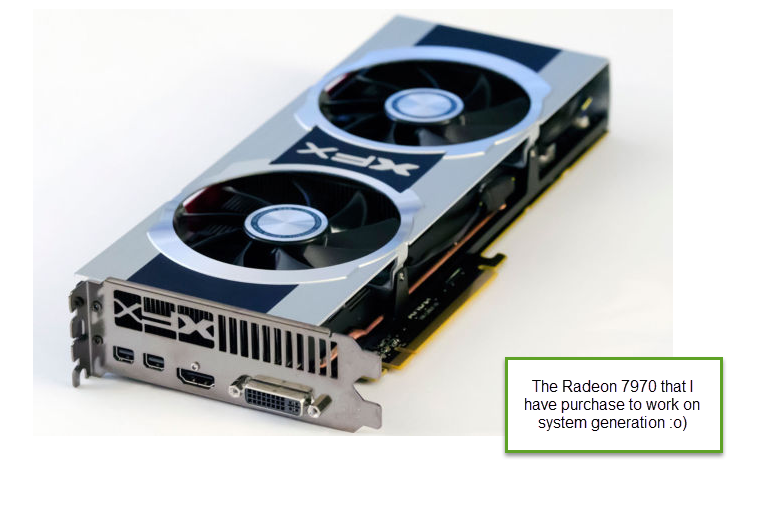 –
It is also worth mentioning that the clock of the GPU processors run much lower than your usual CPU core. While my i7 clocks at about 3.4GHZ without any over-clocking, the cores of high-end GPUs barely make it close to the 1 GHZ clock frequency. This means that a single GPU core generally has a poorer clock performance compared to your usual CPU, meaning that the generation of a single system can take longer than for a CPU. Clearly when doing serial computing the GPU is no match for the power of the much-more-powerful-per-core CPU. The real power of the GPU comes from the parallel computing power it has, with a GPU having dozens of cores and often thousands of stream processors, your advantage comes from the fact that you can process systems in batches of hundreds to thousands while on a CPU you're limited to a number of systems equal to the number of available threads (8 on a quad-core i7). This means that in reality I can generate about 100-1000x more systems compared to the traditional CPU implementation.
After coding the basic core of the program and implementing most basic functionality we have been able to run some initial benchmarks and tests. Although we haven't received our powerful GPU cards yet (I'm waiting for my Radeon 7970 to arrive!) our current implementation already shows dramatic results on our low to medium range GPUs. System generation on the daily timeframe went from about 3ms for a 13 year system to about 0.05ms (about a 100x improvement) while the systems/second generation increased even more dramatically thanks to the massive parallelization of the GPU. Do you want to generate 1 million systems? No problem, it takes PKantu less than a minute. Did you think that 10 billions logic space couldn't be explored? PKantu can probably do that in a day. That said, we haven't even ran experiments on high end cards – which we are waiting for as said above – so the above numbers will potentially increase greatly once we have this additional power :o).
PKantu is already opening up the road towards a new age in automatic system generation for our trading community. There is no other system generation implementation in the market which is as fast or as efficient (that I am aware of) so this will give us a great number crunching edge over any competition using data-mining (at least against those who do not use a GPU). PKantu is still in heavy works but I seek to make it available inside our community within the next month :o) If you would like to learn more about automated system generation and how you too can generate your own system portfolio   please consider joining Asirikuy.com, a website filled with educational videos, trading systems, development and a sound, honest and transparent approach towards automated trading in general . I hope you enjoyed this article ! :o)