The question of whether or not a financial time series follows a random walk is important as this determines whether or not you might be able to gain a statistical edge that is different from any inherent long term bias. This topic is often discussed across internet forums among retail traders, but you will not be able to find – at least I haven't – any suggestion to use formal statistical tests in order to determine whether the market is actually random or not. This is quite surprising as there is a quite extensive array of statistical hypothesis tests in time series analysis that have been specifically designed to address the issue of whether or not a sample time series follows a random walk. On today's post I am going to show you how you can use R to easily perform a powerful statistical test that will let you know whether or not the time series you're analyzing  is likely or not likely to be following a random walk. In particular we're going to learn how to perform the test described by Lobato et al within this paper.
–
r

&

lt

;

-

log

(

y

[

2

:

nob

]

)

-

log

(

y

[

1

:

(

nob

-

1

)

]

)
–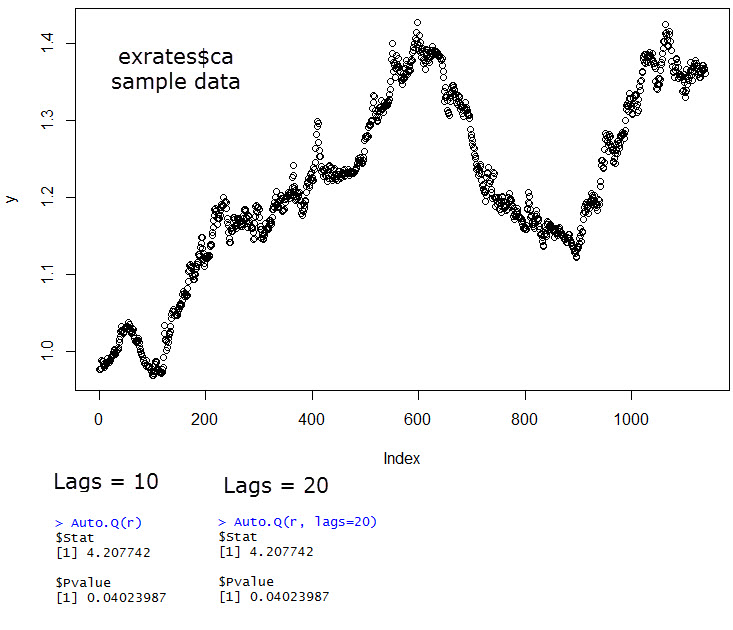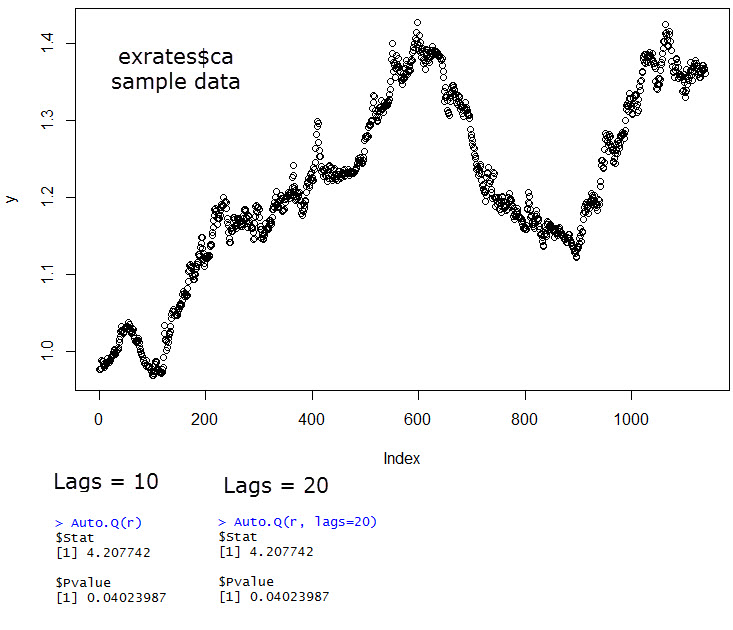 –
First of all let us talk a bit about random walks. A time series follows a random walk if the results of subsequent moves in the series are completely independent of any previous movements. This effectively means that any attempt at predicting the next outcome of the series using any type of regression analysis will be completely unsuccessful with increasing time as the uncorrelated nature of the series implies that there can be no predictive power from analyzing the past. In addition random walks have some well defined properties that allow you to estimate a range of possible movements – which is useful for predicting things such as volatility – and this is the basis of many econometric practices in current markets that assume financial instruments follow random walks. The famous Black-Scholes model and the practice of delta hedging depend significantly on the assumption of random walks.
How can we test if a financial instrument follows a random walk? Most statistical hypothesis tests used to evaluate if a series is a random walk are based on the assumption of auto-correlation in the random walk model. Since there is no auto-correlation within a random walk, if we find a significant auto-correlation then the probability that the series is a random walk will be diminished. One of the easiest, most powerful and most robust tests to do this is the test suggested by Lobato in the paper linked above. The paper describes a Portmanteau test that automatically selects the auto-correlation lag to test, something that is incredibly useful as it frees the researcher from having to test a wide variety of lag periods, as it is needed across other tests.
–
#here I used a csv with Date OHLC columns

dataset

&

lt

;

-

read

.

csv

(

"PathToData.csv"

)

#replace with the absolute path to your csv

r

&

lt

;

-

log

(

y

[

2

:

nob

]

)

-

log

(

y

[

1

:

(

nob

-

1

)

]

)

Auto

.

Q

(

r

,

lags

=

x

)

# replace x with the max lag you want (10, 20, 30, etc)
–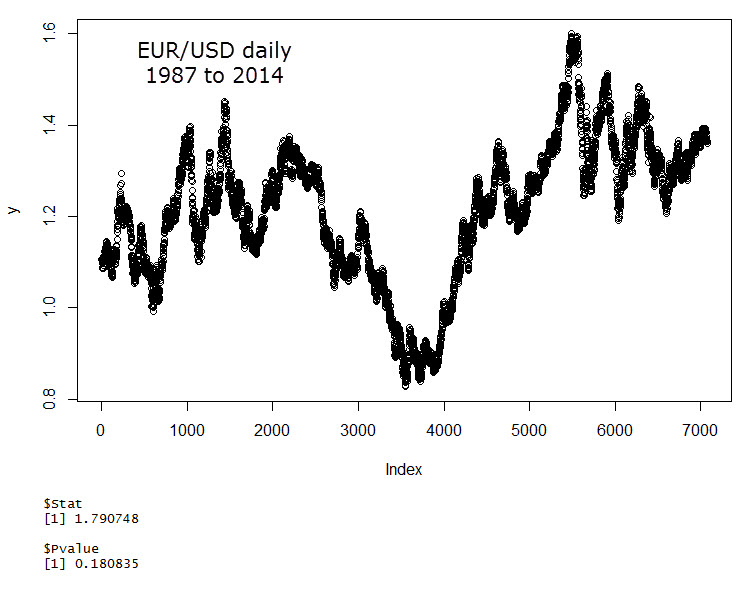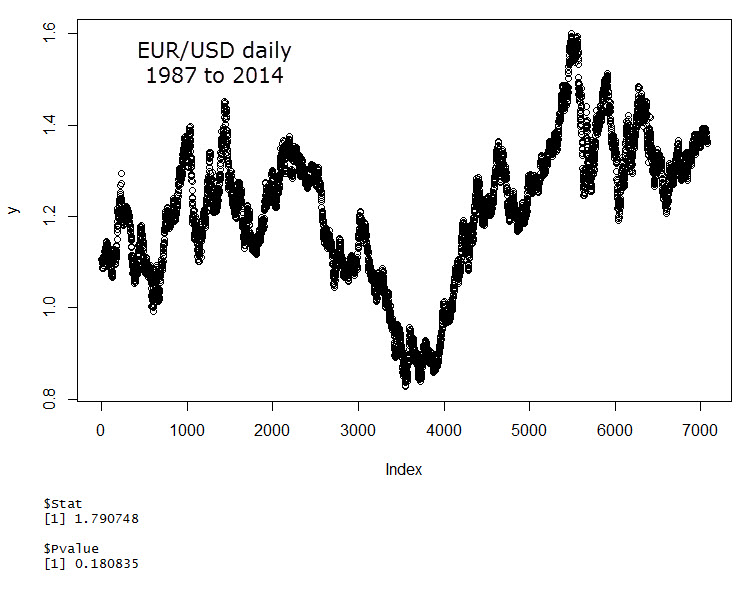 Many tests for random walks have been coded in the R package vrtests, which offers a variety of variance ratio tests plus many other useful tests for time series analysis. The test described by Lobato can be accessed through the Auto.Q function and contains only two parameters, the first is the return of the financial time series (log return) and the second is the maximum lag to be used by the test (the test will automatically choose a lag between 1 and this number). There are also some important considerations to be taken into account. Clearly a random walk may look none random with a higher probability as its length gets smaller (you could only tell with certainty if a series is a random walk if you had infinite data) so you should always keep in mind that the amount of data must be large (n>5000). It is also important to set the lags parameter to a value that is large enough as the default (10) is very low for financial time series, especially in time series belonging to intra-day periods, where auto-correlations are always going to be above the 1440/(timeframe in minutes) lag threshold (as phenomena like market opening times are cyclic in a daily manner).
–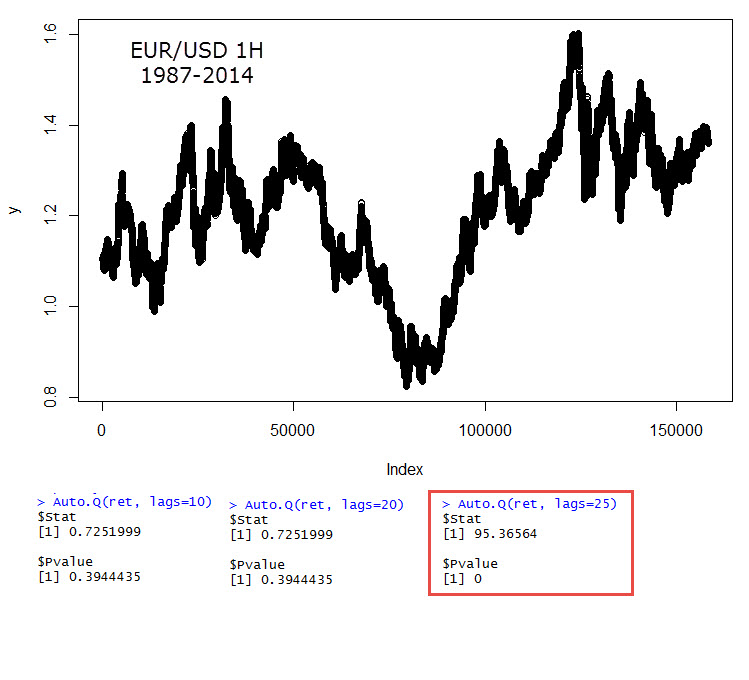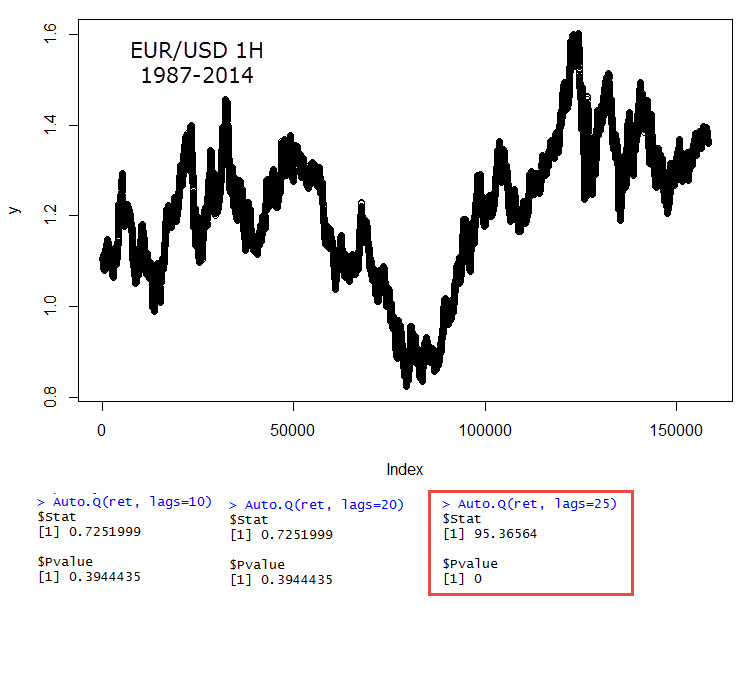 –
The code fragment showed above describes how to perform a simple example using  the exrates$ca data available within R, containing about 1000 points of CAD/USD exchange rates. Since the data is daily you can see that the change in the p value with an increase in the maximum lag is non-existent. In this case the result of our test gives us a p-value of 0.04 which means that we can say above a 95% confidence that this data does not follow a random walk. I have repeated this experiment using EUR/USD daily data (1987-2014, 1987-1999 using DEM/USD) and obtained the results showed above (in this case the maximum lag also has no effect). In this case the p-value is 0.18 which means that we cannot say with enough confidence that this data does not follow a random walk. It is also interesting to use the EUR/USD 1H data (same time period) to see if this same phenomena happens across a shorter time frame. In this case it is obvious that auto-correlations are virtually non-existent with a max-lag below 25 but as soon as we get to this value (which is the lag expected for daily auto-correlations), our p-value drops below machine precision, such that the 1H can be said not to follow a random walk with a confidence above 95%. When running these tests it is useful to set the lags parameter (the maximum lag) to a large value as the test is able to choose the precisely needed value automatically,  you will want to set lags to at least 2*1440/(timeframe in minutes). For timeframes at or  above the daily, the default lags=10 seems to be enough.
Hopefully the above has showed you how you can easily carry out your own tests of the random walk hypothesis using the Portmanteau test suggested by Lobato et al. With this tool you no longer need to "guess" whether the markets are random or not but you can actually carry out a formal statistical procedure that will give you some evidence to support your case (no need for endless, argument-less ranting on internet forums). The above tests is quite robust and suitable for financial time series but I strongly suggest you read the entire Lobato paper if you're interested in the test's limitations and how it compares to other tests for the random walk hypothesis. If you would like to learn more about using R in trading  please consider joining Asirikuy.com, a website filled with educational videos, trading systems, development and a sound, honest and transparent approach towards automated trading in general . I hope you enjoyed this article ! :o)