On an earlier post I had described the use of the ATR indicator as a means to control the stop loss and take profit values of forex expert advisors. I became very aware of this fact yesterday when I started to back test and optimize the God's Gift expert advisor using it's regular stop loss, take profit and trailing stop features.
I realized that the expert advisor made profits consistently using fixed stop loss and take profit values but starts to fail to do so at mid-late 2008. In forward testing this was confirmed as the expert made a good amount of profit from the beginning of 2008 up until the tests ended in mid October. After that, a live account was started to test the ea, account which has experienced more draw down than this same expert last year.
As you can see on the GBP/USD weekly charts displaying the ATR indicator, (shown below) volatility has increased expotentially during the past 6 months. This seems to be a consequence of market uncertainty and a general increase in volume across the forex market. Indeed, the market has been almost doubling it's trading volume every year.
–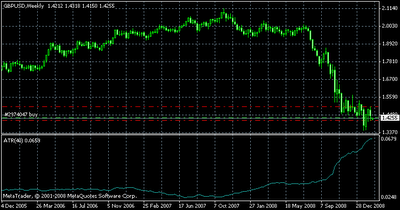 –
Now, expert advisors that use a set of fixed stop loss and take profit are bound to fail because they cannot adjust to these ever changing market conditions. As a matter of fact, market conditions can just be expressed as a measure of volatility since human psychology remains the same, the only thing that changes is volume (of course, on the long run, human psychology should change as we should be able to learn from our previous mistakes, etc).
What I discovered, in the case of God's Gift, is that there is a defined set of parameters that work well from 2004 to 2008 and a completely different set of parameters that works very well from mid 2008 to present. The main difference is that SL and TP values have to be widened enormously to take into account changing market volatility. This led me to program an ATR based stop and take profit on the God's Gift expert advisor, this of course, allowed me to find a set of conditions that worked perfectly from 2004 to present.
If you would like to learn more about the exact results obtained with God's Gift both in demo and life accounts as well as getting the new God's Gift with ATR adjustable SL and TP please consider buying my ebook on automated trading or subscribing to my weekly newsletter to receive updates and check the live and demo accounts I am running with several expert advisors. I hope you enjoyed the article !