If you read yesterday's post on the 10 reasons why I believe new traders fail to profit and live from automated trading systems then you may have noticed the very interesting discussion that was developed within the comments after that. The discussion centered mainly around the capital requirements to gather wealth in forex trading and my strongest argument to say that people can live from trading starting with small investments is the fact that compounding brings a large amount of wealth accumulation, even when you take into account all the taxes that have to be paid due to capital gains (which was also part of the discussion).
But how does compounding actually work ? Quiet simply, when you get a given average yearly profit on a given trading system, for example, a 10% average yearly profit, your equity starts to increase exponentially as the amount of money you are investing starts to increase. For example if you invested 100 USD and you get 10% on your first year, your new equity will be 110 USD, next year you also get 10% so your equity rises to 121 USD (since 10% is now 11 USD instead of 10 USD). As time goes by, 10% of your account is always a larger value, allowing you to accumulate massive amounts of capital from relatively small investments.
In forex trading the power of compounding can be used to reach a future in which a person lives from trading. However there are several aspects we must take into account to make the calculations as realistic as possible. First of all, lets assume that our system makes 20% each year in average, that equity compounds only once each year and that at least a new equity high is reached every year. Let us also assume that a given quantity of money is saved each month and all the accumulation is added once the system reaches a new equity high. If a person invests 2000 USD in such a system and the amount saved each month is 300 USD, this is the growth perspective that the person will get :
–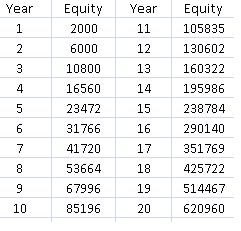 –
Now bear in mind that if no additions are made from monthly savings, the person will make a LOT less capital in 20 years.
–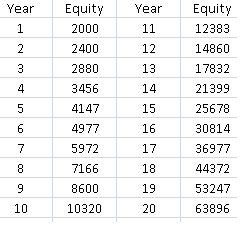 –
In fact, profit is reduced from 620K USD to a mere 63K, effectively the power of regular additions of capital on yearly equity highs proves to be VERY important. Now, we also need to take into account taxes which range from 20-30% in most countries so let us assume the worst case scenario of a 30% tax on each year's profits. This will reduce the yearly profit from 20% to 14%. The profit scenario we get is effectively cut to one half, reaching only 308K in 20 years. In this worst case scenario the person has reached a point were he or she gets a 61K yearly profit in 20 years.
–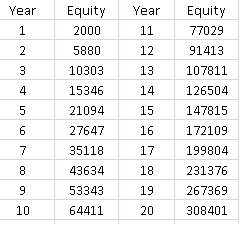 –
In fact, the initial capital is not as important as the monthly additions, if a person starts with only a 300 USD investment, the person will reach 287K in 20 years (tax included) making the profit targets mostly the same. The monthly savings are what counts in the ends since they amount to the majority of the invested capital. If a person saved 500 USD instead of 300 USD each month, this person would get 479K.
However the most important point is still the actual average yearly profit of the trading system which when increased to only 30% (21% after taxes) increases the profit of the above 500 USD investment example to 1 million USD in 20 years. In 10 years reaching already a yearly income of 23K, as shown on the table below.
–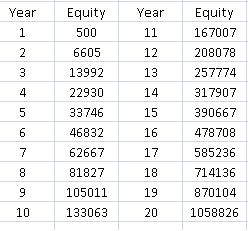 –
I still feel however that all the above results are too unrealistic for my taste. Let us introduce the fact that profits in forex trading are not always constant, so lets introduce a standard deviation of the yearly profit of +/- 50% (note that the average yearly profit is still 21% in 20 years, the maximum draw down of the strategy below is around 50-60%) . As you see, profits become a lot more variable but an equity high of 1 million dollars is still reached and a new equity high will be reached if the system continues to function appropriately.
–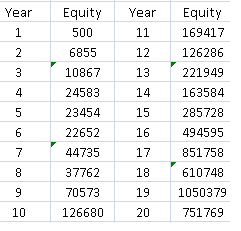 –
As you see, the power of compounding is great and anyone can live from forex automated trading after a certain amount of time simply if they use systems with limited levels of risk and save enough money to invest on equity highs. Living from any financial instrument demands time and simply turning those 500 USD into 1 million in 5 years won't happen. Long term success in trading demands continuous investment and a true commitment to financial freedom. It demands a lot of knowledge and a lot of confidence. Certainly this shows that people can trade to live from the market and not just "for fun" due to the under capitalized character of most forex traders. Proving that even though Reason 10 of yesterday's post is the hardest to overcome it can be vanquished with adequate saving and investing.
If you are interested in learning more about my trading systems and their risk and profit targets please consider buying my ebook on automated trading or joining Asirikuy to receive all ebook purchase benefits, weekly updates, check the live accounts I am running with several expert advisors and get in the road towards long term success in the forex market using automated trading systems. I hope you enjoyed the article !