Sure, we have all heard about the huge effort and thousands of hours that traders need to put into this business before they even start to turn a profit. One of the first thing that people new to the market first fight with is this inevitable need to acquire experience and the painful but real fact that demands this experience to be acquired through actual real trading, experience that needs to be taken by watching the screens and by losing money on the market (demo or live). If you want to become successful in trading then you will probably need to trade live for years before you actually come up with a true system (mechanical or discretionary) that has a positive long term statistical age and some – even remote – guarantee of bringing you stable profits. Is there any way to short-cut this road through effort ?
On today's post I want to discuss with you a way in which I believe that the time invested in trading can be exponentially reduced, reduced to the point where you will be able to gather a large amount of what would take years to get in just weeks or months. The catch however is that you will need to make the actual same effort so what we would change would be more precisely described as the "effort density" instead of the actual effort or time required. The solution I propose within this article will allow you to experience the markets in a much faster fashion, develop an excellent sense of discretionary trading and accurately evaluate your trading potential efficiently.
It occurred to me that the only way to gather true experience from the market is actually through trading a chart on the end of the right hand-side. Of course, evaluating discretionary strategies and developing a sense of the market when examining historical charts doesn't work very well because you are not taking or simulating decisions as you would in live trading – at least most beginners won't – and therefore it becomes primordial to be able to tackle the market in a "live" way.
Then I realized that there are simply no easily available tools that allow us to do this in a simple and quick fashion. It would be great if there was a way in which you could simulate live trading on a chart which had a controlled live evolution, a chart in which you could also place positions, keep track of you results and evaluate your performance when the test ended. However the closest thing we have – the visual strategy backtests in MT4 – do not allow you to take any positions and do not allow you to have an idea about the performance of a given discretionary trading style in the end.
My idea was then to develop an EA that would allow us to use the metatrader 4 visual backtester with the possibility to actually use it as a "live testing platform" in which we could actually take positions and evaluate the performance of a strategy in a live evolving, quickly moving right edge. This is how I created Umaki, the Trader Builder. This EA allows you to use a metatrader 4 visual backtest as a live market feed – only much faster – so that you can evaluate your discretionary strategies just like you would under live trading conditions (regarding chart movement and information available). (a picture of Umaki in action is shown below)
–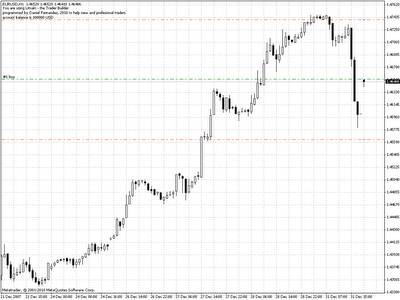 –
If you want to evaluate a strategy over a statistically significant period of time (which is longer than 5 years) then Umaki provides you with the tools to do so. Simply place Umaki on the charts and use it to trade the system as you would in a real, live evoling market. You can then look at the backtesting results in the end and realize how your manual system would have performed over this entire period. Of course, Umaki is by NO MEANS a shortcut to effort but it allows you to study the forex market on your own time and develop trading skills and strategies when it is most convenient for you. Maybe you don't have the time to spend long hours within the week staring at live evolving screens but you do have a space of 10 hours during the weekend in which you can perform a ten year Umaki 4 hour run. As I said earlier, this tool allows you to increase the speed in which you evolve as a trader by increasing the effort density (much more effort in less time) and it will bring an experience as similar as possible to actual trading the real market.
Of course, a lot of honesty is required if this tool is to be used successfully (since the history of the market is anyway known) so you would have to take mechanical or discretionary decisions regardless of your knowledge of "future events". For example we all know that there was a huge EUR/USD drop in late 2008 due to the economic crisis but trading this simply because you know in hindsight is not honest and would defeat the purpose of Umaki. In the end it depends upon yourself to use the tool appropriately and to take the largest advantage from it by earning a "concentrated" live trading experience on a simulated "fast live evolving" trading platform. Also bear in mind that Umaki suffers from the limitations of the metatrader 4 backtester one minute interpolation problems so the evaluation of strategies with very low TP/SL values or on time frames below the 30 minute chart is NOT recommended in anyway.
For those of you who are curious and want to know how you can get this EA, don't worry, a post will come tomorrow just about that (also don't worry, I don't plan to sell it :o)) along with the meaning of this word. Anyone wants to take a guess ?
If you are not interested in discretionary trading or Umaki but you would like to learn more about automated trading and how you too can develop systems with sound profit and risk targets with a very good understanding about their logic and merit please consider joining Asirikuy.com, a website filled with educational videos, trading systems, development and a sound, honest and transparent approach to trading systems. I hope you enjoyed this article ! :o)