Last week I wrote a post about our new Asirikuy Monte Carlo simulator and how it now enabled us to adequately evaluate our systems through the use of this powerful statistical method. Although the initial implementation of the simulator was quite powerful, it neglected to contain a very important feature which would allow us to have even more accurate simulations of our trading strategies. This feature, which deals with the accurate evaluation of the systems through their particular trading distribution, allows us to carry out simulations in which all strategies are appropriately distinguished from each other through a trade-class structure built from the probabilities to have trades with certain outcomes. Through the following post I will talk about this new feature and the whole new world it opens for the accurate evaluation of Asirikuy systems through Monte Carlo Simulations.
–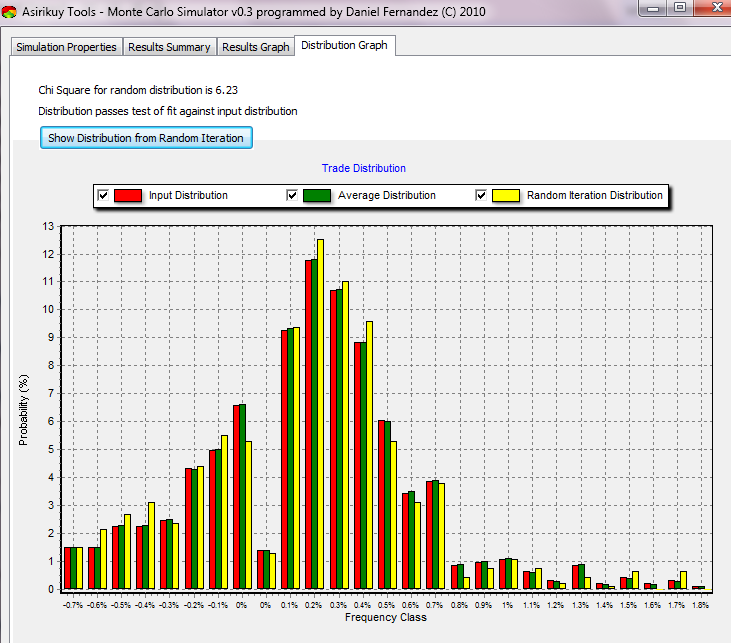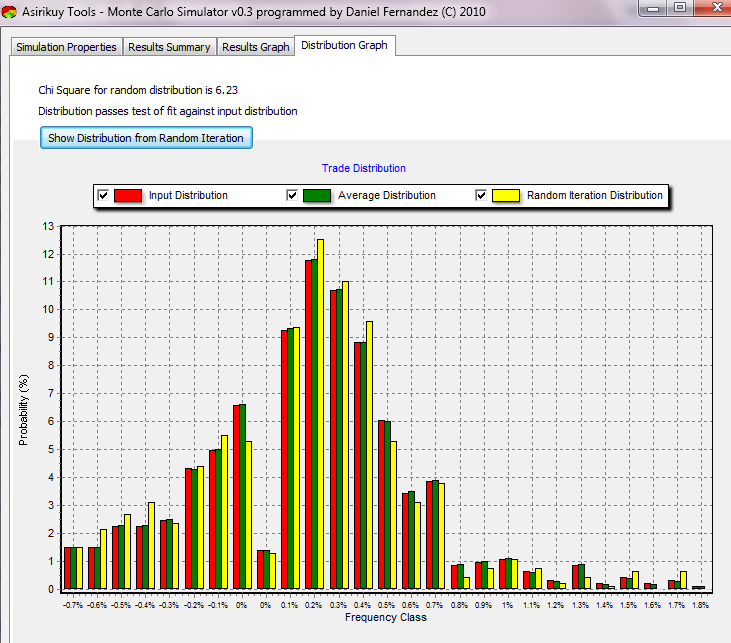 –
The first version of the Asirikuy Monte Carlo simulator included a simple simulation method which carried out Monte Carlo simulations based solely on the simple long term statistical characteristics of a strategy such as the risk to reward ratio, win to loss ratio, etc. The problem with this method was that the simulations for certain systems weren't accurate as the trade distribution of the strategy was ignored. For example a system that has a 50% winning percentage, a 2% average losing trade and a 2:1 reward to risk ratio would be simulated with all winning trades giving a 4% profit and all losing trades giving a 2% loss. Although this way of simulating strategies works good for almost all strategies – especially those that only take trades based on an SL/TP – it gives quite inaccurate results for some strategies with internal closing mechanisms (and very bad for those with ONLY internal closing mechanisms) as the distribution of trades was ignored.
After an Asirikuy member posted on the forum about the idea of a Monte Carlo distribution based simulation, I decided to implement this feature so that we could have the most possibly accurate simulations of our trading systems within Asirikuy. The new version of the simulator – which will be released this weekend –  now uses a CSV input with the system's trade distribution to carry out a Monte Carlo simulation using the exact way in which the system took trades.  For example if the system had 3 classes with -1-0%, 0-1% and 1-2% trades with probabilities of 50%, 30% and 20% the program carries out a simulation such that the average distribution of trades through all iterations of the simulation is that of the input distribution, weighting probabilities amongst the classes as specified by the CSV file.
–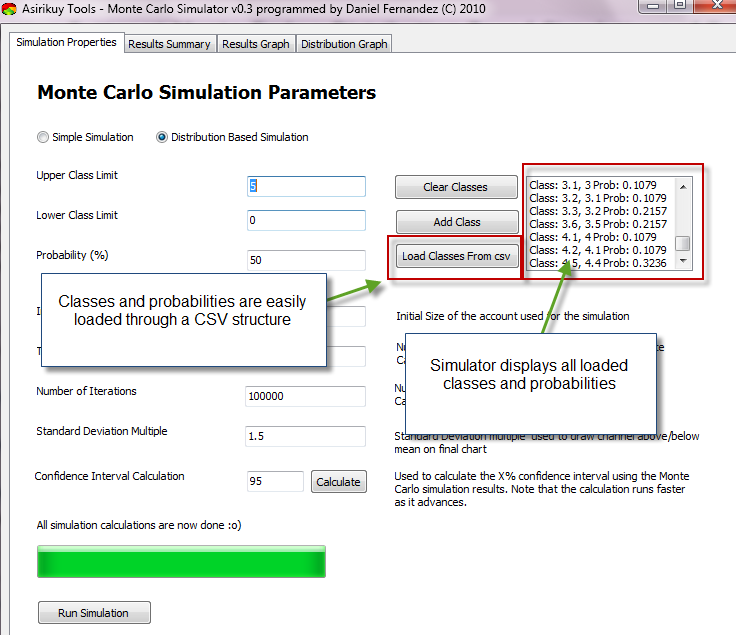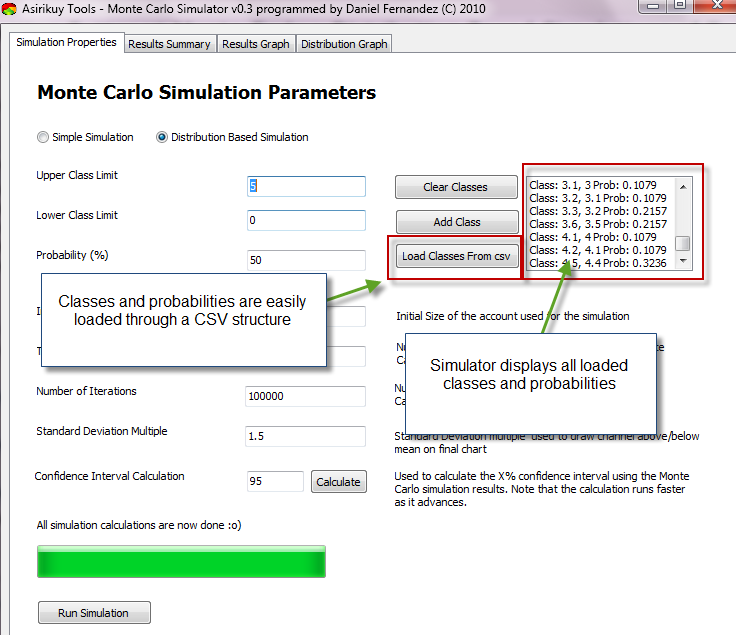 –
The results are impressive and MUCH better than those of the simple Monte Carlo simulations, allowing us to get an accurate statistical picture of ALL Asirikuy trading systems (including systems such as Ayotl and the God's Gift ATRwhich were previously difficult to evaluate or evaluated inaccurately on our previous implementation) . The simulator also allow us to see how the distribution of each iteration looks and how it compares to the input distribution using a chi square test. This way you will be able to see how deviated a distribution has to be from the original one to fail a statistical goodness-of-fit chi square test, allowing you to see how powerful this method is for evaluating statistical deviations from the input distribution.
Another great thing here is that coming up with the input distribution will not be any trouble since we have also come up with – through the invaluable help of a very hard working Asirikuy member – with an implementation of our profit and draw down analysis tool which automatically generates this distribution file and loads it into the Monte Carlo simulator which it calls directly with the adequate command prompt parameters. The new version of this tool will also be released this weekend including some very interesting features such as the analysis of monthly return distributions (something I will talk about on a later post with more detail).
As you see the Asirikuy Monte Carlo simulator is quickly becoming a very powerful tool for system evaluation, allowing us to accurately determine the worst case scenarios for our trading strategies with very good accuracy and without limiting ourselves to any particular type of trading strategy. The distribution based simulations now implemented within the tool are a big step towards a much better understanding of Asirikuy trading systems. If you would like to learn more about this simulator and the evaluation of strategies through Monte Carlo simulations please consider joining Asirikuy.com, a website filled with educational videos, trading systems, development and a sound, honest and transparent approach to automated trading in general . I hope you enjoyed this crossword ! :o)