During the past 6 months I have embarked on a quest towards the development of what we might consider "very robust" trading strategies. This journey started because I noticed a general lack of highly inherently robust strategies within Asirikuy, something which prompted me to develop systems with very high standards regarding robustness. During the past two months these efforts have been concentrated on a new EA – called Comitl – which is a portfolio based solution that does not take robustness as a priority but as a characteristics of the utmost importance. Within this post I will talk to you about this new EA I have developed for Asirikuy and why it is different and much more robust than other Asirikuy strategies. I will talk about some of the characteristics of this EA, how it may be improved and what I expect from it in the future.
Any algorithmic trader will carry with him or her the inevitable burden of trading uncertainty. How will we know if your strategies will fail now or in 20, 30 or 50 years? How do we know if the targets we have considered realistic – through Monte Carlo simulations and careful analysis – will indeed materialize in reality? These questions are very important and constitute the basis of perhaps the most important issue within trading: survival. Developing systems with survival in mind is something absolutely important which needs to be given a high priority when building and testing strategies. The truth is that there is an inherent compromise between possibility of failure and expected profit and therefore a good trader needs to carefully gauge both factors. While new traders tend to focus on maximizing simulated profit – almost always ignoring issues pertaining to robustness – conservative traders look in the complete opposite way, sacrificing profits if it means an increase in robustness.
–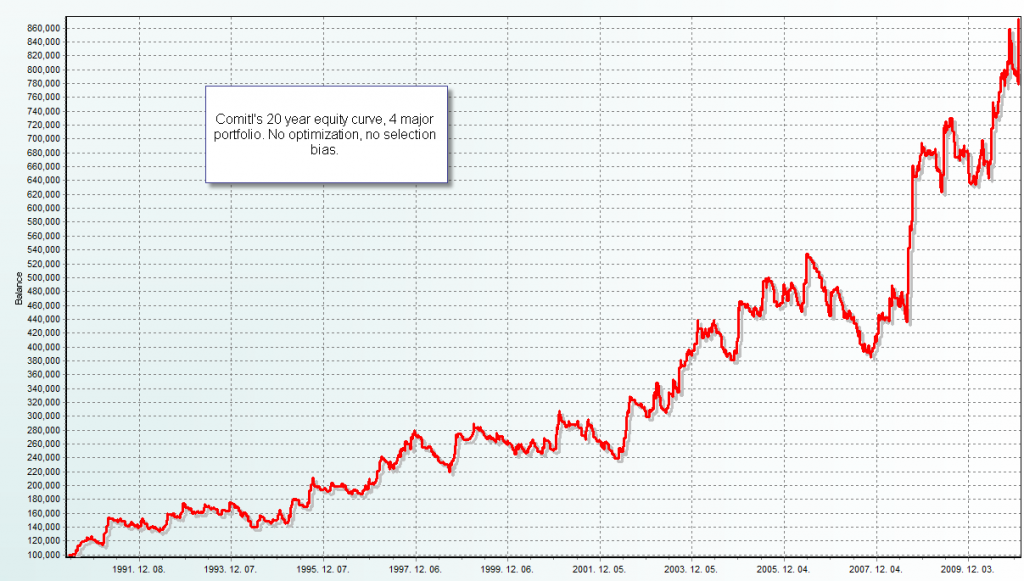 –
I wanted to develop the next Watukushay EA thinking as the most conservative of all algorithmic traders would think. I wanted to build a portfolio seeking the highest level of robustness with profitability being only an afterthought within the whole development process. With this in mind I decided to develop a portfolio for the daily time frame which would have some very interesting characteristics. The portfolio would use three systems, all systems would use the same settings on all pairs and all pairs would have twenty years of backtesting on the daily charts. No optimization, no hind sight, no parameter changes, no fitting at all. The twenty year period can be viewed as a pure out of sample evaluation as the strategy was never optimized either on one or many of the pairs used. Even when doing the initial design of the strategy – based purely on visual chart observation – it was done only for a few years within 2000-2010.  Also – in order to avoid portfolio selection bias – I decided to trade the 4 most liquid pairs in 1990 (which are the ones traditionally known as the 4 majors).
The portfolio EA – which includes the three strategies inside of it – uses two systems I published on the February and March issues of currency trader magazine, using Keltner channels and Bollinger Bands and a separate price based strategy using a time determined exit. As I have mentioned before the parameter selection for these systems was done one time through visual observation and it was never changed nor optimized through any trading period. This portfolio EA therefore has a level of robustness which almost no other system can match: no optimization, 20 years of out of sample testing, four pairs and the exact same settings on all of the chosen currency pairs. No portfolio selection bias, no optimization bias and therefore simply no risk at all of curve fitting.
I was happy with this achievement since it constitutes what many would consider a system that works at a very fundamental level. It works through several pairs, it works for long periods of time and it has no problem with issues related with curve fitting. This portfolio has – therefore – an incredible natural chance at future survival since it seems to exploit an inefficiency which is simply a part of at least highly liquid instruments. Another important point is that the number of total trades within the 20 year period is more than 2000 (thanks to the use of 3 systems) and therefore the results are indeed statistically significant and put the system far away from what could be considered profit from mere random chance.
–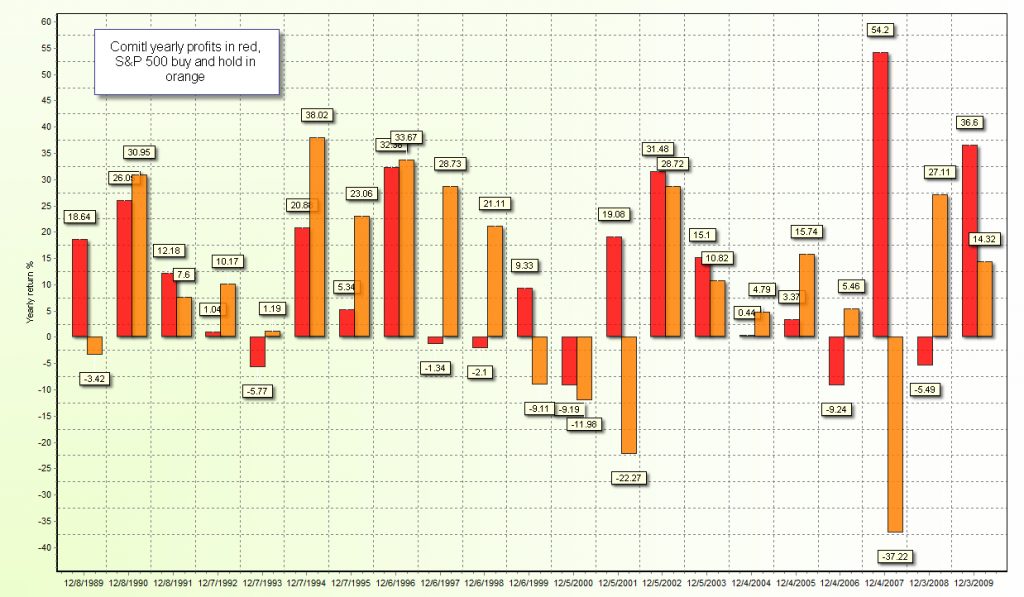 –
Comitl – a word in Nahuatl (language of the Aztecs) – means "pot" because this portfolio mixes three different systems which achieve good results using the exact same parameters on several pairs. As the different ingredients mix within a pot to form a single soup, so do the systems of Comitl naturally mix to form a very long term and robust profitable system. Certainly Comitl does not achieve the level of profitability of many other Asirikuy systems – as it sacrifices a great deal of profitability for robustness (AMR to Max DD ratio of about 0.4)  – but it has the highest inherent chance of future survival amongst all Asirikuy strategies. It could be well considered a very long term investment vehicle and it might even work across a wide array of highly liquid instruments (as futures, bonds, etc), as each strategy has the characteristics of a multi-market successful system.
Another thing which arises is the possibility to build alternative Comitl setups which have a lower compromise with robustness. Certainly someone may decide to optimize Comitl on certain pairs or trade the system with an optimization for the past 11 years, a valid compromise someone can make between profitability and robustness. The achievement here however is that Comitl grows from the base of possible profitability without any compromising of robustness, it grows from the assumption that survival is the most important aspect of trading (above profitability). Therefore Comitl's base settings are the strategy's "zero compromise" parameters which can be improved towards the profitable side with a loss of its natural robustness. As I have said before it is up to each trader to decide how much they want to risk for an expected profit and Comitl is the first system which might allow a fine tunning of this from a base level where no compromise is inherently present.
I am still working on some aspects of Comitl but the EA should be released this or the next week end to the Asirikuy community. If you would like to learn more about my work in automated trading and how you too can code your own systems with sound trading tactics in mind please consider joining Asirikuy.com, a website filled with educational videos, trading systems, development and a sound, honest and transparent approach towards automated trading in general . I hope you enjoyed this article ! :o)