On yesterday's post my fellow blogger friend Chris posted a comment inquiring about the risk balancing amongst different trading systems and how it seems to "make sense" to give systems which have better performance a "better cut" of an account's equity. The idea here – if I understood his proposal correctly – would be to increase the risk of systems which have better performance and reduce the risk of systems which do not perform. The idea obviously being to "let the winners run" by giving systems which have the most profitable outcomes a much better chance of success. Since the question is quite important I decided to answer it within today's post, giving you some insight into the research I have done in this regard and what my conclusions – up until now – have been.
Certainly when we trade portfolios of strategies one of the first question that pops up is how risk should be distributed amongst the different systems. Should they always risk the same? Should they risk less or more ? What should determine the way in which systems calculate the risk relative to one another ? The answers to these questions are not trivial and require substantial analysis about the effect of working in one or another way. In order to know which risk balancing mechanism makes "more sense" you need to adequately evaluate portfolios using it, making sure you can obtain both reliable simulations and clear answers to your questions.
–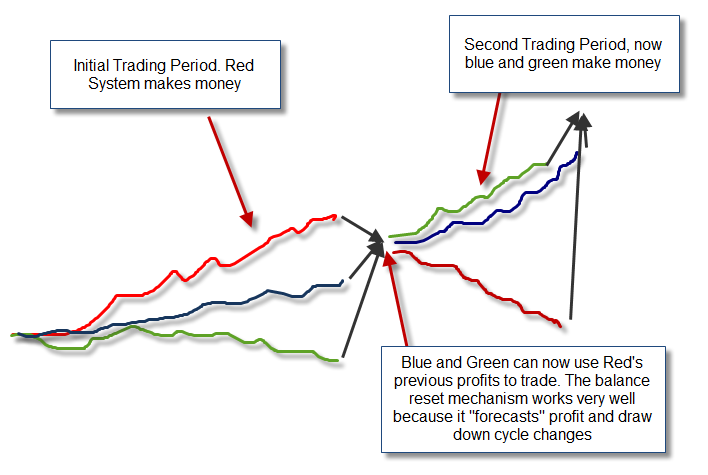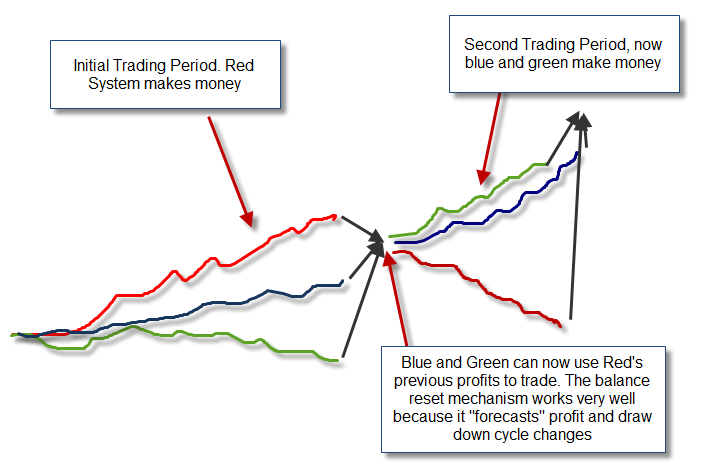 –
The idea of favoring the "best systems" is something that crossed my mind almost immediately after I started working with system portfolios. Asirikuy systems naturally scale up their risk as they make or lose money as their perceived instance balance changes (the amount of money they can trade) with every trade they take. In order to reflect this within a portfolio I implemented an "internal balance" idea in which every system would trade its own internal balance and therefore its "share" of the portfolio would increase or decrease as time moves on. However several problems started to show up when I implemented this.
The main problem with the continuous rewarding of "profitable systems" is that as time evolves you end up with a trading setup that is extremely heavily sided towards a few or even one strategy. This is especially true for systems that have different compounding rates. When you start trading two systems and one system has a very large compounding rate it quickly takes over the account and in the longer term you end up with a "portfolio" which is in fact a reflection of a single system as it ends up trading 90% or more of the portfolio's share.  What happens is that you become extremely vulnerable to what this single strategy does, as its draw downs heavily affect the portfolio.
Another important problem is that it becomes extremely difficulty to evaluate how such a portfolio would perform since the starting point becomes extremely critical for its evaluation. Run a simulation for such a portfolio in the deepest draw down of the highest compounding system and you get a totally different set of statistics for your portfolio. Start it before the biggest rally of a system and you get a completely different picture. It becomes extremely hard to develop adequate Monte Carlo simulations and targets for such a system since the "risk picture" becomes too obscure as the initial stages of portfolio trading will largely determine what the statistics will be in the end.
My extensive analysis of this subject led me to conclude that "rewarding the best" in a continuous fashion will make you extremely vulnerable to a single system's performance and will also make it very hard for you to determine the actual expected returns of your strategy setup. Changing your starting point by just a few months can have a dramatic influence in the way in which your statistics turn out in simulations and the initial account stages will be critical and will probably setup a "dominant strategy" which will trade a large share of the portfolio.
My solution to this problem was actually quite simple. I decided to keep the internal balance mechanism but instead of continuously rewarding good systems I decided to "reset" the rewarding each X period (usually one year) by equalizing all internal balance levels against the global balance. In this way you build portfolios in which systems are rewarded within the reset period but they are "not allowed" to dominate the portfolio by equalizations. This also makes the portfolio much smoother, eliminates a large amount of initial startup point dependence and the statistics become much easier and clear to determine.
Another important thing to consider – and why the above balance reset mechanism is so successful – is that systems generally go into cycles of profitability and losses. Since the average draw down period length of most systems I have coded lie between 100-400 days a yearly balance reset "foresees" these changes and rebalances the portfolio so that it is positioned for a shift in the "portfolio profit leadership". The balance reset mechanism allows systems that are within profit cycles to be rewarded but resets balances yearly to ensure that the "spot" is shifted between systems as they go through their profit and draw down cycles.
So the answer to the issue of rewarding top performers is yes, you should reward top performers in some way but you need to take into account that systems go into profit and draw down cycles and that keeping a "constant reward" structure will eventually make your portfolio extremely vulnerable to a single or a couple of trading systems. Rewarding systems in a "stepped fashion" by using an internal balance mechanism which resets itself to the global balance every X months is the best mechanism I have found for the rewarding of systems preserving portfolio diversification and allowing systems within profitable periods to "enhance" what they can do.
If you would like to learn more about my journey in automated trading and how you too can learn to code and analyze your own strategies please consider joining Asirikuy.com, a website filled with educational videos, trading systems, development and a sound, honest and transparent approach towards automated trading in general . I hope you enjoyed this article ! :o)