During the past few weeks I have been playing with a new program I created for the Asirikuy community which generates systems based on parameterless price action patterns, the Kantu project. On the last few posts I wrote about the basic philosophy behind this program as well as how I implemented pattern filtering, giving you a good idea of where this project is headed. Today I will be talking about what I believe is a very important breakthrough for this program, with the implementation of a system generation walk forward analysis feature that greatly enhances its capabilities. This feature allows users to test their system generation methodologies to ensure that they are able to consistently generate profits in out of sample testing; this implementation effectively eliminates data mining and snooping bias. Through this post I will discuss the problems that led me to the creation of this feature as well as some of the results I have already obtained with it. You will see how Kantu is becoming a very powerful machine for algorithmic trading :o)
Kantu uses a set of candlestick relationship rules in order to generate parameterless systems (no coefficients or indicator period values). These rules can then be combined in a variety of  different ways, generating millions of potential systems that can then be filtered to match some specified performance characteristics. However the ability to generate profitable systems against historical data is nothing new, as this can be done with practically any system generator that has enough degrees of freedom. There is clearly no implicit guarantee of success from having a system with profitable historical results, much more is clearly needed to have a stronger degree of certainty about a strategy's robustness. The true question is how we can generate systems that can be successful outside of the back-testing data we use to generate the strategies. There are several techniques that can be used to address this problem with the simplest one being in/out of sample analysis.
–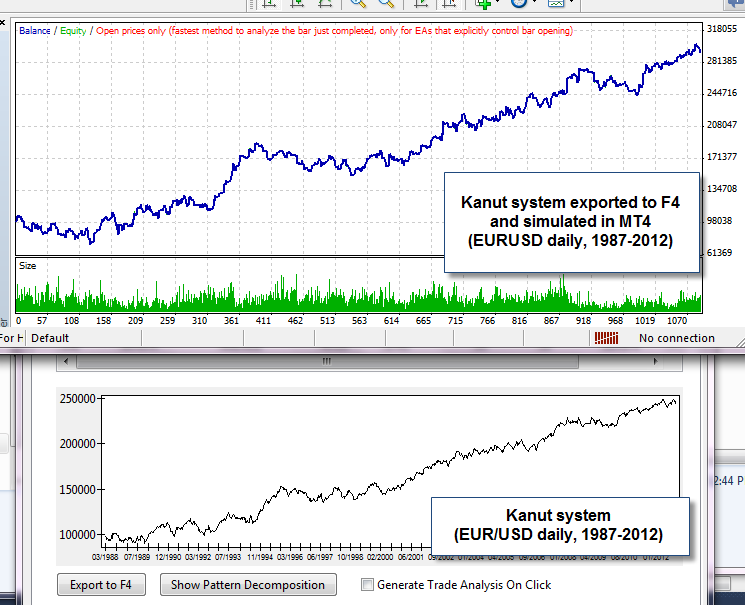 –
When I first implemented the in/out of sample analysis in Kantu I suddenly found myself struggling with the problem of variations in "what worked" through the logic space. For example if I generated 1000 systems using a certain statistical measurement from 1985-2000 and I then out of sample tested the best system from 2000-2012, this top system was sometimes better and sometimes worse in out of sample. This means that there was no clear correlation between my selection methodology and the ability to survive in out of sample, meaning that I was sometimes getting profitable out of sample results simply through random chance. For some symbols this was worse than for others but even on the best symbols I could from time to time find a system with extremely good historical statistics that failed bluntly in the out of sample testing regime. This fact made me very uneasy because it meant that there was a significantly big random component in the out of sample performance of the system generation methodology I was using.
It then came clear to me that – what I needed – is a way to validate the system generation methodology in a way that allows me to be more certain that the probability to have profitable results in the out of sample is high. Since I need to get statistical estimations of how I am likely to do in live trading – which is testing on data not used for system generation – validating the methodology seemed like the best way to go. Validating a system generation methodology is not an easy task as it involves doing a walk forward analysis (WFA) of the system generation process in order to find out if regeneration of the trading tactic every X period is bound to bring profitable live trading results. This simulation effectively mimics what would happen if every given period I would change my trading strategy to match the "top performer" according to my system generation over a certain statistical criteria over a given past period. This is analogous to system WFA, with the big difference that here we are exploring the logic space and therefore we are completely changing our trading technique amongst a very large variety of potential options. In this procedure there are also two rolling windows, a generation window – used to generate a strategy – and a walk forward window where we get trading results of the selected system (the best strategy selected through some criteria on the generation window). These windows are moved until we cover the whole testing space.
As a matter of fact the logic space WFA is a very powerful technique because it answers the question of both "how to trade" and "what to trade" as the run tells you how often it is most favourable to change your system and what system to choose. By validating a system generation methodology you are effectively solving the whole "system creation and rules selection" problem because you now know exactly when to change your system and you know the criteria you need to use to select a new trading strategy. Due to all of these advantages I implemented the above method in Kantu. The implementation is tremendously flexible as you can choose a great variety of optimization criteria for the generation period as well as many other constraints such as the number of systems generated and the setting of a large variety of filters. I also validated Kantu's simulation accuracy – regular single simulation -by comparing its results with the exported F4 strategies simulated in MT4 (as showed above) to be sure that any results in the system generation WFA (which I cannot carry out in MT4) can be trusted. Note that the differences in the simulation and images are because MT4 contains swap information as well as because the MT4 chart plots trade number while Kantu plots dates.
In the beginning it was hard for me to get profitable results because I was trying to use large system generation periods with much smaller walk forward periods. My attempts to use 5-15 year generation periods with 100-400 day walk forward periods were a complete failure because there was also a significant probability of the selected system to retrace in the walk forward period because – due to the way in which a strategy was chosen – the high profitability and linearity (stability due to the non-compounding nature of Kantu's tests) seems to give the generated systems a significant probability to retrace. It seems as the market prevents profitable trading when you constantly change your trading system to attempt to match a long term market performer, you are punished because your system's good historical results make it prone to go into drawdowns soon after you begin trading. I thought that in the case of Kantu using large windows – especially selecting stable systems with large trade numbers – would yield results that would be good, I was mistaken.
–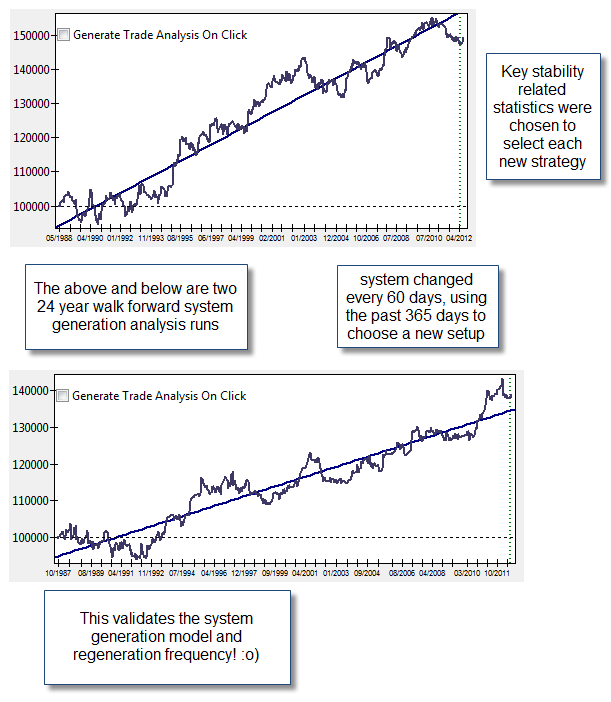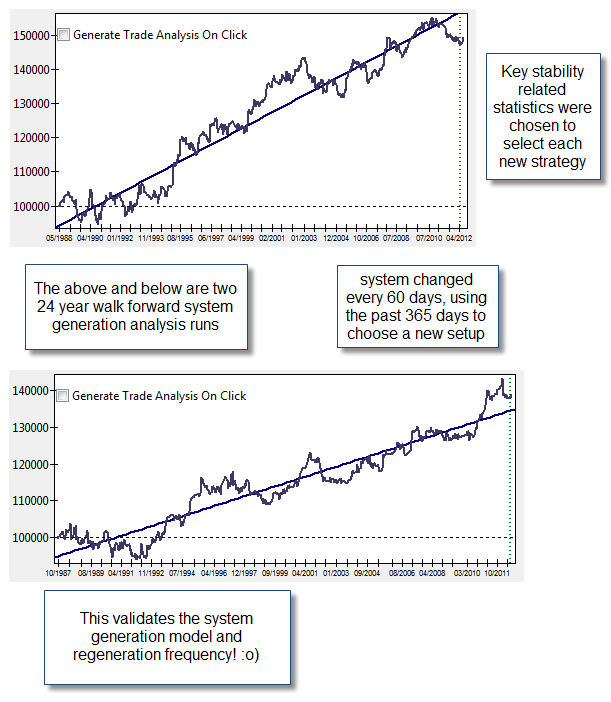 –
I then thought that selecting systems based on a smaller window might make more sense because systems that are in short term profitable runs might have a high probability to continue these runs while systems that had  been "good" for very long had a propensity to go into a bad trading streak. If a system tests very good during a 6 month window then it is probably going to be good for a little while longer (although not much longer) while a system that has been equally good for 10 years is now "exhausted" and bound to move into some sort of corrective move. By using periods in the 3-13 month range for the generation of a system and then using only from 20-70 days for the walk forward period I was able to achieve reproducible and profitable WFA system generation results. Another important point was the optimization criteria which needs to be a combination of stability related criteria that have to do both with linearity and mathematical expectancy (with ME as exposed by some of Van Tharp's books). This result is completely amazing – from my point of view – because it validates a whole trading methodology.  With this I now know that I have a good chance of being profitable – in unseen data –  if I change my system every 20-70 days using the past 3-7 months of data using a set of powerful stability criteria. There is a complete absence of data mining or snooping bias.
Kantu seems therefore to a be a big part of our future at Asirikuy because it is going to be fundamental in the validation of trading methods and the generation of trading strategies. Fighting a modern edge war against people with data mining and genetic programming capabilities without these tools puts traders at a huge disadvantage because their adversaries have the ability to conduct unprecedented adaptation and validation of trading techniques while the user devoted to manual system selection is "cursed" with slow development and the inability to properly validate whether the strategy selection method carried out is bound to succeed to changes in market conditions. What does a user do when even a strategy with a successful WFA starts to fail ? The need to completely develop a new system from scratch becomes necessary and the route to do this is tedious and difficult. With Kantu we now have a way to generate strategies on the fly and validate if these generation procedures worked in the past 20-25 years or not.
The first videos about Kantu and its system generation capabilities will come out this week with the first software release coming soon after. If you would like to learn more about system generation and how you too can start generating your own systems algorithmically please consider joining Asirikuy.com, a website filled with educational videos, trading systems, development and a sound, honest and transparent approach towards automated trading in general . I hope you enjoyed this article ! :o)