Using the largest possible amount of data when back-testing to generate systems that can better accommodate more market conditions is a fairly intuitive and well rooted idea in algorithmic trading. However there seems to be a general lack of quantitative evidence to say whether this is actually the case or if there is an optimum amount of previous market conditions to use that may provide a higher probability of success for out of sample (OS) trading. Since determining how much data to use for the creation of trading strategies is fundamental to the design of a trading methodology, I have decided to run some experiments in order to find out what the best amount of historical data to use for system generation actually is. Through the rest of this post I will show you some of the quantitative evidence I have obtained through my research as well as some of the conclusions I have been able to reach through this analysis.
So how do we find out what the historically optimum in-sample size for system creation has been? The first step is to generate a large amount of profitable and symmetric in-sample systems using different sizes for the in-sample period and then compare their success rate across a fixed out of sample period size. It is also important to distribute this in-sample/out-of-sample pairs randomly across the whole back-testing data in order to avoid the fitting of the results to some particular set of market conditions. For example in order to evaluate the success rate of a 500 day in-sample period I generate 1000 profitable and symmetric systems using randomly selected 500 in sample periods followed by a 365 day out of sample. One test might be from 1992 to 1994 with an out of sample from 1994 to 1995 while another might be from 2005-2007 and then the out of sample from 2007 to 2008. I performed this analysis using in-sample sizes from 100 to 6500 days with a constant out of sample of 365 days. I also performed this analysis on EUR/USD data from 1986 to 2012 (before 2000 using DEM/USD data).
–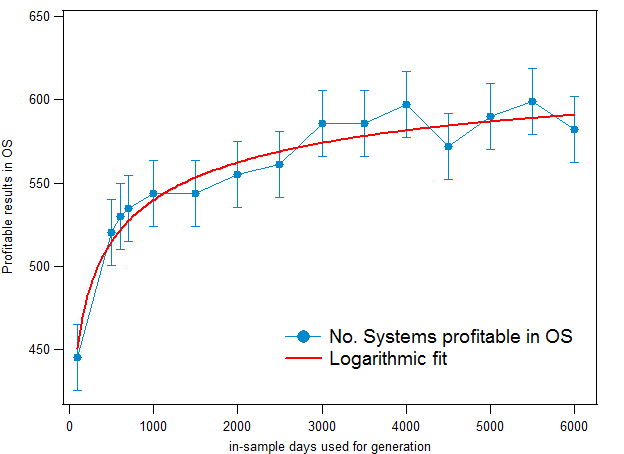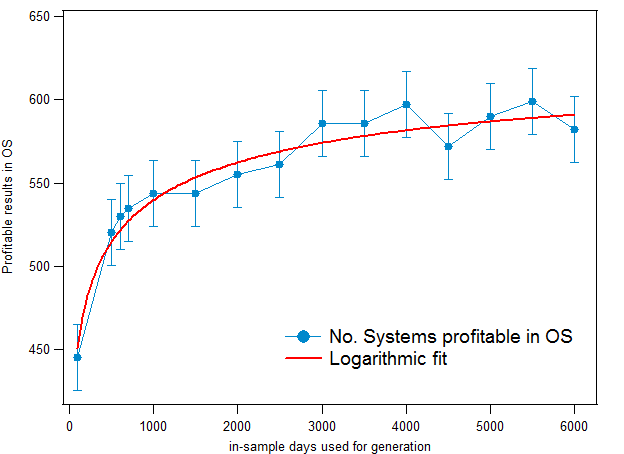 –
The first result we can analyse from the above experiment is the difference between the number of profitable and unprofitable OS periods. Intuitively we would think that the number of systems profitable in the OS would increase as a function of the in-sample size, since more market conditions would allow us to better accommodate the results of the OS period. This happens to a certain extent but it is also true that after a given point the increase of the in-sample size does not lead to a significantly better edge. As you can see in the image above, the number of systems profitable in the OS increases logarithmically as a function of the in-sample see (logarithmic fit in red), this predicts that the increase in your edge as the in-sample size increases will be less significant as your in-sample becomes larger and larger. This hints that the number of market conditions might be convergent to a certain extent, meaning that after a certain point you cannot "better adjust" to new market conditions based on past ones because you have already taken into account all the behaviour which is relevant. Note that the error lines show the variability I experienced after doing 10 different runs to account for the random nature of the system generation procedure used by Kantu.
These results also show us that there is a minimum number of in-sample days which is required to reach acceptable results. Systems created using data from less than 500 days are especially unreliable (out of sample edge is almost completely lost) while systems created with more than 3000 days of in-sample data tend to reach similar results. This shows us that there is a bare minimum of information that is needed to gain an edge in the OS while introducing much larger amounts of data only improves this edge slightly. In general this also supports the fact that 3000 days (about 8 years) is the best starting point for system generation. Using more years can give you a further advantage but it doesn't seem to be fundamental for success in the OS. This supports our development methodology at Asirikuy, where we have used 9 year periods for system generation and optimization. From this it also seems important to note that there is in fact an improvement of the OS success with the in-sample size so using the largest possible in-sample size you can will confer you an additional advantage – at least in the case of the EUR/USD –  even if this is not too great.
–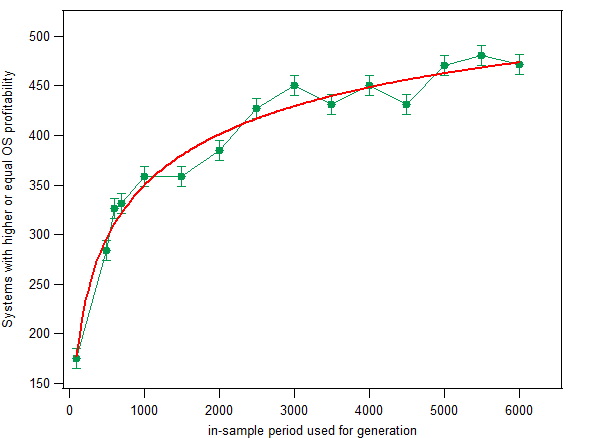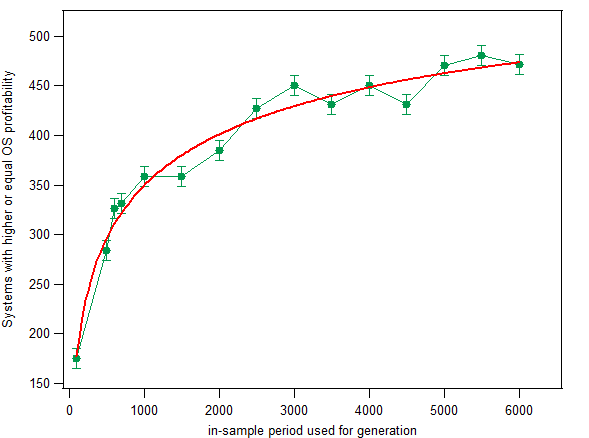 –
Another interesting thing to analyse is how the OS profitability varies according to the size of the in-sample period. Obviously we want to have OS periods that are just as or more profitable than the  in-sample (measured as (absolute profit)/(total trades)) so that we can have a smaller probability of being disappointed by our OS performance. The graph above shows you the number of systems with OS profitability higher or equal than the in-sample per trade profitability. As you can see the results are fairly similar to the initial results we discussed – where we analysed only the net number of OS profitable systems – showing that the probability to have a profitability higher than the one of the in-sample period is also logarithmic in nature. The probability to have a better OS period – from a profitability perspective – also increase with the size of the in-sample period, the probability increases very fast at first, then increasing more linearly as we reach larger in-sample sizes. In contrast with the previous case, the increase of probability here is far more pronounced, hinting that – although the number of systems profitable in the OS might not increase very much with larger in-sample sizes – the increase in the probability of having a more profitable OS period – relative to the in-sample – is higher.
It seems that the above quantitative evidence supports the design paradigm that suggests the inclusion of as much data as possible in the system generation process. Having more data seems to lead to a higher probability of out of sample success, both from a probability of net profit and a probability to have profits higher than those of the in-sample period. Therefore it would be advisable to always include as much data as possible when generating a strategy because this generates an additional probability to be successful under unseen market conditions.  However it is also worth pointing out that the nature of both studied behaviours is logarithmic, meaning that we should expect convergence of these values towards some tangent as the in-sample size grows much larger. From the derived logarithmic fits it seems to be that in-sample sizes above 8000 days would give practically no improvement in the expected OS performance.
However the are still a lot of questions to answer about the above. Is this process the same across other pairs? Is this process the same across other markets? How does the out-of-sample size affect these results? These are all very interesting questions that I will certainly continue to research within the next few months :o). If you would like to learn more about system generation and how you too can perform your own research  please consider joining Asirikuy.com, a website filled with educational videos, trading systems, development and a sound, honest and transparent approach towards automated trading in general . I hope you enjoyed this article ! :o)