When we want to trade the financial markets we need to design some sort of strategy that is able to give us an above random chance probability to succeed — a trading edge. In order to solve this problem the first impulse is to look at trading mechanisms that have succeeded in the past and then attempt to trade this exact same techniques going forward in order to generate similar profits. We commonly refer to this simulation process as back-testing, where we evaluate how a trading strategy behaved in the past and then we "tweak" and modify our system in order to increase its historical profits. Today I am going to talk about some truths behind back-testing and why there are several important pitfalls surrounding this trading premise.
Back-testing is a tool that allows you to evaluate the historical performance of a trading strategy. Supposing that your strategy is not significantly vulnerable to historical spread variations or slippage – or you can evaluate these accurately in some way – we can say that the representation you get is a good proxy of what you would have obtained if you had traded the strategy for real in the past. The idea therefore seems pretty straightforward, generate some system that performed significantly well for as long as possible into the past and this system should work in the same way going forward. We make several important assumptions such as: the market will behave in the future as it has in the past, the longer we back-test into the past the more market conditions we cover, etc. However, there are some important fallacies here.
Does the market really behave as it has in the past? Does having a strategy with long term profitable back-testing guarantee profitability to any degree (does it even increase our chances beyond random chance?)? Does having a 13 year back-test give you a higher chance of profit than a 2 year back-test?
–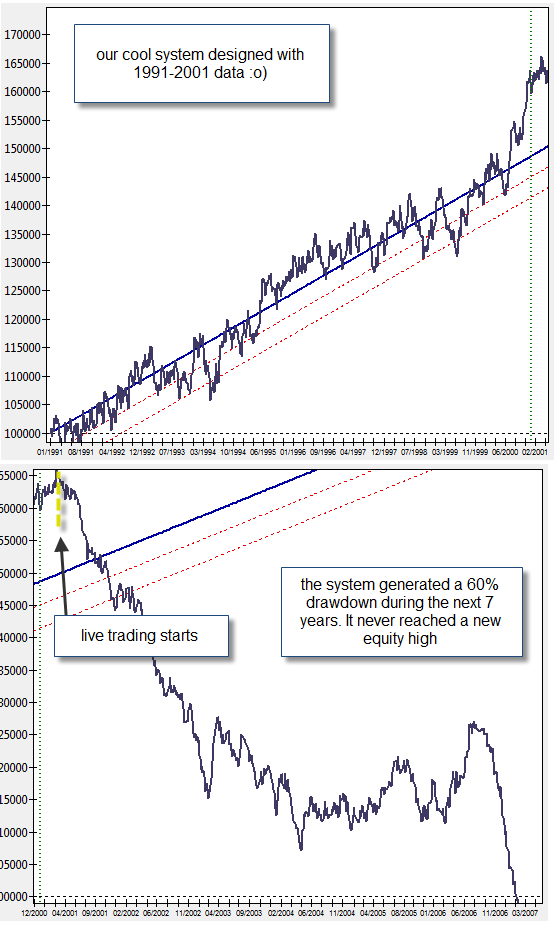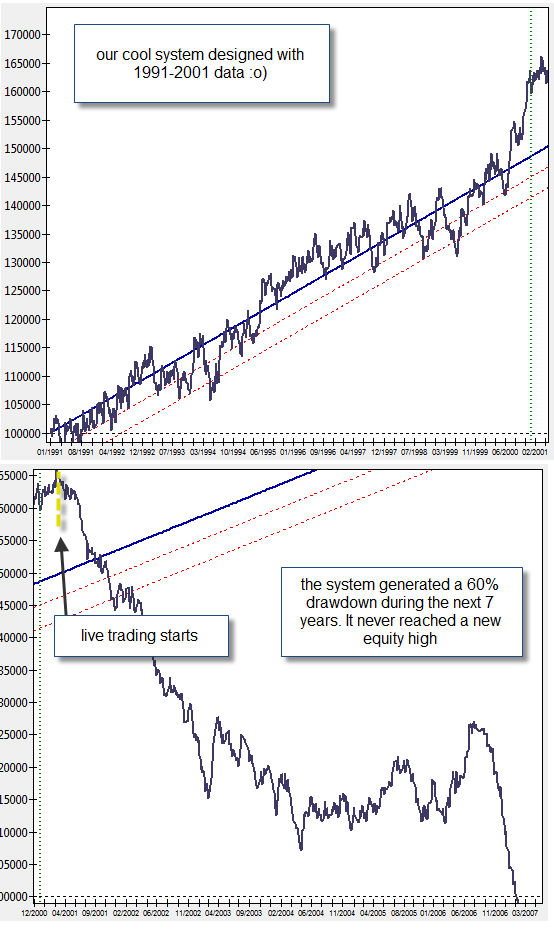 –
Let us suppose we are designing a strategy in the year 2001 to trade the EUR/USD, we use data from 1991 to 2001 from the DEM/USD  (10 years) and we are going to trade it for the next few years. We design our system to be extremely stable (very linear equity curve without compounding) and we also ensure that drawdown periods are limited and that the Ulcer Index has a reasonable value. We expect to be making at least a 10% yearly profit for each 10% maximum drawdown, we want something that has worked really well in the past and we put it on a live account with the expectation to make money going forward.
The above picture shows you what could have happened. You have a system that looks very well on paper and then you have that the system went for a straight and deep drawdown right after we started trading. However the picture below shows you a case where we have the entire opposite scenario. We have a system that for all intents and purposes is statistically similar to our first system within our design period 1991-2001, and then we have rather similar performance during the next 13 years, up to the year 2013. We have two systems where both have 10 year long profitable back-tests and then we have that one collapses immediately after we start trading it while the other is profitable all the way to the present.
What is the difference between them? Many of you would be tempted to perform elaborate statistical analysis to attempt to find differences between them so that you can say: "system A failed because of this and this while system B didn't fail because of this and this", in reality you can find no definitive answer (as least I haven't), there is always a probability for a system to fail bluntly, regardless of its past statistical characteristics. You cannot therefore say something along the lines "use a system with Ulcer Index below X and you will surely be profitable", there is always a chance that a system will fail, and this chance isn't small at all.
–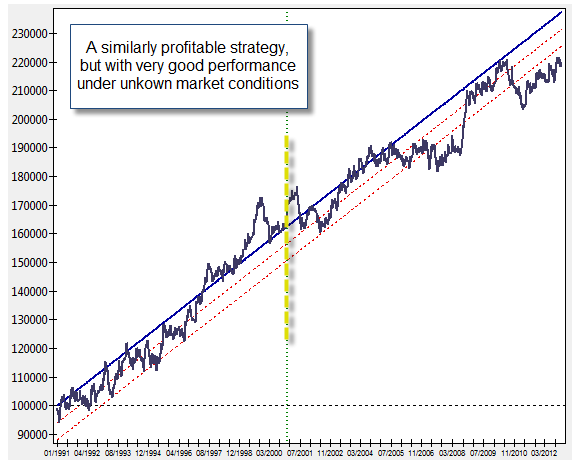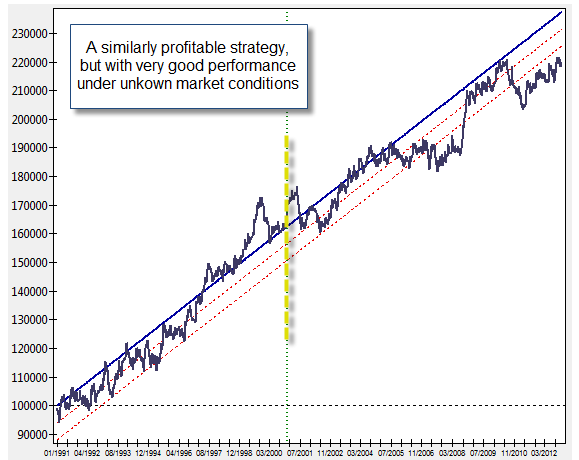 –
I would also like to make it clear that the "out of sample" testing, some people use before live trading (design a system using 5 years, then out of sample on 1, for example and only trade it if its similar), is a complete fallacy, because by evaluating a system on this "out of sample" period (by making a decision to trade it or not based on its characteristics during this period), it has already become an in-sample evaluation period. A similar note can be applied to the walk forward analysis crowd, a system where parameters are varied systematically already has a fixed logic designed in hindsight to have worked in the past. The only thing this establishes is whether a trading technique varies significantly through its parameter space, if the market changes outside of this, the strategy is doomed regardless of any attempts to adjust its parameters. Varying a strategy's parameters does not constitute a more realistic approach to profits under real market conditions because the strategy is known through the whole test.
So if there is always a chance for a strategy to fail – despite brilliant back-tests and even walk forward parameter analysis – and this chance isn't small, how do we trade profitably under unknown market conditions? How do you know what performance to expect and how do you choose the system(s) to trade ?  This is in fact what I have been working on inside Asirikuy within the past few months, attempting to develop a quantitative idea about the chances of success under unknown market conditions with absolutely no hindsight, trying to design a methodology that minimizes the chances of failure under new market conditions.
What I am working on is a method that goes systematically through a mechanical system generation process in the past, repeating this process in order to generate new strategies based on different desired in-sample characteristics, then gathering statistical information about their performance under unknown market conditions. This research has generated significant data about the likelihoods of success for trading strategies in different symbols/timeframes and the periods lengths that have created the best results. It is a type of X-ray of the market, it doesn't give us information merely about how a system would have performed in the past (which is back-testing) but it tells us the chances of success we would have had in the past if we had mechanically generated systems using given sets of criteria. It goes beyond walk forward analysis and other such techniques. It tells us what the best number of systems to pick is, how it is best to pick them and what sort of real performance we would expect (not the delusional back-testing profits we're used to seeing).
With this type of analysis you can learn for example if it's better to generate a system using a 1 year back-test or a 10 year back-test and if it's better to choose a system with a low Ulcer Index or with a high profitability. You can also see how frequently this type of systems failed in the past (what percentage and how deep failure was) and if there are any evident correlations that might help you reduce the chances of this failure happening. You can also calculate your possible chances of failure for portfolios and you can also see how different symbols and time frames differ. Is it better to generate systems on the daily or the 1H ? What are the problems/benefits of each time frame regarding performance under unseen market conditions? Was higher trading frequency better or worse? You can answer all of these questions!
This is a computationally intensive, massive on going work, but I believe it will take us to a whole new level of understanding within our community. If you would like to learn more about algorithmic trading and how you too can use mechanical system generation to develop trading methodologies  please consider joining Asirikuy.com, a website filled with educational videos, trading systems, development and a sound, honest and transparent approach towards automated trading in general . I hope you enjoyed this article ! :o)