One of the main problems of doing systematic data-mining to find trading strategies is that the amount of data-mining bias (the maximum profitability that a strategy over the same amount of random data could achieve) becomes very high as the amount of data drops for a given system logic space. This means that for a given set of system search characteristics (number of rules, number of variables, number of shifts, etc) the search becomes much harder as the amount of data becomes smaller. The consequence of this is that finding a system over – for example – 13 years of daily data might become very difficult because the level of profitability required to go beyond the determined data-mining bias is simply way too high. Today I am going to discuss why this happens and what strategies we can use in order to reduce the data-mining bias to allow for confident system generation even when the amount of bars used is not very big.
–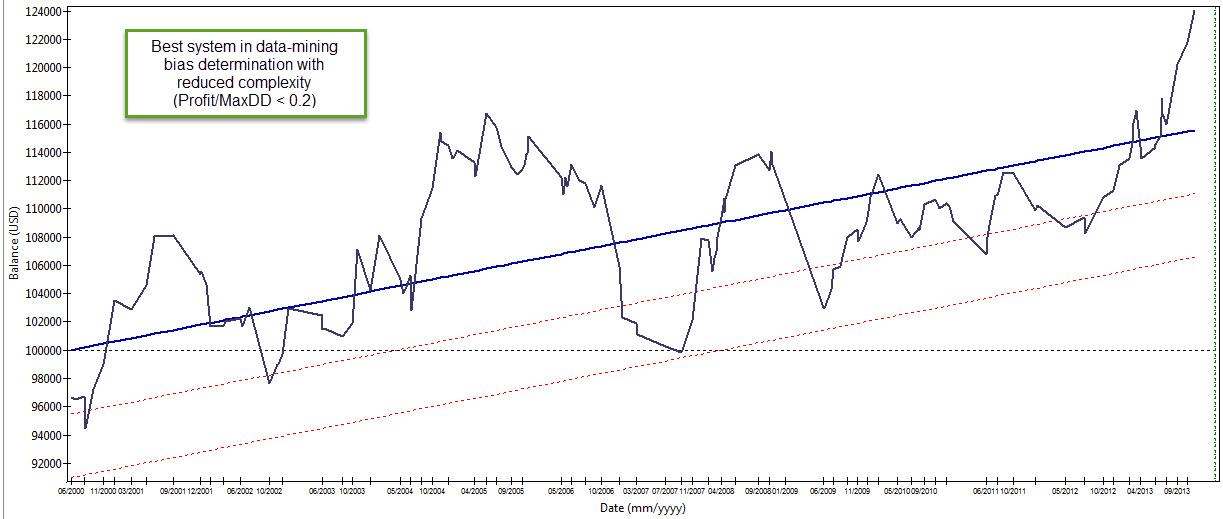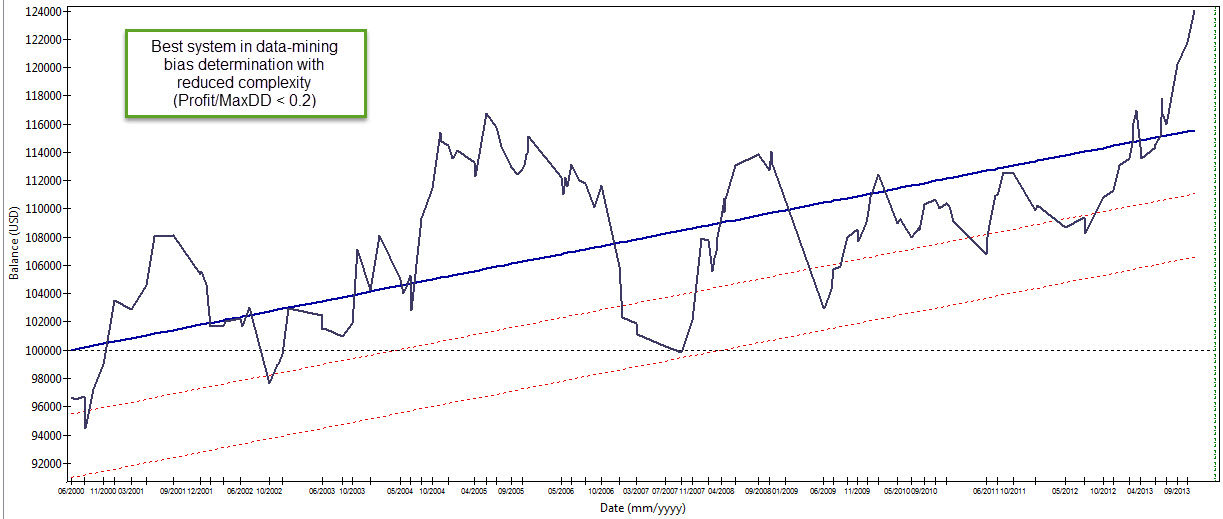 –
To learn how to reduce the data-mining bias we must first understand what created this bias and how it decreases. The data-mining bias comes from the ability of the generated rules to curve-fit the random data in a way that generates results that are profitable simply due to a spurious correlation. This implies that the data-mining bias is strictly related with the size of the logic space used to search for strategies, obviously your ability to curve-fit random data depends fundamentally on how much freedom your strategy has to adapt to the random data. If you are trying to produce a price action based system based on 10 OHLC rules with 10 shifts, you have a huge logic space that the generation process can use to adapt to the random data. The smaller the random data set, the easier this will be.
From the above it is clear that you have mainly two strategies that you can use to reduce your data-mining bias, the first is to increase your amount of data (like going to a lower time frame — which also increases computational costs) or you can also reduce the complexity of the systems you're searching for. Reducing complexity is the most rational solution to the problem, since it reduces the logic space at the same time as it reduces the data-mining bias significantly. While it may be virtually impossible to go over the data-mining bias for a system generation process that expects a very complex strategy (many rules, many inputs) it is quite easy to go over the data-mining bias for a strategy that expects only a small number of rules and inputs. The increase of the data-mining bias with system complexity is exponential while the decrease of data-mining bias with data length is approximately linear, meaning that reducing complexity is always a better strategy to reduce bias vs increasing the amount of data used.
But how much should you reduce complexity? The data-mining bias exercise we did before using kantu (see here and here) gives a relatively small data-mining bias of 0.2-0.4 Profit/MaxDrawdown over a 25 year period using random daily data. However when we move this same simulation to a 13 year period the data-mining bias is increased to a much higher 1.2-1.5 value. This means that finding daily systems for the 13 year period will be much more complicated since the reduced amount of data now demands a much higher profitability from the generated system which is much harder to find (which probably does not exist within the demanded complexity). If we only have 13 years of data we need to reduce the complexity of our expected strategies such that the bias will be much smaller if we wish to use the daily timeframe.
In the above case reducing the maximum rules to 2 (instead of 3) and reducing the maximum SL to 2 (instead of 3) reduces the amount of bias very significantly as the strategy is now unable to fit random data nearly as effectively as before. Since the reduction in bias is exponentially proportional to complexity, we go from a data-mining bias above 1 for the 13 year period to a value which is now inferior to 0.2. This means that we can now easily find systems that are meaningfully profitable within the logic space (represent a historically real inefficiency not coming from spurious correlations) provided that they fit a much reduced level of complexity. The parameter space is now much smaller (about only 350K systems) meaning that it is also easier to go through the whole logic space to find the system we desire. We have reduced data-mining bias and computational cost within a single system complexity reduction step.
–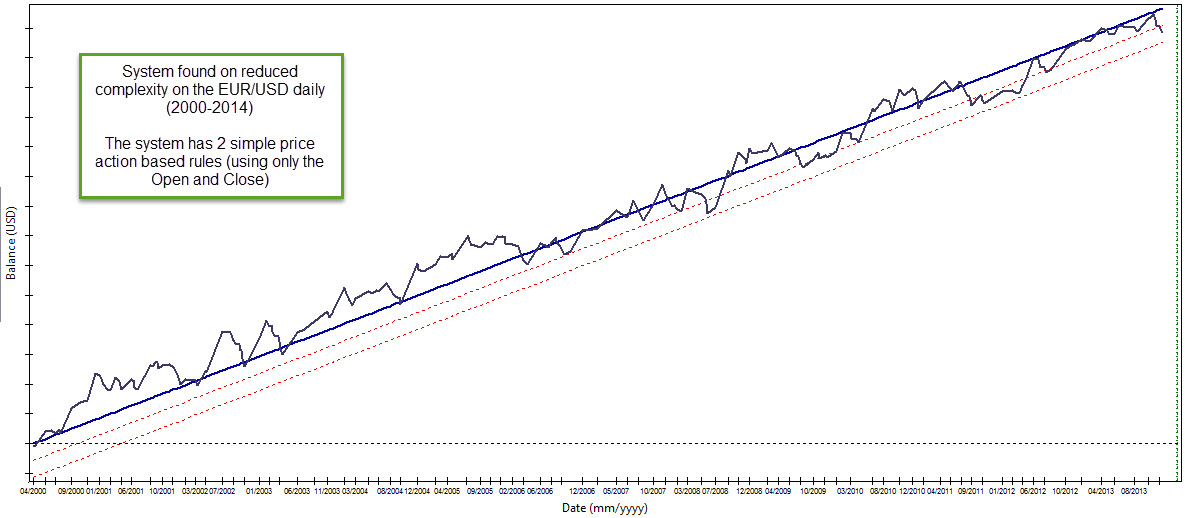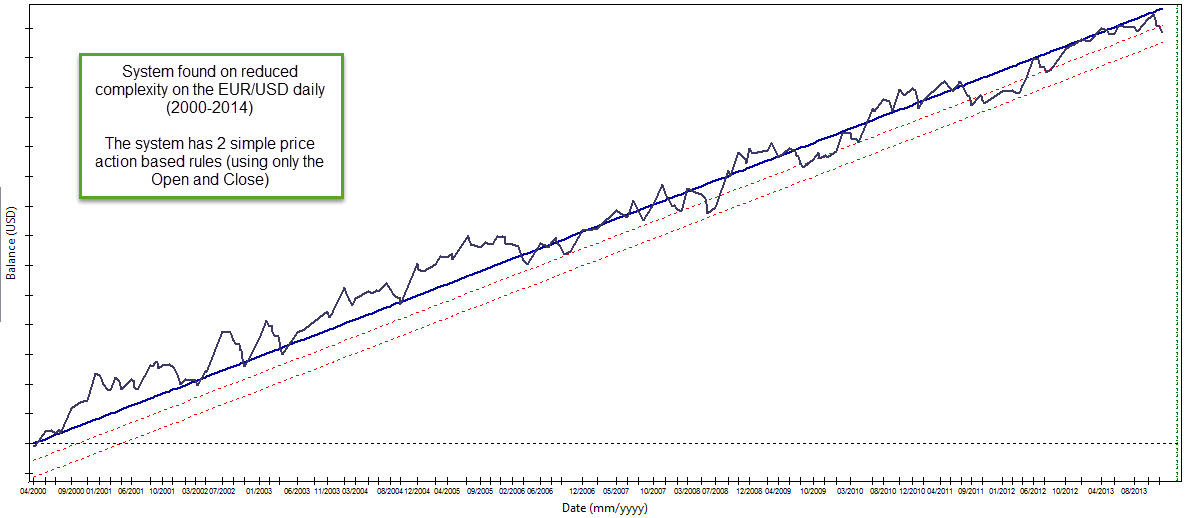 –
The above makes intuitive sense because a strategy with 2 rules and much less freedom in the SL would seem much less "curve fitted" that a strategy that has more rules. Whenever your amount of data is smaller you need to find simpler systems in order for your findings to be meaningful. Reduce your data-mining bias by reducing the complexity you're searching for. This means that in some cases you may be unable to find systems – if such meaningful simpler relationships do not exist – meaning that you need a higher complexity and therefore more data, in order to find something that works for the instrument you're exploring. In the example above using EUR/USD data it was easy to find many systems that were both highly linear and profitable above data-mining bias when using the reduced complexity.
Hopefully after reading this article you will be able to reduce the data-mining bias in your experiments where the amount of data does not allow for a large degree of mining complexity. If you would like to learn more about data-mining bias and how you to can generate systems through data-mining  please consider joining Asirikuy.com, a website filled with educational videos, trading systems, development and a sound, honest and transparent approach towards automated trading in general . I hope you enjoyed this article ! :o)