It might be tempting to think that data-mining bias is the only important characteristic when automatically searching for strategies to trade in the Forex market. After all, if you have built a strategy that has an extremely small chance to come from randomness, you should rest assured that you have found something that is historically real and therefore useful to trade in the real world. However, the world of Forex trading is mined with some additional problems inherent to the Over-the-counter nature of the market, that make the data-mining exercise even more complicated than we would expect from a market with an exchange regulated history. In Forex trading you also need to worry about the accuracy of your trading history as you may have mined for something that is in fact historically real – as far as the history you're using goes – but which may not actually be real when looking at the actual, real history from the market. On today's article I will discuss this issue, give you some pointers on how to tackle it and finally show you why the multiple feed verification process is so fundamental to data-mining in Forex trading.
–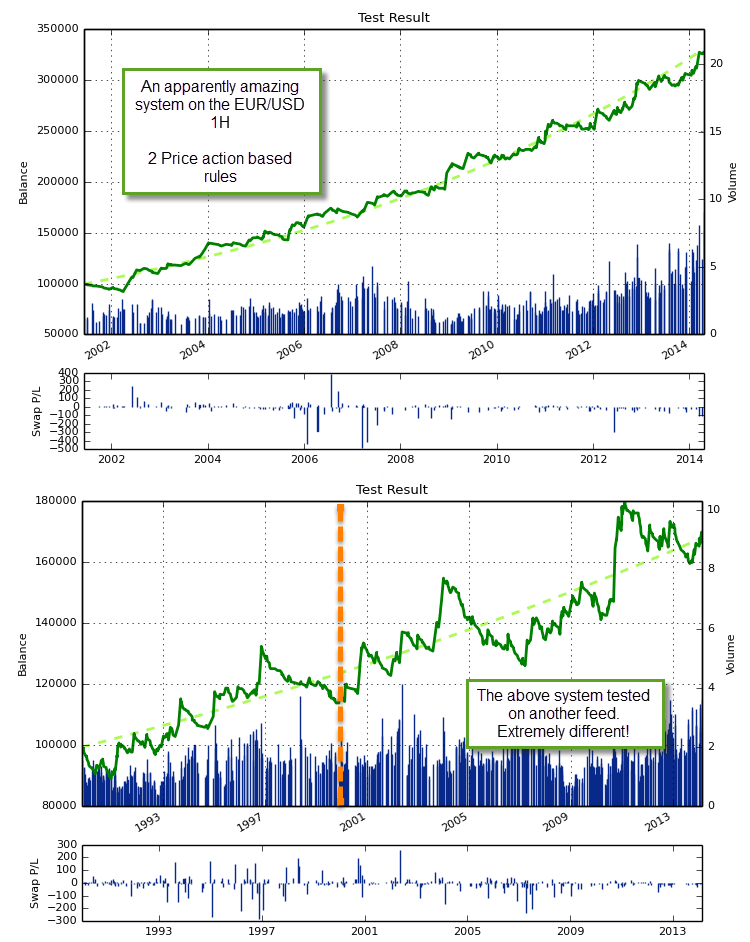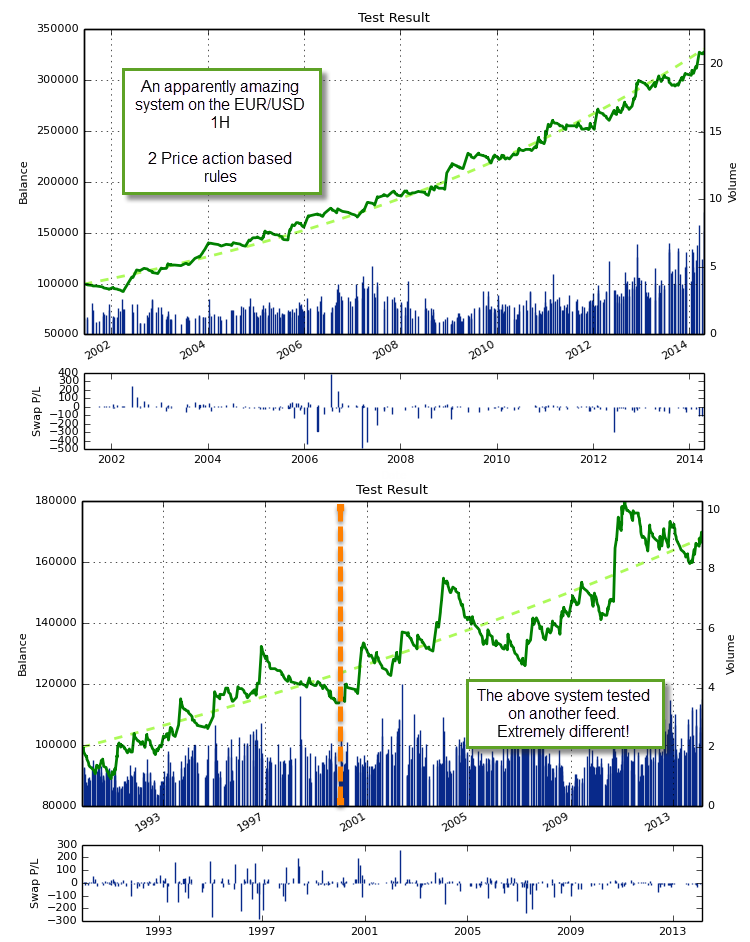 –
You're very happy, you have done your due diligence to determine data-mining bias, you have searched for systems and you have found a gem with a very high profit, a really small drawdown and a very small probability to have come from randomness. You are happy to see that you have created a system worth trading that – if everything goes as planned – should go a long way in ensuring your success as a Forex trader. However something appears to be wrong when you start trading the system live, it starts to behave oddly and the results do not seem to match your back-testing data. Upon running a back-test for your strategy with another data source, you find that your excellent system is now a very poor performer with a high chance to come from randomness. What the hell happened?
Forex happened! In an over-the-counter market, historical data sources are sadly not unique and different historical data sources may have different peculiarities that are inherited from their origin. These peculiarities may include things such as the time when swap is charged/credited, tick filtering algorithms, or the fact that the data is actually consolidated across a couple of feeds instead of belonging to a single stream of currency data. All of these issues might create artifacts that are terribly specific to a particular data source which – when mining – leads you to find very specific real historical inefficiencies for your data that are in fact not that real in the overall Forex market. For example your data might come from a broker with a strong tick filtering algorithm that removes some market spikes that happened across the real market, avoiding the touching of certain levels. Trading at times where this happened may constitute an advantage across that particular historical source, when in reality it does not.
The above problems are also not the same across all tests. High timeframes (12H, daily, weekly, monthly) rarely suffer from a significant influence from these tests – although it can still happen to some degree – while on the 1H charts the influence is incredibly strong. When mining for systems in the 1H you can easily find systems with apparently amazing statistical characteristics that are achieved due to the exploitation of some feed specific features that are not an overall characteristic of the market. Testing on two different feeds from separate sources largely eliminates the profit from these artifacts because it would be strange for two separate feeds to contain the same types of peculiarities. The artifacts of one feed will compete with those of the other and finally you will come up with systems that are only profitable across both. The probability that you have an artifact is now much lower, because it would have to be something common to two completely different feeds.
–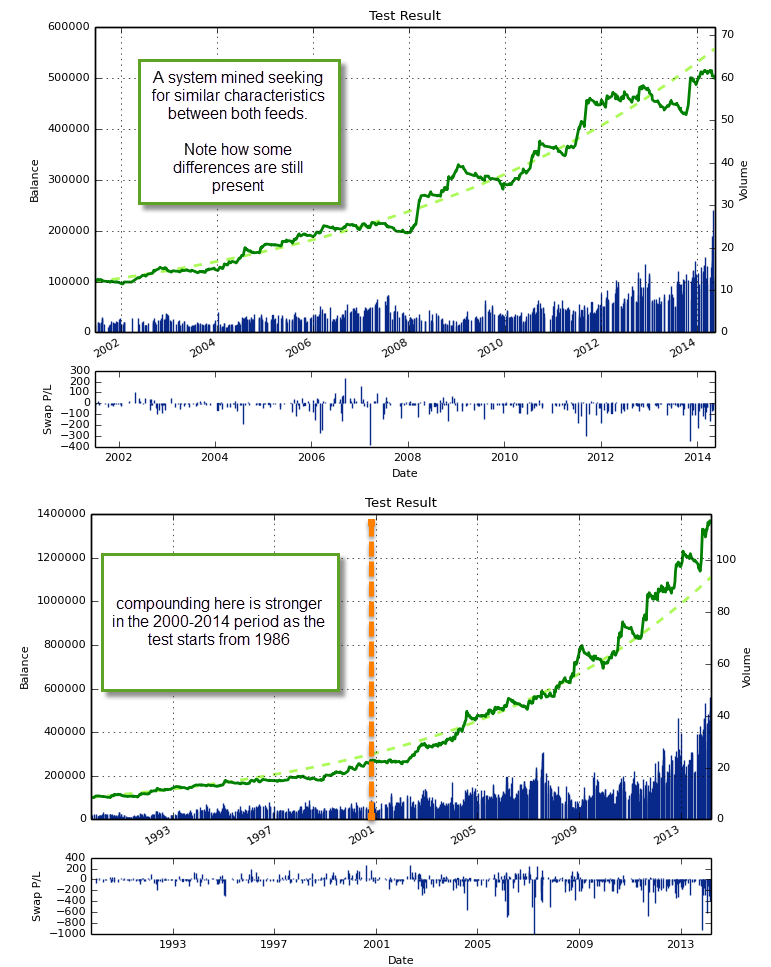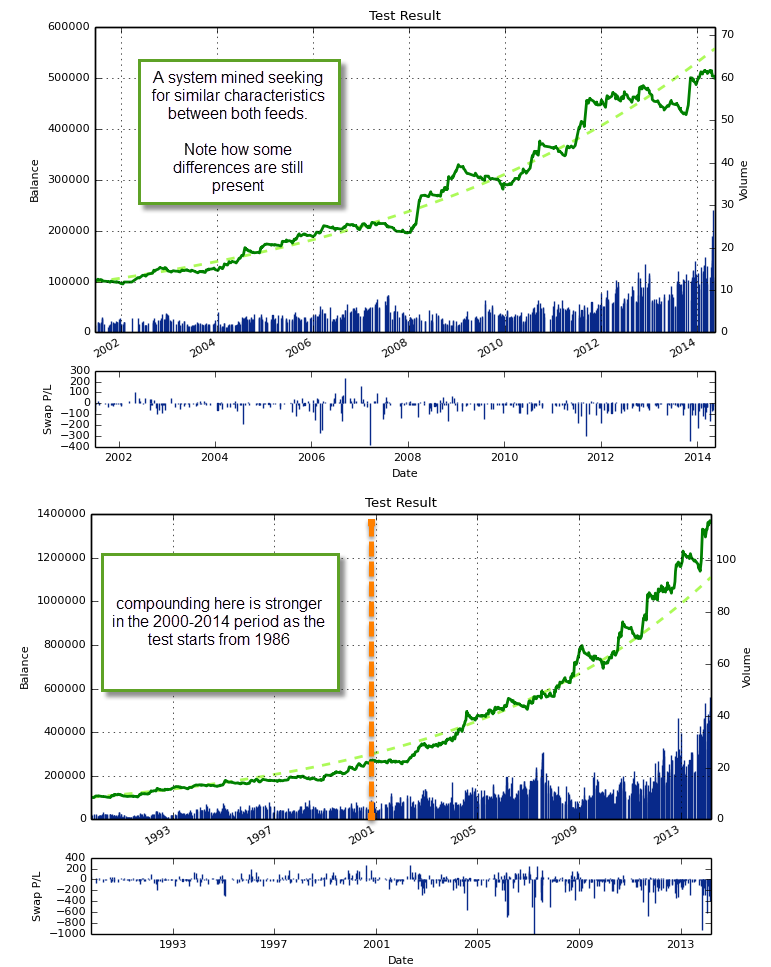 –
While the above does not guarantee a lack of play involving feed artifacts (as they might still play some influence on their respective feed) it does smooth out the results such that the main inefficiency exploited by your system will be mainly attributed to some real characteristic of the global Forex data. For example the above system shows a system mined across two feeds that has similar statistical performance across both of them on the 2000-2014 period. Although the trade results are not exactly the same across both feeds, they now do match a lot closer than for the initial system showed above, where obvious and large differences between both of the feeds were present. Since there is no central exchange in Forex trading, system validation across multiple feeds is of the utmost importance when building systems, especially on timeframes below the 1D.
If you would like to learn more about system building and how you too can automatically mine for systems taking adequate precautions against data-mining bias   please consider joining Asirikuy.com, a website filled with educational videos, trading systems, development and a sound, honest and transparent approach towards automated trading in general . I hope you enjoyed this article ! :o)