Almost three years have passed since I started selling the first version of my automated trading ebook and many things have changed since then, the first ebook release was replaced about a year ago by a totally new remake and now another important change will be happening. After doing a lot of thinking I realized that the material available within my ebook couldn't be totally appreciated without having access to all the content available within my other website, Asirikuy.
The ebook contains a large amount of information regarding automated trading and what needs to be done in order to succeed in this field. It teaches people new to this area how to develop likely long term profitable systems, what to expect from them and how to properly program and design them. The ebook's objective – as its title suggests – is to be the ultimate guideline for traders who wish to achieve success in automated trading. However, after more than a year of selling this ebook version I have realized that not only is this knowledge needed but access to a constant feedback regarding the different system's performance and help in the development of trading systems is actually necessary to make it in this business.
For these reasons it didn't make a lot of sense to continue selling the ebook by itself when there is a huge wealth of material currently available within Asirikuy that perfectly compliments and helps the points made within the ebook. Because of this, the ebook will no longer be available as a separate item but it will be a part of the regular Asirikuy membership. I have decided to take this opportunity to do this as I have just updated the ebook to include some new sections that are only fully meaningful with access to Asirikuy videos, systems, etc.
–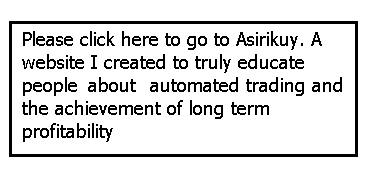 The ebook has now become the essential guideline to Asirikuy members as it gives people the initial information they need to tackle the journey of long term profitable trading with a good idea of what expectations they should have in mind and how things should be done in order to get to that point with a much higher probability. If you want to see what is inside the ebook you can take a look at the table of contents here. The ebook continues to contain the Watukushay project but many hours of videos are available within Asirikuy dealing with Kutichiy, Teyacanani and Watukushay No.5, system which are not contained within the ebook.
If you would like to get the ebook please consider joining Asirikuy. The price is only 161 USD per year, which equals 13.42 USD per month.