During the past few weeks I have been immersed in the study of several basic trading methodology questions that I can now research thanks to the development of the Kantu parameter-less price action based system generator. From all of these questions perhaps the one that interests me the most is how you can develop a system selection methodology that has a high probability to generate profitable results in out-of-sample testing. To answer this question we must learn how often we need to generate new systems and how we can select the systems most likely to perform profitably in out of sample from a given poll of strategies. This is no easy task as we need to understand the dynamics of system generation as well as how in sample variables relate to out of sample performance in a way that is not dependent on a single symbol or time period. Today I will share some of my research, particularly how traditional system selection methodologies give poor results and how our view needs to expand beyond single selection in order to achieve very good out of sample performance.
Let's start by explaining the problem a little bit better. Suppose you have to start trading today and you need to come up with a strategy that will be very likely to generate profitable results during next year. The most intuitive way to solve this problem – and the one with the most assumptions – is to generate a trading strategy that has had very good historical performance and then choose this system assuming that the system will maintain the same behaviour, at least to some extent. But how do you know that this will work? The fact is that – since we cannot know the future – trading any system is like taking a gamble because your strategy can enter a deep drawdown or it can even fail completely if market conditions change enough. How do you analyse this problem quantitatively and come up with the real best solution?
–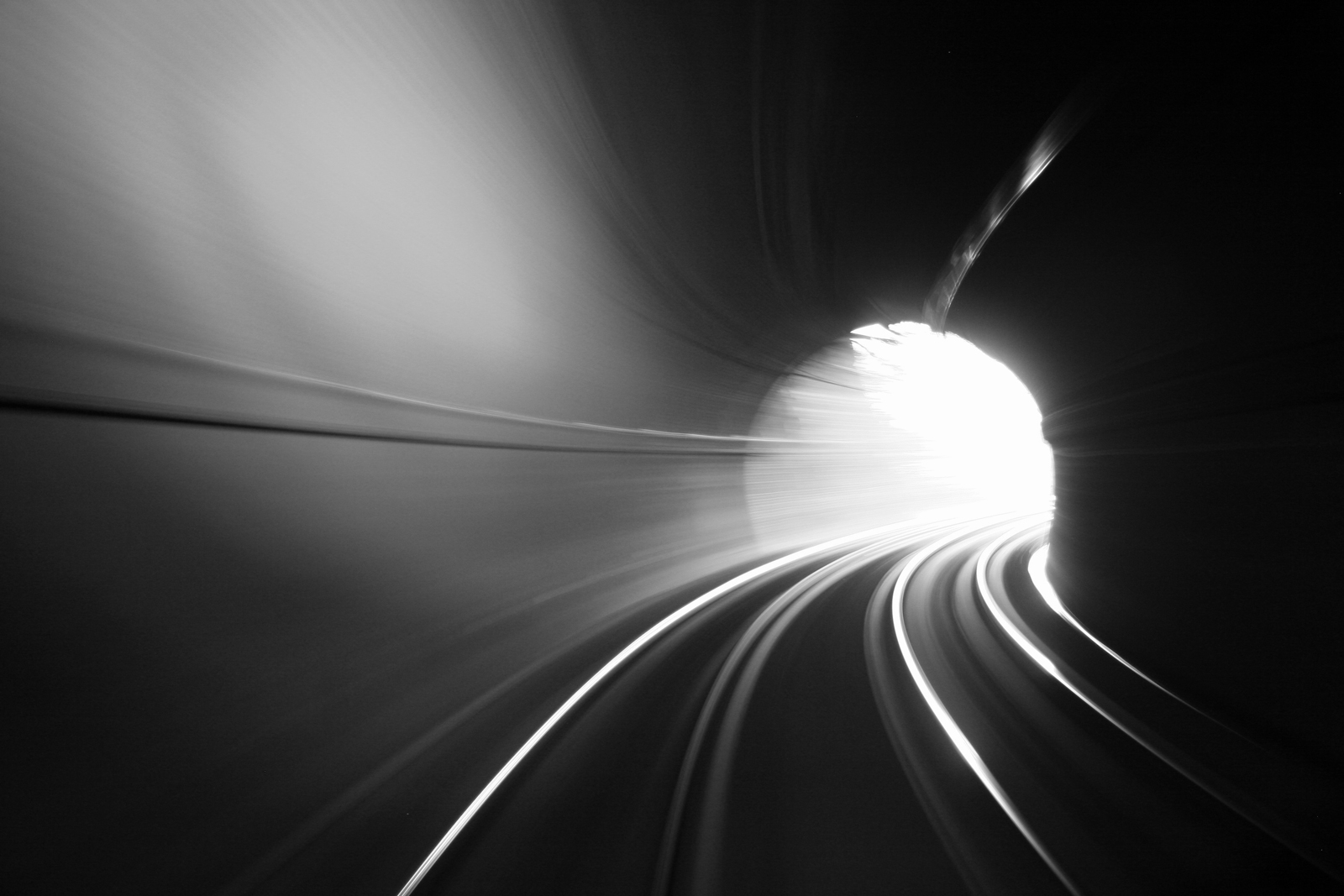 –
Kantu allows me to explore this problem through an analytical walk forward system generation procedure. I can suppose that I was facing the same problem as described above (but in the year 2000) and I then carry out the process of generating a new system, selecting a system and trading for the next year during each year till 2012. I use the past 10 years of data to generate my strategies, testing different filters for the generation as well as different criteria for the final selection of the strategy I will be trading for the next year. After each year my results are added up and in the end I can get an estimate of how I would have really done if I had followed my procedure. This has no bias and emulates the procedure I would have gone through if I had really started trading in 2000. With this tool we can now run several tests and see what the best way to carry out this procedure actually was.
The first thing that I can say is that using the traditional intuitive approach has a high probability of not working very well. You might be profitable in the end – although your probability to do so is not very high – but you will always be below the statistics of the top performer you chose. Chances are you will not be so lucky and you will be netting a loss through most out of sample period, leaving you with a net loss after ten years of trading. The reason why this happens is because you cannot simply predict the out of sample results of a strategy and, regardless of the criteria you choose for filtering or system selection, there is always a chance for that top performer with astonishing historical results to turn sour. Choosing a non-top performer (for example picking randomly from the top 5) doesn't help you too much as well as all of them have a chance to fail their statistics.
This was very intriguing for me as it pointed to the fact that beating the out of sample was not possible because of the inherent randomness in the future. However I then decided to take a deeper look and analyse the populations as a whole, for example what are my chances of generating a system with a profitable out of sample if I select only highly profitable or highly linear strategies. The results were encouraging and demonstrated to me that – in the cases I studied – filtering the selection did improve my chances of having a profitable out of sample. Instead of having the 45-55% chance of hitting a profitable out of sample result when using no filters (such profitability above zero) I got chances in the 60-80% region when using certain filters. However this wasn't enough because you still face the problem that whichever selection you make can become a disaster. Even with these filters you still have a pretty good chance of making a bad string of selections and being in a drawdown after ten years of trading (and I don't want to take that chance!).
Perhaps there is a way to select strategies that will eliminate this chance? After testing many different types of sorting I was unable to find any in-sample statistical parameter that guaranteed this, there was always a chance – due to the fact that the future is unknown – that we would get into a string of bad system selections that would take years to recover from. Then I realised that the problem wasn't the filtering or selection criteria, it was the fact that I was using a single selection. Since some filtering criteria do increase the probability of a profitable out of sample and we know that a single selection can always turn sour, the solution here is to avoid the single selection by using at least 5-10 top performers. Incredibly when you take a single system there is always a chance for disaster but when you trade the top 10 performers – under certain selection criteria – you always seem to be able to come out profitably in out of sample. Even though one or two might be unprofitable, the edge given to you by your filtering and selection criteria makes the probability of all of them failing very low. The selection criteria is in fact very important here because it gives an additional edge to the top X performers (they tend to have a higher average out of sample profit than the average of all generated systems). 
–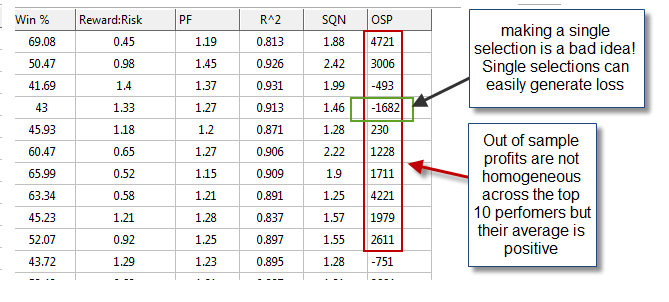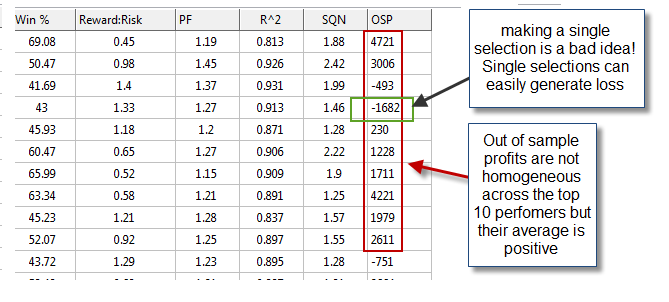 –
After all of this I think I have now come to an important answer to a basic question I have had during several years. Is there a way to generate and select strategies that gives a very high probability to have a "good" out of sample result? The answer seems to be that there is and it relies on choosing basic filters to attain high quality systems in the generation step, coupled with some criteria for final system selection that give you an edge in the out of sample when you trade the X top performers (5-10 in my tests up until now). Obviously I am only touching the tip of the iceberg now and my conclusions might change with the additional research I am carrying out but certainly the results up until this moment are encouraging and point to a light at the end of the out-of-sample tunnel.
If you would like to learn more about my work in automated trading and how you to can learn to develop your own algorithmic strategies please consider joining Asirikuy.com, a website filled with educational videos, trading systems, development and a sound, honest and transparent approach towards automated trading in general . I hope you enjoyed this article ! :o)